Pulp Modern (Volume Two) is a joint venture with Uncle B. Productions and Larque Press. Pulp Modern is available from select booksellers, amazon, Kindle, and Magzter.
Pulp Modern Vol. 2 No. 5
Summer 2020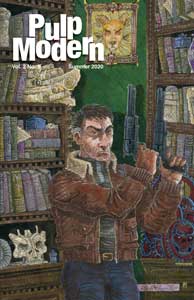 Alec Cizak: From the Editor
Andrew Bourelle "Companion"
Peter W.J. Hayes "The Bowie Knife"
Mandi Jourdan "These Violent Delights"
"Doc" Clancy "Ghost Town"
Timothy Friend "Burnin' Love"
Serena Jayne "Necessary Evils"
Adam S. Furman "Intercession"
Victoria Weisfeld "The Unbroken Circle"
Nils Gilbertson "How to Make a Boulevardier"
Publishers: Uncle B Publications & Larque Press LLC
Editor: Alec Cizak
Design: Richard Krauss
Cover: Rick McCollum
Interior Artwork: Ran Scott
Cartoons: Bob Vojtko
5.5" x 8.5" 132 pages
Pulp Modern: Tech Noir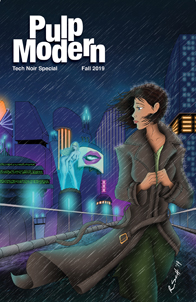 Special Tech Noir edition in conjunction with Switchblade magazine.
From the Editor: Alec Cizak
"A Deviant Skin" by C.W. Blackwell
"The Moderator" by Nils Gilbertson
"Love in the Time of Silicone" by Tom Barlow
"Leaving Red Footprints" by Deborah L. Davitt
"A Time to Forget" Angelique Fawns
"Three, Two, One Zebra-Stripe Shake-Off" by J.D. Graves
"15 Minutes" by Don Stoll
"Lights Out" by Jo Perry
"Walking Out" by Zakariah Johnson
Contact and Links
Chief Editor: Alec Cizak
Guest Editor: Scotch Rutherford
Design: Richard Krauss
Cover and Interior Art: Ran Scott
Cartoons: Bob Vojtko
5.5" x 8.5" 132 pages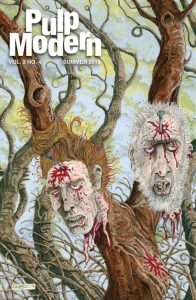 Pulp Modern
Vol. 2 No. 4
Alec Cizak: From the Editor
Rex Weiner "A Pinto, a Hooker, a Gun" art by Ran Scott
Russell Thayer "The Killer" art by Alfred Klosterman
C.W. Blackwell "Her Name Was Larceny" art by Alfred Klosterman
Albert Tucher "Modesy" (Diana Andrews) art by Dan W. Taylor
Matthew X. Gomez "The Price of an Offer Refused" art by Ran Scott
Scott Forbes Crawford "Heart of a Samurai" art by Ran Scott
Adam S. Furman "Rosetta" art by Ran Scott
Adam S. House "Odd Jobs" art by Ran Scott
S. Craig Renfroe Jr. "Chulainn" art by Ran Scott
Publishers: Uncle B Publications & Larque Press LLC
Editor: Alec Cizak
Design: Richard Krauss
Cover: Rick McCollum
Back Cover: Brian Buniak
Cartoons: Bob Vojtko
5.5" x 8.5" 132 pages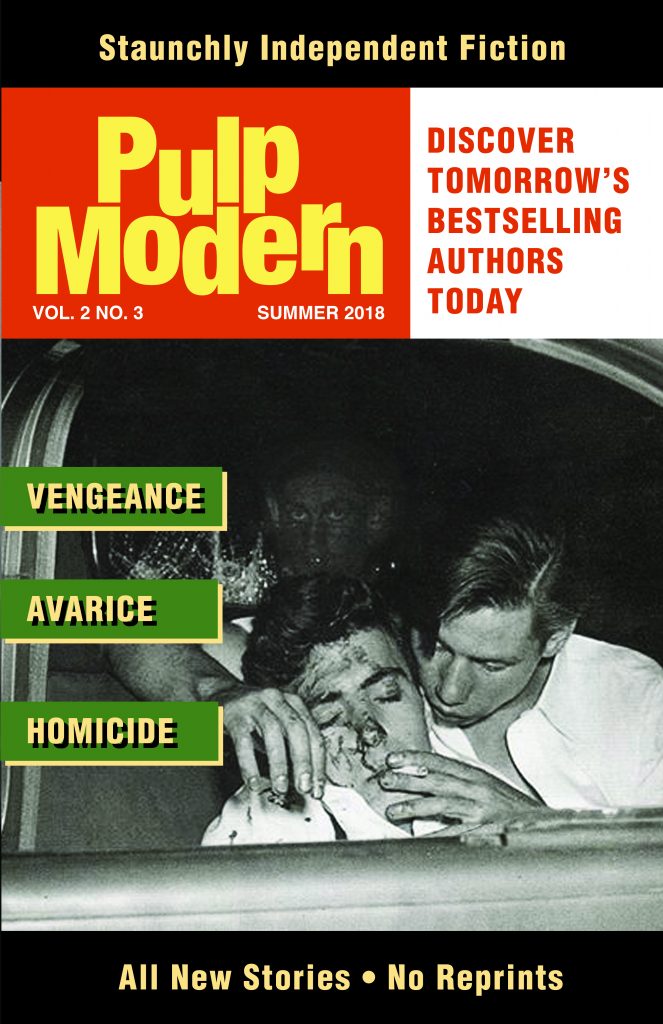 Pulp Modern
Vol. 2 No. 3
Alec Cizak: From the Editor
Doug Lane "The Great Unknown"
Thomas Dade "Revenge of the Dead Coat-Check Girl"
Michael Bracken "Good Girls Don't"
Stephen D. Rogers "A/S/L?"
John Kojak "Elizabeth Beatrice Moore"
Cynthia Ward "Roadsong"
Scotch Rutherford "Going Dark"
J.A. Prentice "Sand in a Jar"
Chris McGinley "The Killing at Queen's Tooth"
Alec Cizak on Harlan Ellison
Pulp Modern
Vol. 2 No. 2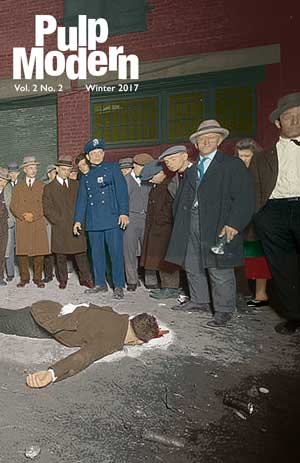 Alec Cizak: From the Editor
Russell Thayer "Buzz Me Blues"
Jim Thomsen "Black Lab"
Tom Andes "After Midnight at the Cést La Vie Lounge"
Preston Lang "Eleven Irritated People"
John Teel "Second Chances"
Robert Petyo "Sacrifice"
Charles Roland "Quick Cash Fast"
Emile Tepperman "No Living Witness" (Classic Pulp)
Matthew X. Gomez "A Long Journey's End"
Marc E. Fitch "Tick-Tock in the House America Built"
Susan E. Abramski "Double Jeopardy"
J. Robert Kane "Godhead"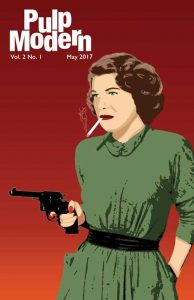 Pulp Modern
Vol. 2 No. 1
Alec Cizak: From the Editor
Lucy Kiff "Housewarming"
Tim P. Walker "Maddy Lee Reviews the Movie They Made About Her and Buck"
Mark David Adam "Now is Not a Good Time to Die"
Michaël Wertenberg "The Hand We're Dealt"
L.S. Engler "Lady of the Mask"
Nick Manzolillo "The Star Trail"
Adam S. House "Wall Whispers"
Stephen D. Rogers "La Cross"
Joseph Rubas "Out of the Woods"
Calvin Demmer "Mickey Strange"
Marc E. Fitch "Death Sentence"
Mario E. Martinez "All Sales Final"
Myke Edwards "Out of Sight"