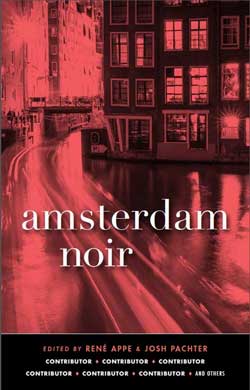 An early 2019 entry in Akashic Books' award-winning noir series, Amsterdam Noir, features stories selected by Rene Appél and Josh Pachter. Pachter, being a writer himself, ably translated many of them from the Dutch. The volume is cast in four thematic sways, each inspired by a film noir classic.
Part 1: Out of the Past begins as past and present are juxtaposed in "Welcome to Amsterdam" by Michael Berg. The dehumanizing abuse of a prisoner in Syria seems worlds away from a business trip from New York to Amsterdam. But when a uniting element suddenly appears, the horrors of the past rush forward, giving rise to a new assault on our traveler's haunted dreams. Berg won the Golden Noose, the award for the best Dutch-language crime novel in 2013.
"Spui 13" by Anneloes Timmerije is a beautifully written tragedy, "inspired by an actual Amsterdam murder case," that spirals downward toward dark waters. Lifelong friends Ella and our unnamed narrator, grow from struggling college students unable to pay the rent, to successful careers—Ella a high-profile newspaper reporter, and our narrator, a publisher's proofreader. Extravert and introvert. When Ella is kidnapped, events from the past they can never forget, bring the realization they can never escape either.
In "Ankle Monitor" (translated by Sam Garrett), author Herman Koch delivers a chilling first-person account of obsession with intent. A convicted felon turns sour on his biographer when he imagines the journalist's interview sessions with his ex-wife. His controlled behavior takes a furlough along with his incarceration for a weekend on the outside. Tension builds as his cunning shines in his final confining moments.
"Salvation" by Simon de Waal (translated by Maria de Bruyn) provides a salacious tour of Amsterdam's Red-Light District, the backdrop against which his protagonist, the roiled and wrung Waldemar, attempts to sort past and present, fact and figment. His struggle centers on a slain prostitute and the stains she left behind. A melancholy, beautifully written tragedy.
Part 2: Kiss Me Deadly Romance plus noir must equal heartache, so fair warning. In "The Tower" by Hanna Bervoets there is romance, and there is sorrow. I can't think of a way to summarize the plot without giving too much away. Instead, let's consider it from a greater distance. Why read a story you suspect will break your heart? And why do you think it was so good when it made you feel so sad? Like all fiction, it's vicarious. Real enough to evoke emotion, but not so personal that you can't walk away. In fact, it's a relief you can. Maybe it's teaching a life lesson you don't have to learn the hard way, let the characters take the hit. Still, some heartaches are worth the pain for those moments of joy that precede them. Figuring out which ones are which is the hard part.
As "Silent Days" by Karin Amatmoekrim opens, its hero, an 82-year-old woman, observes the world below and around her fourth-story apartment, uninvolved—a watcher. But the world intrudes on her silent solitude when the building's owner and his wife begin to quarrel, loudly and violently, one flight below. The sounds and sight of her battered neighbor break the old woman's reclusive trance, and she chances a meeting. "After that conversation, I was determined to help her. I had done nothing in my life for which I needed to be embarrassed, but also nothing to be proud of. This, as I neared my finish line, would be my gift to the world."
"Soul Mates" by Christine Otten is based on an actual murder case in Amsterdam, so to say it's a bit far-fetched could be fictitious. But it seems like it anyway. A twenty-four-year-old food delivery boy writes about the early-morning visit from the police, who wonder what he knows about the murder and dismemberment of his boss, the old Chinese cook who runs the Mercury Snackbar. He tells the two detectives nothing helpful, sharing his own theory about the real victim and the murderer with readers via his journal. It's a bit too graphic and snarky for my taste.
Part 3: Touch of Evil The unifying element in this section is the movie's title. In "Devil's Island" by Mensje van Keulen, most of the story's action takes place inside smoking groups where Amsterdam smokers gather to indulge their habit. Like dining on Amtrak, you never know who you might meet. Our narrator's friend, Jacob, has had a devastating breakup with his girlfriend. In sympathy, he takes Jacob to dinner, and since Jacob smokes, stands with him in the smoker's circle outside the restaurant while they wait for a table. Here they meet at art dealer who quickly mesmerizes Jacob with his accouterments of success and accounts of twisted deeds. Incredibly, Jacob remains with the hustler when their table is called, his fate clinched in a beguiling, evil snare.
"The Man on the Jetty" by Murat Isik begins with Metin's memory of a man exposing himself in an elevator. Sometime later Metin and his pal Saleem are approached by a Spandexed biker asking directions. Saleem responds as recognition dawns on Metin: it's the same guy. And the Spandex makes it easy to spot what's still on his mind. The two boys run, but the biker gives chase until, at last, he turns away. When the boys tell Saleem's Uncle Imran what's happened, they can see his anger rise. The Dutch police won't do anything about it. "In Pakistan, the cops would beat the shit out of a bastard like this guy. Then he'd never do such a thing again." So Imran takes matters into his own hands. By the end, they've all been touched by evil.
What comes after a windfall? "Lucky Sevens" by Theo Capel gives us a few clues when Fetty Jollema wins fifty thousand euros in the lottery. While her cop friend Felix cashes in her ticket, she's murdered. Felix is dumbfounded when he hears the news but recovers enough to ferret away the winnings in his safe. As the investigation advances, Fetty's baggage and suspects emerge, along with their secrets. Capel delivers a satisfying taste of Amsterdam's locals, locations, and universal evils.
"The Stranger Inside Me" by Loes den Hollander delves into our mentally ill narrator's twisted reality. After dark, he's visited by Ted Bundy who grooms him to continue the infamous serial killer's work. "He came closer. 'They stopped me,' he said. 'I want you to pick up where I left off.'" Hollander gives us the timeline for the first mission upfront, and since we know what's coming, the tension accelerates along with each new paragraph.
Part 4: They Live by Night In "Seven Bridges" by Max van Olden, Lisa is the server on the tour boat Princess Beatrix that ambles down the Amstel River en route to Grachtengordel, the Canal District. She's onboard for three runs, the last of which is the evening's candlelight cruise. Their route slips by the houseboat of the new love of her life, Timo, and she breaks her attention from her duties, hoping to catch a glimpse of him whenever they pass. As she serves sightseers, her mind dwells on Timo and his predecessor, Stefan, with whom things ended badly. Olden weaves the Amstel River's charms with Lisa's rising doubts about Timo, as she endures the routine and isolation of the Princess on a cruise over dark waters.
In "The Girl at the End of the Line" by Abdelkader Benali, a Moroccan policeman investigates the murder of a young woman whose body is discovered at the city's edge. Benali's writing shines with memorable lines like "In my head, I divide Amsterdam into places where you can safely hide a body and places where you can't." And "Better drunk and in hell than sober among the hypocrites." Benali's cop advances the narrative with as much time spent in reflection as in active investigation, reminding us this case is only a moment of a journey that has no easy resolution.
The pace quickens considerably in "Get Rich Quick" by Walter van den Berg. A couple of goofy punks decide to carjack a serious chunk of cache and rocket toward their foregone conclusion. Berg delivers a fast-paced romp with snappy dialog, a love-struck gofer, and a femme fatale who's the brightest bulb in the dim of Osdorp after dark.
"Starry, Starry Night" by Rene Appél & Josh Pachter put a gratifying cap on Akashic's latest serving of noir. Vincent, who stands to inherit his father's very profitable business of snacks and refreshment kiosks, makes the mistake of restocking in the wee hours at Museum Square. There, past meets present when three of his old party pals turn up looking to relieve their pill-popping boredom.
Like most anthologies, the quality of the stories in Amsterdam Noir vary—but only slightly. Overall, it's a 5-Star excursion in noir fiction.