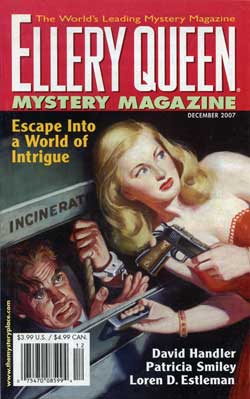 Ellery Queen Mystery Magazine Dec. 2007 Vol. 130 No. 6 Whole No. 796
Contents
David Handler "The Man Who Couldn't Miss" art by Laurie Harden
Edward D. Hoch "Gypsy Gold"
Jon L. Breen: The Jury Box
Patricia Smiley "Party's Over"
Bill Crider: Blog Bytes
Jon L. Breen "A Run Through the Calendar"
Loren D. Estleman "Wild Walls" (Valentino) art by Mark Evan Walker
Caroline Menzies "The Bathtub Oracle" (Dept. of First Stories)
Peter Turnbull "The Mummy" art by Allen Davis
Marilyn Todd "Room for Improvement"
2007 EQMM Readers Award Ballot
Anton Chekhov "A Malefactor" (Passport to Crime) translated from the Russian by Constance Garnett
Martin Edwards "An Index"
Maria Hudgins "Murder on the London Eye"
Michael Bracken & Tom Sweeney "Snowbird" art by Mark Evans
Index: Vol. 129 and Vol. 130
Classified Marketplace
Indicia and Masthead
Publisher: Peter Kanter
Editor: Janet Hutchings
Editorial Assistant: Emily Giglierano
Excutive Director Art & Production: Susan Kendrioski
Senior AD: Victoria Green
Cover: Rafael de Soto
144 pages $3.99
Ellery Queen Mystery Magazine website
I asked Michael Bracken about what it was like to write with a partner on "Snowbird." Below is an excerpt from his interview in The Digest Enthusiast No. 8, June 2018:
In the early-2000s I edited five anthologies, and Tom had a story in each of them. When I pitched an anthology of private eye stories to a regional publisher, the publisher was interested only if all the stories were set in Texas and the contributors were Texans/ Texas residents. The only way Tom, a New Englander, would get a story in the anthology was if he collaborated with someone in Texas. Me.
Tom's writing style—that is, the way he uses words and structures sentences—is (or was then) similar to mine, but his approach to writing is quite different. Where I throw something on the page to start and then figure out where I'm going, he likes to start with the theme and build backwards from there.
So, we went back and forth, writing and discussing as we went. I would write a bit and turn it over to him. He would edit or revise what I wrote and add more. I would edit/ revise what he wrote and add to it. All the while we held email discus- sions on the side about where the story was going, what we needed to research to move forward, and so on. (We even roped in a third writer—Çarol Kilgore—to aid with some research. Part of the story is set on the Gulf Coast and Carol provided us with details neither of us could get otherwise.)
Writing the way we did, it's quite difficult to know now who wrote which passages, but after several months we had a complete draft. Unfortunately, the regional publisher was no longer interested in doing the anthology.
It is true that collaborating means twice the work for half the money, but Tom and I created a story neither of us could have written alone, and it was the first sale either of us made to EQMM. So, it was well worth the effort.