Excerpt from Steve Carper's series "One-and-Dones" that appears in The Digest Enthusiast No. 7–9:
"Bob Hope's first book, They Got Me Covered, a self-published curiosity from 1941 that's of interest because it sold four million copies[!] and launched Hope's long book career of putting his name on his writers' output. Pepsodent, the sponsor of his hit radio show, is the real publisher, although the company's name is nowhere to be found except inside the text. Listeners had the connection beaten into their heads nevertheless by the relentless plugging he gave the book on his show and the fact that it sold for a mere dime if you accompanied that with a box (a complete box, not a box top) from a tube of Pepsodent."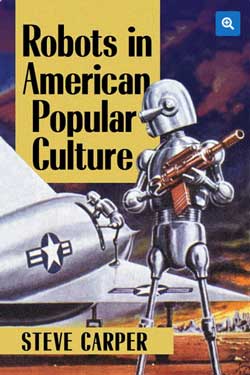 Meanwhile, McFarland has published Steve Carper's Robots in American Popular Culture. It's available directly from McFarland Books. And be sure to check out the companion website robotsinamericanpopularculture.com.