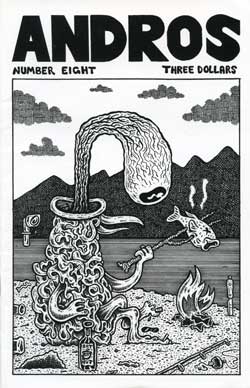 Max Clotfelter was kind enough to send a batch of his recent mini comics. The digest-sized Andros No. 8 features 20 pages (plus covers) of laugh-out-loud comics. Volume Two of The Elements of Rough is also digest-sized, with an inch sliced off the top. It's 32 pages with a self-cover—all about "Liz's Last Birthday Party."
Not shown are Hole Shot and Lean Cuisine, two recent mini comics in the classic 1/4-sheet format.
I interviewed Max a while back for Copy This!. Here's an excerpt:
RK: I've picked up most of your work from shows in Seattle and Portland. But for those who live elsewhere, where are some good places to find your comics?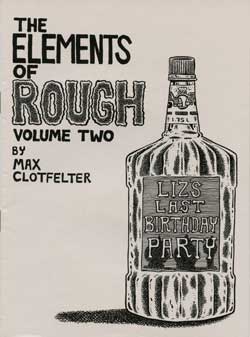 MC: Ah, great question! If anyone wants any of my comics I would suggest they go to the Spit and a Half website and support John Porcellino's fantastic distro. He carries a nice selection of my more accessible zines. Then if you really wanna get into the nooks and crannies of my catalog you can email me directly and I'll send you a list of what's currently in stock, along with directions on how to order. I'm also always going to be tabling at the great regional zine shows in the PNW such as The Olympia Comics Festival and Shortrun in Seattle. And occasionally I'll even travel to other shows across the nation like CAKE, Autoptic and Fluke. Trades are always welcome through the mail or in person at the shows!
To stay current on Max's work, check out his blog: Snake Meat.