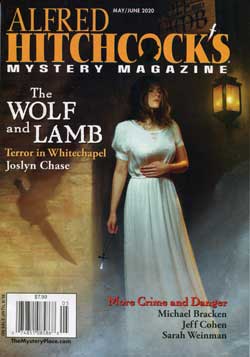 May Digest Magazines
Alfred Hitchcok's May/Jun 2020
This issue marks the introduction of former police detective Lee Lofland's new column Case Files, "offering insights into the working lives and daily realities of those involved in law enforcement."
Contents Page
Linda Landrigan: Trapped! (introduction)
The Lineup
Joseph S. Walker "Etta at the End of the World" art by Kimberly Cho
Jeff Cohen "The Question of the Befuddled Judge"
Ken Brosky "Airless Confinement"
Parker Littlewood "Buck Solves the Case"
Arlene Fisher: Dying Words (acrostic puzzle, solution on page 192)
Robert Lopresti "Shanks Saves the World" art by Kevin Speidell
Mark Lagasse: Scrambled Plum (puzzle, solution on page 105)
Joslyn Chase "The Wolf and Lamb"
Laurel Flores Fantauzzo: Booked and Printed
—The Devil Aspect by Craig Russell
—Anti-Social by Andrew Marantz Viking
—Phantom Lady by Christina Lane
Elizabeth Zelvin "Reunion"
Mysterious Photograph $25 fiction contest "Never a Dull Moment in the Kitchen"
Michael Bracken "Sleepy River"
Bob Tippee "A Bias for Action"
John G. Wimer "Probable Cause"
Mark Thielman "The Case of the Cereal Killer" art by Enan Liang
Sarah Weinman "Limited Liability"
Eve Fisher "Brother's Keeper"
Janice Law "The Client"
Russell Atwood selects/introduces a Mystery Classic" "A Gross Miscarriage of Justice" by Joyce Porter
Lee Lofland's Case Files
The Story That Won (Jan/Feb) "Famous Last Words" by S.D. Burke
Coming in AHMM Mar/Apr 2020
Directory of Services/Indicia
Classified Marketplace
Alfred Hitchcock Mystery Magazine Vol. 65 No. 5 & 6 May/Jun 2020
Publisher: Peter Kanter
Editor: Linda Landrigan
Managing Editor: Jackie Sherbow
Senior Director of Art & Production: Porter C. McKinnon
Senior ADs: Victoria Green & Thomas Slosser
Cover: Bastien Lecouffe Deharme
192 pages
$7.99 on newsstands until June 16, 2020
Alfred Hitchcock Mystery Magazine website
AHMM and EQMM Mystery Value Pack-8 $7.95
AHMM and EQMM Mystery Value Pack-16 $12.95
Mystery Double Issue Value Pack-12 $15.95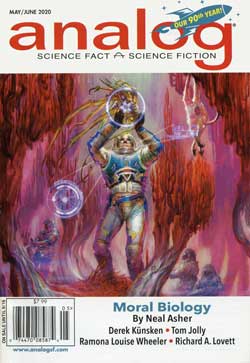 Analog May/Jun 2020
Emily Hockaday's Anniversary Retrospective Editorial: Here There Be Women
Anne McCaffrey "Weyr Search" (90th Anniversary Retrospective Reprint)
G.O. Clark "Miles to Go Before We Rest" (verse)
Neal Asher "Moral Biology"
Richard A. Lovett's Science Fact—Space Dust: How an Asteroid Altered Life on Earth . . . Millions of Years Before the Dinosaurs
Tom Jolly "A Breath of Air" art by Soo Lee
Sarah Gallien "The New Planet" (verse)
Dominica Phetteplace "Candida Eve"
John G. Cramer's The Alternate View: Is the Universe a Hypersphere?
Aimee Ogden "To Persist, However Changed"
James Sallis "Net Loss"
Phoebe Barton "A Compass in the Dark"
In Times to Come
Eric Cline "It Was a Tradition When You Turned 16"
Ramona Louise Wheeler "Calm Face of the Storm" art by Mark Evans
Derek Künsken "The House of Styx" Part II art by Eldar Zakirov
Don Sakers: The Reference Library
—The Oppenheimer Alternative by Robert J. Sawyer
—Accepting the Lance by Sharon Lee & Steve Miller
—Frozen Orbit by Patrick Chiles
—The Blood-Dimmed Tide by Michael R. Johnson
—Starborn & Godsons by Larry Niven, Jerry Pournelle, Steven Barnes
—The Renegat by Kristine Karthryn Rusch
—Vulcan's Forge by Robert Mitchell Evans
—The Collapsium by Wil McCarthy
—Gremlins Go Home by Ben Bova & Gordon R. Dickson
Brass Tacks (Letters)
Anthony Lewis: Upcoming Events
Analog Science Fiction and Fact (Astounding) Vol. 140 No. 5 & 5 May/Jun 2020
Publisher: Peter Kanter
Editor: Trevor Quachri
Managing Editor: Emily Hockaday
Editorial Assistant: Rae Purdom
Senior Art Director: Victoria Green
Cover: Donato Giancola
208 pages, $7.99 on sale until June 16, 2020
Analog website
SF Value Pack-8 $7.95
SF Double Issue Value Pack-12 $15.95
SF Value Pack-16 $12.95

Digest Magazine Blogs
C.C. Finlay previews the May/Jun issue of F&SF at Fantasy and Science Fiction.
Michael Bracken talks catalyst about "Sleepy River" from AHMM May/Jun 2020 at SleuthSlayers. (Click on the note page for a larger, readable view.)
Shelly Dickson Carr discusses writing at EQMM's Something is Going to Happen.
Leah Cypess on "Stepsister" from F&SF May/Jun 2020 at Fantasy & Science Fiction.
Linda Landrigan remembers Angela Zeman at AHMM's Trace Evidence.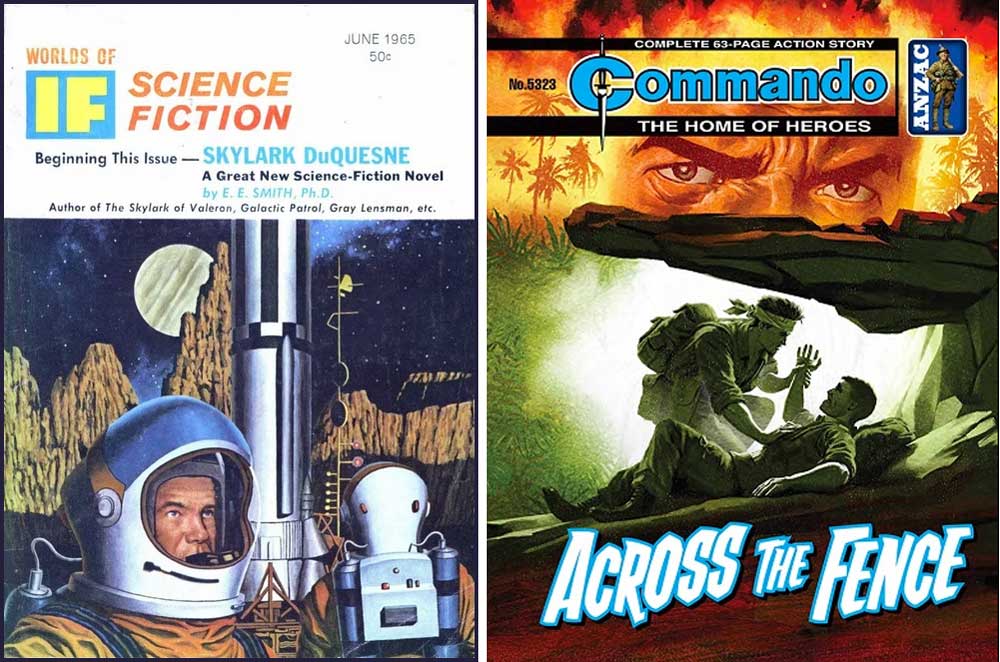 Digest Magazine Reviews
David Levinson reviews Worlds of If June 1965 at Galactic Journey.
James Reasoner reviews Commando: Across the Fence at Rough Edges.
Scott posted the cover of Leisure Detective Magazine No. 9 at The Nick Carter & Carter Brown Blog.
TDE Contributors' Corner
Jack Seabrook and Peter Enfantino explore Batman in the 1980s at bare•bones e-zine.
Jack Seabrook's The Hitchcock Project: Morton Fine and David Friedkin Part Three: Crimson Witness at bare•bones e-zine.
Storytime
Nils Gilbertson's "Feelin' Like Hell" at Rock and a Hard Place.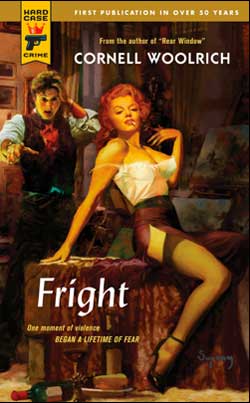 Advertiser Spotlight
Digest, paperback, pulp, and comic collectors may want to request a subscription to the free monthly Modern Age Books all-picture catalog. It's a great source for collectibles with accurate grading, speedy service, and great prices. Request a subscription here.
Readin' and Writin'
Book Trailer for Lake County Incidents by Alex Cizak. I wrote a short review of the book on Goodreads, but see my full version in the upcoming TDE.
Read this week: The Hard Case Crime edition of Fright by Cornell Woolrich. A beautifully written noir crime story with a socko finish.
Finished writing my article on Fotocrime this week and laid out the pages. The Digest Enthusiast No. 12 is getting close to final so I sent out many requests to digest magazine editors for news updates, the final step of content creation. There are some great things in the works!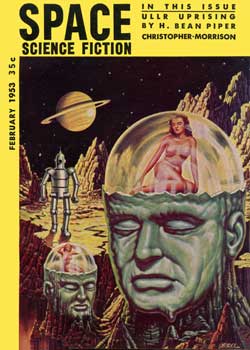 Vintage SF Digest
Space Science Fiction Feb. 1953
Contents Page
Lester del Rey: An Editorial on Immortality
H. Beam Piper "Ullr Uprising" part one of two, art by Paul Orban
William Morrison "The Hunters" art by H.R. van Donge
Coming Events
Milton A. Rothman's Solution Unknown
George O. Smith's Book Reviews Science: Fact and Fiction
H.B. Fyfe "Exile" art by Ed Emshwiller
John Christopher "Relativity" art by Ed Emshwiller
Poul Anderson "Security" art by Alex Ebel
Take-Off (Letters of Comment)
In Memoriam: Earle Bergey
Publisher: John Raymond
Editor: Lester del Rey
Assoc. Editor: John Fell, John Vincent
Art Director: Milton Berwin
Cover: Alex Ebel
5.5" x 7.5" 160 pages
35¢ cover price
Read Vince Nowell, Sr.'s article "When Things Go Wrong—The Lester del Rey/John Raymond Fiasco" in The Digest Enthusiast book seven.