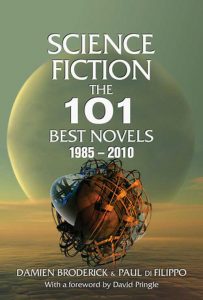 From International Science Fiction No. 1, the opening paragraph of "The Disposal Man" by Australia's Damien Broderick packs a wallop:
"Every Saturday night," said Aunt Tansy, her eyes wide and blue and honest, "there's a corpse in my bath."
An outré beginning that requires a careful hand to expand, without unraveling into giddy self-indulgence. Fortunately, Broderick ably juggles curiosity and humor with the fantastic, and pulls off an amusing SF mystery.
The author of nearly two dozen novels, even more short stories, a few radio and movie scripts, and several nonfiction books, Damien Broderick (b. 1944) a noted Australian critic, editor, and scholar now resides in San Antonio, Texas.