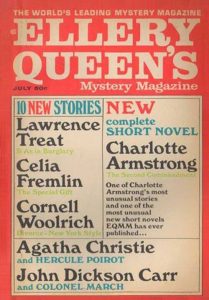 The final entry in the parody section of The Misadventures of Ellery Queen, edited by Josh Pachter and Dale C. Andrews:
Like co-editor Pachter, Dennis M. Dubin placed his first published story while still in high school—in EQMM (July 1967). However, unlike the former, Dubin's story, "Elroy Quinn's Last Case" was prophetic, as it seems to be the author's last mystery as well. I can see why it concludes the parody section, yet its madcap elements balance nicely with its drama and provide a smooth transition to the collection's final, more serious Potpourri section.
As the story opens, Elroy Quinn already long retired, is coaxed into action by Inspector Thomas Velie, who explains, "the king of Ubinorabia arrived here two days ago to begin talks on the huge oil deposit recently discovered in his country." It's large enough to incent dialog between East and West, but only the king supports it. His heir does not. One of the king's bodyguards is dead, a victim of mistaken identity—meaning the monarch himself is marked for murder. Who wants him dead? The clues only deepen the mystery: "…a gladiator's helmet and pair of cats, one with a plethora of tails." Baffling to Velie and most mortals, but Quinn's cogitations overcome all obstacles and justice, is at last, laid to rest.
EQMM base image from Galactic Central.
This review continues on April 18th . . .