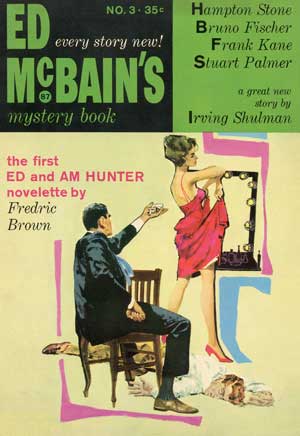 Jack Seabrook takes a close look at Ed McBain's Mystery Book No. 3 in the current issue (No. 14) of The Digest Enthusiast. Here's a preview:
"Ed McBain's Mystery Magazine is a standard-sized digest (5-1/4" x 7-5/8"), with color front and back covers and black and white interiors. It was published by Pocket Books in New York and ran only three issues. The first two are dated 1960, while the third is dated 1961. The information in issue number three says it was published bi-monthly, so perhaps the first two issues came out in late 1960 and the third in early 1961. Issue three runs 148 pages, including covers. Ed McBain is listed as the editor and Robert Goodney is listed as the managing editor, so it may be the case that McBain was a figurehead and Goodney put the magazine together."
Jack's piece is loaded with background information and a complete synopsis of the issue. Artwork includes cover images as well as several interior illustrations from the digest.