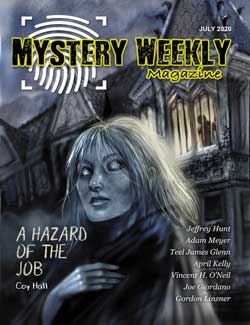 Current Releases
Mystery Weekly Magazine July 2020
Contents Page
Coy Hall "A Hazard of the Job"
Jeffrey Hunt "Sir Oxnard"
Tell James Glenn "Screen Shot"
April Kelly "Setting the Pick"
Vincent H. O'Neil "Tombstone Dodge"
Joe Giordano "Star Witness"
Adam Meyer "Wipeout"
Gordon Linzner "The Corpse at the Foot of My Bed"
Laird Long "Poisoned Relationship" (A You-Solve-It)
Mystery Weekly Magazine No. 59 July 2020
Publisher: Chuck Carter
Editor: Kerry Carter
Cover: Robin Grenville-Evans
7.4" x 9.7" 84 pages
Print $7.99 Kindle $3.99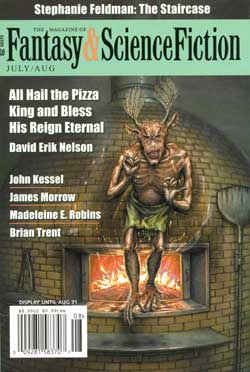 Fantasy & Science Fiction Jul/Aug 2020
Contents Pages
Charles Coleman Finlay: Editorial
Rati Mehrotra "Knock, Knock Said the Ship"
M. Rickert "Last Night at the Fair"
James Morrow "Bible Stories for Adults No. 37: The Jawbone"
John Kessel "Spirit Level"
Charles de Lint: Books to Look For
Michelle West: Musing on Books
David Erik Nelson "All Hail The Pizza King And Bless His Reign Eternal"
Ana Hurtado "Madre Nuestra, Que Estás en Maracaibo"
Mary Soon Lee "A Quartet of Alphabetic Bubbles" (verse)
Bennett North "A Bridge from Sea to Sky"
Mel Kassel "Crawfather"
Madeleine Robins "'Omunculus"
David J. Skal's Films: Darkness Visible
Jerry Oltion's Science: What the Heck Is an Analemma?
Stephanie Feldman "The Staircase"
Brian Trent "The Monsters of Olympus Mons"
Natalia Theodoridou "The Shape of Gifts"
Coming Attractions
F&SF Market Place
Thomas Kaufsek's Curiosities: The Contaminant by Leonard Reiffel (1978)
Fantasy & Science Fiction Vol. 139 No. 1 and 2, No. 750, Jul/Aug 2020
Publisher: Gordon Van Gelder
Editor: C.C. Finlay
Assistant Publishers: Barbara J. Norton, Keith Kahla
Assistant Editors: Robin O'Connor, Stephen L. Mazur, Lisa Rogers
Contests Editor: Carol Pinchefsky
Cover: Alan M. Clark
Cartoons: Arthur Masear, Danny Shanahan, Kendra Allenby, Nick Downes
258 pages, $8.99 on newsstands until August 31, 2020
Fantasy & Science Fiction website

Digest Magazine Blogs
Alec Nevada-Lee writes about his story "Retention" from Analog Jul/Aug 2020 and in audio from The Outer Reach and Syndromes at The Astounding Analog Companion.
Kevin Mims on lockdown book browsing at EQMM's Something is Going to Happen.
Will McIntosh explains The Future of Dating and his story "Nic and Viv's Compulsory Courtship" from Asimov's Jul/Aug 2020 at From Earth to the Stars.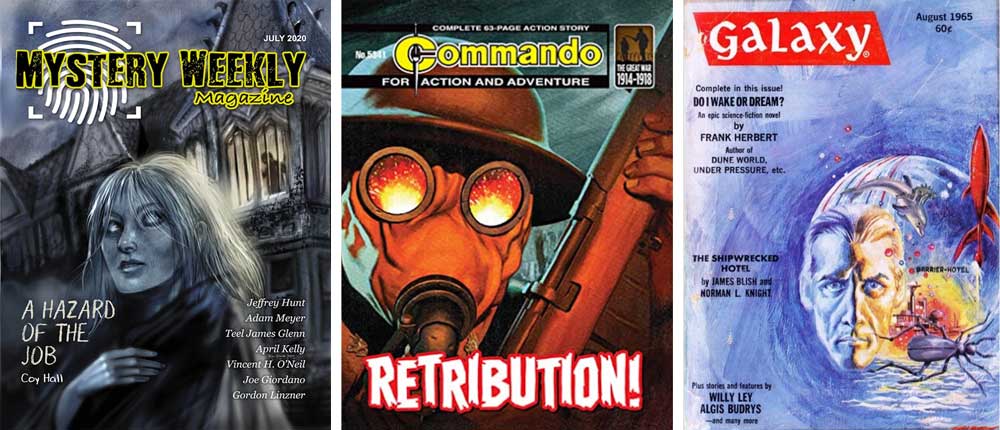 Digest Magazine Reviews
Robert Lopresti reviews "Setting the Pick" by April Kelly from Mystery Weekly Magazine July 2020 at Little Big Crimes.
James Reasoner reviews Commando: Retribution! at Rough Edges.
Gideon Marcus reviews Galaxy Aug. 1965 at Galactic Journey.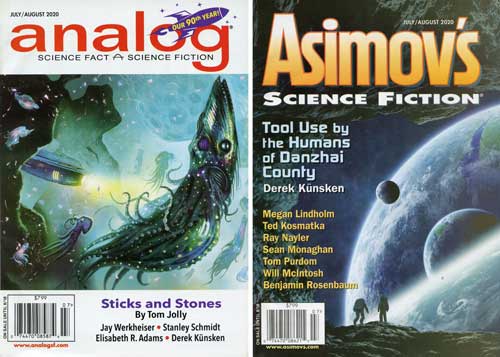 Gabe Dybing reviews the Asimov's and Analog Jul/Aug 2020 issues at Black Gate.
Storytime
Gary Hoffman's "Happy Birthday, Baby" at Kings River Life Magazine. (Thanks, Kevin Tipple.)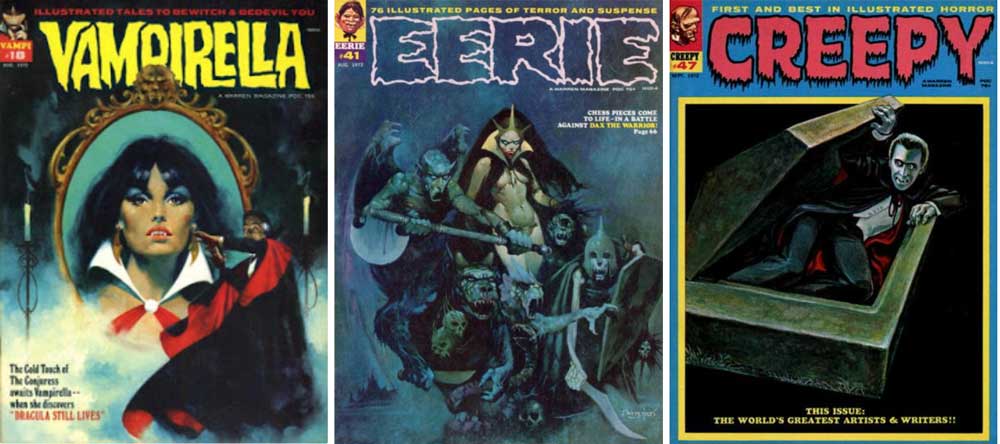 TDE Contributor's Corner
Uncle Jack (Seabrook) and Cousin Peter (Enfantino) review Vampirella No. 18, Eerie No. 41, and Creepy No. 47 at bare•bones e-zine.
Readin' and Writing'
Worked on my review of the Verdict digest this week, and finished reading the third issue of the series. The lead story, "Bay City Blues' by Raymond Chandler is excellent, but I struggled writing a recap. Chandler's stories are always packed with characters fading in and out of complex plots. His trademark prose and non-stop action are thrilling. but I find it easy to forget details of what's what. I went through a second time and made notes so I could write about it intelligently. It is a tightly plotted tale and everything lines up as it should. It's also a magical reading experience.
Besides Part 3 of Rex Stout's novel Fer-De-Lance, the other standout story in this issue is Bruno Fischer's "No Escape." The story opens with a home invasion and the tension never stops until the end. Masterful storytelling by another crime fiction maestro.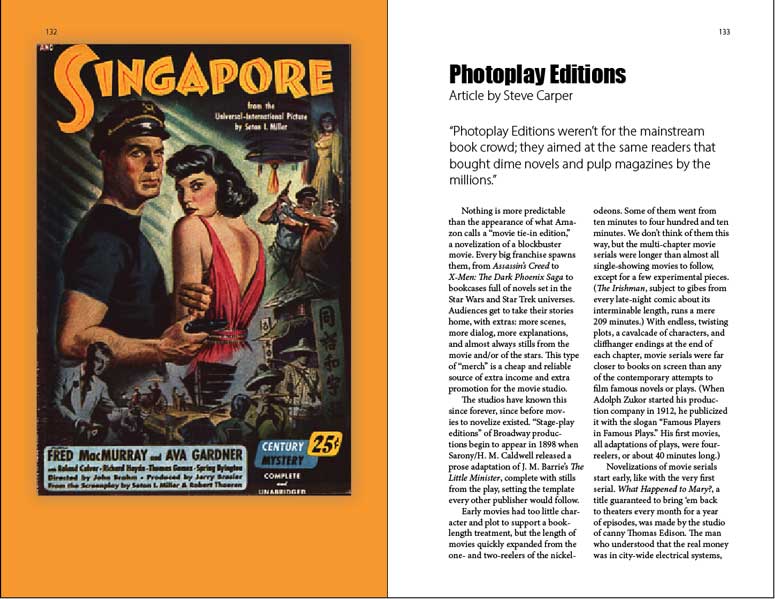 Thanks to Tony Gleeson for his post about The Digest Enthusiast No. 12 on Facebook this week. In addition to the interview with Tony—and one with John Shirley, the issue also features a comprehensive report from Steve Carper about Photoplay Editions the first novelizations of famous films—and even a few plays. TDE12 is available in print from Lulu.com, and on Kindle and Magzter in digital.
The print version of TDE12 is also in stock at Bud's Art Books and Mike Chomko Books.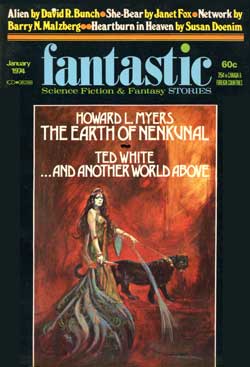 Vintage SF and Fantasy Digest
Fantastic January 1974
Contents Page
Ted White: Editorial
Howard L. Meyers "The Earth of Nenkunal" art by Jeff Jones
David R. Bunch "Alien"
Ted White "And Another World Above" art by Michael Nally
Janet Fox "She-Bear" art by Michael Kaluta
J.J. Russ "The Interview"
Barry N. Malzberg "Network" art by Joe Staton
Susan Doenim "Heartburn in Heaven" art by Gray Morrow
According to You (Letters)
Fantastic Vol. 23 No. 2 January 1974
Publisher: Sol Cohen
Assoc. Publisher: Arthur Bernhard
Editor: Ted White
Assoc. Editor: Grant Carrington
Assist. Editors: Moshe Feder, John Berry
Art Director: J. Edwards
Cover: Esteban Maroto
5.25" x 7.75" 130 pages 60¢