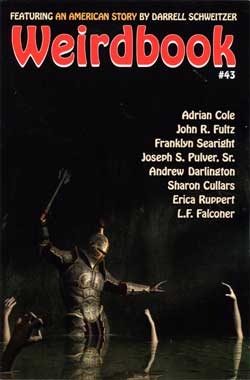 New Releases
Weirdbook No. 43
Contents
"An American Story" by Darrell Schweitzer
"Impervious to Reason, Oblivious to Fate" by John R. Fultz
"The River" by Sharon Cullars
"Taking Out the Trash" by by D.C. Lozar
"Arthur Wardrobe And Asia Anastacia: A Love Story" by Andrew Darlington
"Snack Time" by Franklyn Searight
"Godlike" by Edward Morris and Konstantine Paradias
Ronkonkoma" by Glynn Owen Barrass
"The Fury of Angels" by Adrian Cole
"Keisha's Dinosaur" by Nicole Givens Kurtz
"Will Home Remember Me?" by Joseph S. Pulver, Sr.
"You're Gonna Love This Song" by Michael S. Walker
"Frozen Time" by Rivka Jacobs
"Lucien Greyshire and the Ghost from Applebee's" by L.F. Falconer
Plus poetry by Jeff Barnes, Maxwell I. Gold, Neva Bryan, Ashley Dioses, K.A. Opperman, Ann K.Schwader, W.D. Clifton, Ngo Binh Anh Khoa, Chad Hensley, Frederick J. Mayer, and Gregg Chamberlain.
Weirdbook Vol. 2 No. 13 Issue 43 August 2020
Publisher/Executive Editor: John Gregory Betancourt
Editor: Doug Draa
Consulting Editor: W. Paul Ganley
Cover: Fotolia
Interior Artwork: Allen Koszowski
184 pages, 6" x 9"
Print $12.00 , Kindle*
Wildside Press website
*Not available at the time of this writing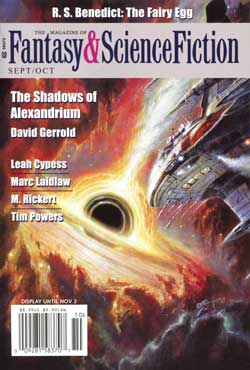 Fantasy & Science Fiction Sep/Oct 2020
Contents
"Of Them All" by Leah Cypess
"The Shadows of Alexandrium" by David Gerrold
"My Name Was Tom" by Tim Powers
"The Fairy Egg" by R.S. Benedict
"Weeper" by Marc Laidlaw
"Do AIs Dream of Perfect Games?" by Angie Peng
"The Martian Water War: Notes Found in an Airlock" by Peter Gleick
"Little and Less" by Ashley Blooms
"The Cry of Evening Birds" by James Sallis
"The Dog and the Ferryman" by Brian Trent
"This World Is Made for Monsters" by M. Rickert
"The Writing of Science Fiction" by Timons Esaias (verse)
Books to Look For by Charles de Lint
Games by Marc Laidlaw
Plumage from Pegasus: Keeping Up with the ISBNs by Paul Di Filippo
Television: The Devil in Devs by Karin Lowachee
Science: The Science of Printing by Jerry Oltion
Coming Attractions
Curiosities by Paul Di Filippo
Fantasy & Science Fiction Vol. 139 No. 3 and 4, No. 751, Sep/Oct 2020
Publisher: Gordon Van Gelder
Editor: C.C. Finlay
Assistant Publishers: Barbara J. Norton, Keith Kahla
Assistant Editors: Robin O'Connor, Stephen L. Mazur, Lisa Rogers
Contests Editor: Carol Pinchefsky
Cover: Bob Eggleton for "The Shadows of Alexandrium"
Cartoons: Arthur Masear, Mark Heath, Nick Downes, Bill Long
258 pages, $8.99 on newsstands until Nov. 2, 2020
Fantasy & Science Fiction website
Bud's Art Books' Weekly New Items Blog post.
Digest Novels
Harlequin Books meet Digest Art at Sleazy Digest Books! (NSFW).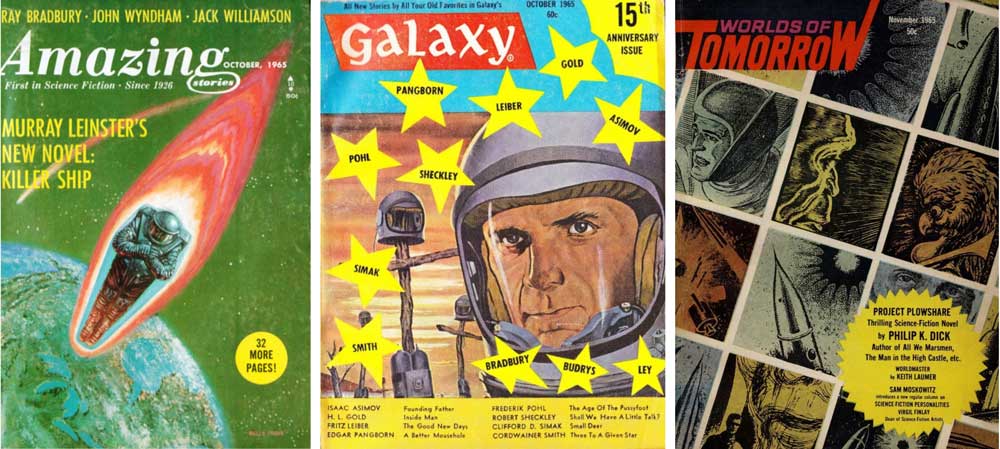 Digest Magazine Reviews
John Boston reviews Amazing Stories Oct. 1965 at Galactic Journey.
Gideon Marcus reviews Galaxy Oct. 1965 at Galactic Journey.
Paperback Warrior Podcast No. 61 reviews The Best of Manhunt 2.
Victoria Silverwolf reviews Worlds of Tomorrow Nov. 1965 at Galactic Journey.

Digest Magazine Writers' Updates
Sarina Dorie on "I, Bigfoot" from Analog Sep/Oct 2020 at The Astounding Analog Companion.
Zandra Renwick, whose "Killer Bisnez" appears in EQMM Sep/Oct 2020, discusses "The Moment Expectations Change" at Something is Going to Happen.
James McArthur writes about "The Devil's Footprints" for Fate magazine.
Robert Reed on his cover story, "The Ossuary's Passenger" from Asimov's Sep/Oct 2020, at From Earth to the Stars.
Storytime
David Rachels' "Death Comes to Uncle Bob" at Pulp Modern Flash.
Close to the Bone provides "The Otsego House" by DAH via their newsletter.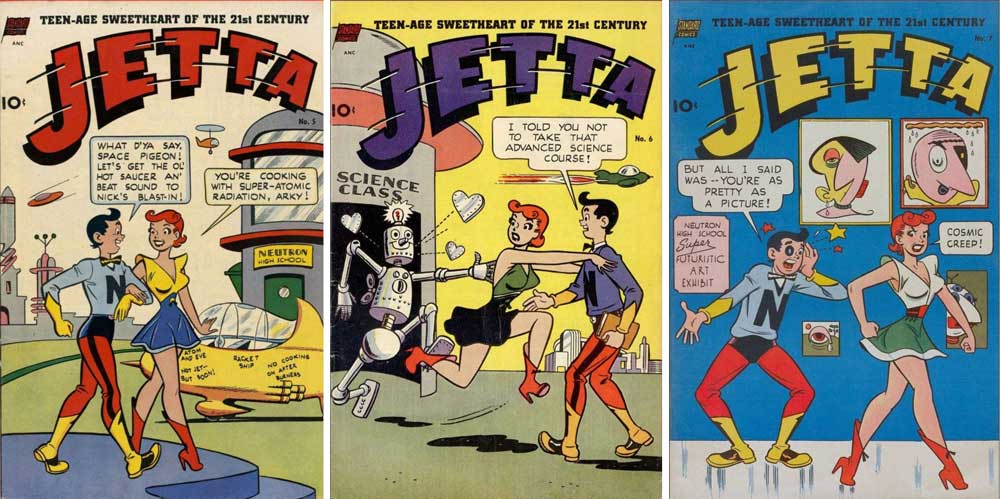 TDE Contributors' Corner
Steve Carper delves into Jetta: Teen-Age Sweetheart of the 21st Century at Flying Cars and Food Pills.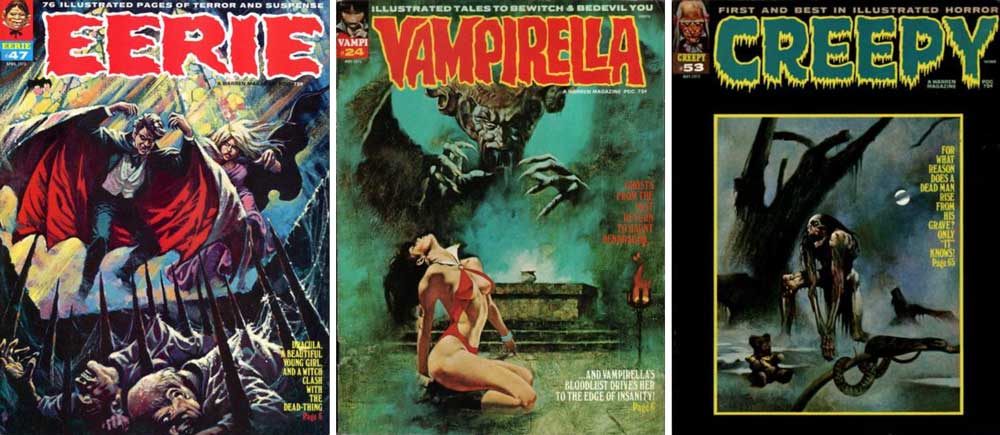 Uncle Jack (Seabrook) and Cousin Peter (Enfantino) review Eerie No. 47, Vampirella No. 24, and Creepy No. 53 at bare•bones e-zine.
Readin' and Writin'
Since it's a reference guide, I've been slowly making my way through Martin Roth's (1924–2000) The Crime Writer's Reference Guide for several months now. He updated it in the early 1990s and this edition was published after his death in 2003. A fair amount of the data is dated, but the concepts remain solid and the author includes plenty of suggestions on how/where to get the latest information on various topics. The reference is divided into sections on Crime, Criminals, Cops, Investigations, The Courts, Prisons, and Language (slang and legal). It also includes an exellent list of further reading books for each of its sections. If one were writing a story set in the early 1990s it would be invaluable to set the stage on then current practices and techology.
Finished reading Unsolved Murders No. 1 from June 1954, the first of only two issues. The first thing that strikes you about this vintage true crime digest is its production values. Printed on a higher grade of paper than newsprint, UM is able to include a generous assortment of quality photographs to support its reports. The writing is also a notch above many of its rivals of its era. If I had to guess why it didn't catch on, I'd cite it's lack of closure. Although unsolved murders makes a great hook to grab attention, reading case after case without resolution leaves a void. Somewhat pricy, but worth the splurge, I'm still waiting for a copy of the second issue to surface.

Thoroughly enjoyed a few hours with Paperback Parade No. 108 this week. Full page cover repros dominate this edition, exposing the delights of Pan Books' Agatha Christie novels (article be Jules Burt), Monarch movie novelizations (article by Bruce Tinkel), the British Tit-Bits crime books (article by Tom Lesser), and Canada's Westerns and Northerns from Halequin Books (article by Jim Fitzpatrick). Editor Gary Lovisi and Designer Rich Greene round out the issue with news and features on artist Gil Cohen, paperback promotional matchbooks, and Spain's Celebridades series. Outstanding!
I joined the Rock and a Hard Place fanclub this week, via issue three. Their tag line "A Chronicle of Bad Decisions and Desperate People" aptly sums up the package. The stories here are often crime and often noir, but the magazine also explores characters who may not be criminals in storytime, but I wouldn't be surprised if they took the plunge somewhere down the line. A great collection of trouble and its aftermath, well worth the support of hardluck story lovers. See my full review in the upcoming TDE13.
Been a tough week motivation-wise. Air quality in the Pacific Northwest has been literarlly off the charts. It rained last night, and the weather people tell us we're in for big improvements now. I sure hope so, three crises is becoming more than I can handle.
Bright spots: Rick McCollum is working on illustrations for my story, and I completed the retouch repair work on five covers for Steve Carper's article on Digest SF Novels. Also did clean-up on two more issues of Head for the upcoming Roman Scott collection edited by Marc Myers.
Our current issue: The Digest Enthusiast No. 12 is available in print at Lulu.com and Amazon, and in digital formats at Kindle Books and Magzter.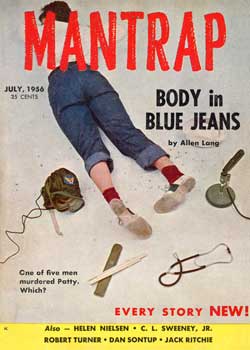 Vintage Crime Digest
Mantrap No. 1 July 1956
Contents Page
Richard Hardwick "One-Way Cruise" art by Tom O'Sullivan
Jack Richie "A Torch for Tess"
Dan Sontup "Murder for a Doll" art by Dick Shelton
Derek Krull "Stake Out"
John R. Starr "Target Sighted"
Allen Lang "Body in Blue Jeans"
Robert Turner "The Man Who Never Hurried"
James J. Dwyer "Hunch"
Helen Nielsen "A Bad Night for Murder" art by Ray Houlihan
C.L. Sweeney, Jr. "A Certain Kind of Caper" art by Dick Shelton
Harold George Shadd "The Escape of Willie Croton"
Harry Whittington "The Glass Alibi"
Richard Harper "Storm" (from Best Western March 1956)
Mantrap Vol. 1 No. 1 July 1956
Secret Life Publications
Publisher: Michael St. John
Gen. Manager: R.E. Decker
Editorial Director: Walter R. Schmidt
Managing Editor: N.F. King
Associate Editor: William Manners
Art Director: Charles W. Adams
Assistant Art Director: Gerald Adams
5.5" x 7.75" 128 pages 35 cents