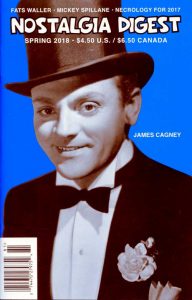 Ready for spring? Here's a sign it's on the way, the Spring 2018 edition of Nostalgia Digest:
Contents
Steve Darnall: Hello, Out There in Radioland!
"A Few Moments with . . . Max Collins" (uncredited)
Stone Wallace "No Stress, No Strain" The effortless (and sometimes dangerous) charm of James Cagney. (cover story)
Necrology for 2017 (Sad, but at least many of these stars were in their 90s when they passed.)
David Weinstein "Things are Different Now" When America went to war, Eddie Cantor went to work.
Bob Kolososki "But They Really Want to Direct" Recalling actors who looked at movies from the other side of the camera.
Ted Mosser "The Fat Man" The life and career of Thomas Waller, the musician who was—literally—larger than life.
Christopher Lynch "Roadside Assistance" When Burma-Shave was the original King of the Road.
Wayne Klatt "The Days of Our Soaps"
Mail Call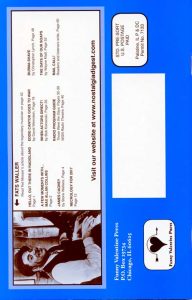 Plus, the Radio Program Guide for Those Were the Days and WGN Radio Theatre
Editor: Steve Darnall
Nostalgia Digest Spring 2018
5.5" x 8.5" 64 pages, b&w interior
$4.50 on newsstands
Four-issue subscription $17
Eight-issue subscription $30
Nostalgia Digest website
Hat tip to Robert Lopresti for his review of The Digest Enthusiast book seven on FB.