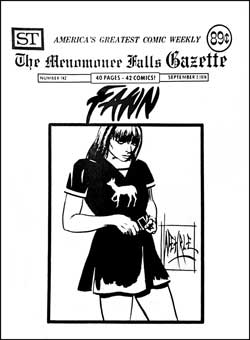 Joe Wehrle, Jr.'s story "The Bandemar" appeared in the first Clarion anthology and the comic version in Bill Schelly's Sense of Wonder No. 12.
"Several years later," Joe explained, "I resurrected the idea, and Fawn, with a slightly different storyline, was published for 36 weeks in The Menomonee Falls Gazette from Wisconsin, an all-comic newspaper.
"Toward the end [of Fawn's run], I got those commissions from Lava Mt. Records to do H. P. Lovecraft portraits for their record jackets, and those took a lot of time, so the Gazette guys were alternating Fawn with something else on a bi-weekly basis. Then their paper just sort of fizzled out. They continued to run a handful of strips that they had al- ready paid for in their Comic Reader, but they were completely broke as far as the Gazette was concerned. It's probably a wonder they were able to publish as many issues as they did."
The cover of The Menomonee Falls Gazette No. 142, September 1974, featured the debut of the Fawn the Dark Eyed comic strip. The strip appeared in issues 142–161, 163–171, 173–176, 178, 179, 181, 183, and 188.
Joe's bibliography appears on the Larque Press website.