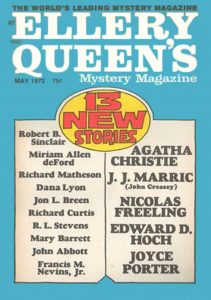 The fourth story in The Misadventures of Ellery Queen, edited by Josh Pachter and Dale C. Andrews, pastiche section:
The background notes by Francis M. Nevins that bookend his "Open Letter to Survivors," first presented in EQMM May, 1972, only embellish an already excellent pastiche. Formidable and wealthy, Adelina Monquieux (pronounced Mon-Q) is mother to adopted sons Xavier, Yves, and Zachary—identical triplets. That is, until she's found murdered shortly after her introduction to an unnamed eloquent, quick-witted sleuth. Her will stipulates her secret memoir must remain unread, locked in her safe for 24 years after her demise, lest her fortune go south rather than Far East, for the children of war-torn Japan. Needless to say, the murderous perp is thrice clever and only the extraordinarily quick mind of the detective is able to follow the letter of the lawless.
EQMM base image from Galactic Central.
More to come . . .