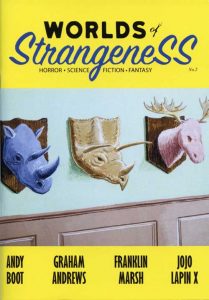 Worlds of StrangeneSS No. 2 review part three:
Franklin Marsh knows enough about gaming to give his story, "Computer Wild," an authentic feel. The opening scene inside a game shop sets the tone of this horror yarn.
Curt paused and frowned, pulling a game from the rack.
"Andy? ANDY!!!"
"Wha'?"
"You ever heard of . . . Kill 'Em All?"
Andy snorted.
"Who?"
"Kill 'Em All. It looks shit, but I thought I knew everything we stocked . . . This don't ring any bells."
By the time Inspector Dalton appears, things have turned nasty and it's up to local law enforcement to get things sorted. Dalton mixes his skills of detection, good fortune, and bad luck to get to the bottom of this techno-terror tale.
This review continues on May 28 . . .