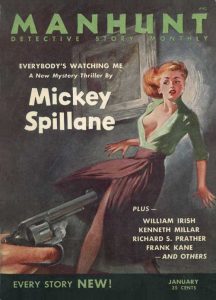 Peter Enfantino's multipart review/synopses of Manhunt, kicking off with the Jan–Apr 1953 issues, begins in The Digest Enthusiast book six. Here's an excerpt of his series:
Manhunt By the Numbers
14 years (1953–1967)
114 issues
500+ authors
1100+ stories
13,000+ pages
6,000,000+ words
countless writers influence
Some of the guilty parties: Robert Bloch, Gil Brewer, Leslie Charteris, Jonathan Craig, Harlan Ellison, David Goodis, Ed McBain (and all his aliases), John D. MacDonald, Richard Prather, Craig Rice, Mickey Spillane, Donald E. Westlake (and Richard Stark), Harry Whittington, and Charles Williams.
A collection in paperback, The Best from Manhunt, was published in 1958 by Perma Books.
There were thirteen editions of Giant Manhunt, four-issue collections of regular issues, rebound with the covers removed into Giants. Which four issues varies, the point was for the publisher to recycle returns and make some additional sales. AHMM also used this approach from 1957–1968, titled Alfred Hitchcock's Mystery Sampler.
In the UK, stories from Manhunt were published by Tom Boardman as Bloodhound Detective Story Magazine for 14 issues from 1961–1962. In Australia, 13 editions of Manhunt Detective Story Magazine were published by New Century Press in a size larger than the US editions. The Australian run went from 1953–1954.