Contents
Wayne D. Dundee "Straight from the Shoulder Holster"
Joe R. Lansdale "By Bizarre Hands"
Daniel Rowe "The Dispeptic Diogenes"
Hal Charles "The Peacemakers"
Michael Bracken "Partners" (Nathaniel Rose)
Max Allan Collins "Mourn the Living" (Part 2 of 4; Nolan PI)
Will Wyckoff "A Christmas Story"
Charles Hoffman's Ninja: Hardboiled Comics for the Eighties
Paul Bishop "Day of Asphalt, Day of Guns"
Wayne D. Dundee "Dirty Business" (Joe Hannibal)
Hardboiled No. 9 Winter/Spring 1988
HB Enterprises
Editor: Wayne D. Dundee
Cover by Kevin Farrell
6" x 9" $2.95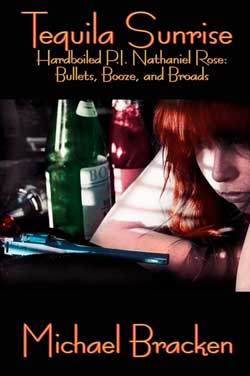 In his interview in The Digest Enthusiast No. 8 (June 2018), Michael Bracken gave a brief character sketch of detective Rose:
"Nathaniel Rose is a St. Louis-based private eye who made his first appearance in "Partners" (Hardboiled, Winter/Spring 1988), and all seven Rose stories are collected in Tequila Sunrise (Wildside Press, 2000)."
For more about Rose, visit his page on Thrilling Detective.
Image and data from Galactic Central.