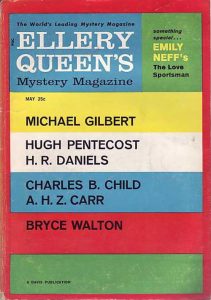 Josh Pachter and Dale C. Andrews wisely keep the parody section of their anthology, The Misadventures of Ellery Queen, to three stories. They're short, fun, and funny; but a little goes a long way, so three is just right.
Originally presented in EQMM (May 1961) J.N. Williamson's "Ten Months' Blunder" features Celery Keen, who solves the murder of a pawnshop owner swiftly, smugly, and questionably in four pages. But is the pompous Celery really as keen as his namesake?
EQMM cover image from Galactic Central.
This review continues on April 10th . . .