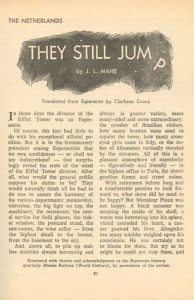 From International Science Fiction No. 1 (Nov. 1967):
"They Still Jump" is a story by J.L. Mahe from The Netherlands. It originally appeared in Monda Kultura (World Culture) in Esperanto, from which it was translated by Clarkson Crane.
The director of the Eiffel Tower, Monsieur Ploux, has a problem. Far too many are using the iron lady as their method of choice for suicide.
From the first level jumped the lovelorn, those with toothaches, the alcoholics, the unlucky bettors, the insane; from the second, widowers, bankrupts, gamblers, tax-payers; from the third, philosophers and poets.
It is an epidemic. Numerous methods are tried to end it but none can deter the determined. That is, until Monsieur Ploux puts his head together with Mr. Plow, general manager of the Golden Gate Bridge, who happens to have exactly the same problem.