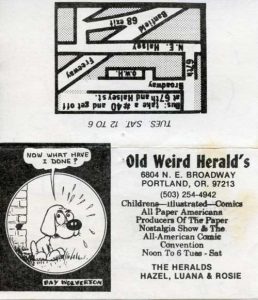 Way back in the 1970s there was a comic shop in Portland called Old Weird Herald's run by three women named Hazel, Luana, and Rosie. I visited the shop on NE Broadway only twice, but I'll never forget two of the treasures discovered there.
First, Basil Wolverton originals. Among his many works was a comic strip called Woozie Woofer signed as Bay Wolverton. OWH's had a handful of these old strips. There's one available to view at Comic Art Fans.
Second, self-published comics by Kerry Lochner. OWH's carried what seemed to be every Wallplug Publication available: Sundae Funnies, Super Baloney, and Picturead. Wonderful indie comics from the early 1970s.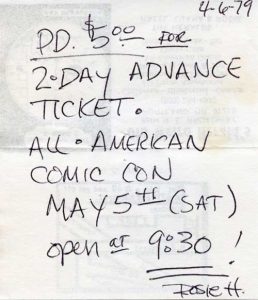 Apparently, the Heralds also put on the All American Comic Con on May 5, 1979, which was likely held at the Masonic Temple on SW Park Avenue.