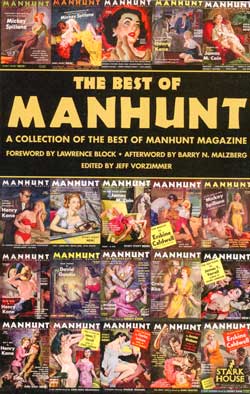 The Best of Manhunt
A collection of the best of Manhunt magazine edited by Jeff Vorzimmer.
Foreword by Lawrence Block
Afterword by Barry N. Malzberg
First appearing on newsstands in late 1952, Manhunt was the acknowledged successor to Black Mask, which had ceased publication the year before, as the venue for high-quality crime fiction. By April of 1956 it was being billed as the "World's Best-Selling Crime-Fiction Magazine." On its pages, over its 14-year run, appeared a veritable Who's Who of the world's greatest mystery writers including: Ed McBain, Mickey Spillane, Richard Deming, Jonathan Craig, Hal Ellson, Robert Turner, Jack Ritchie, Frank Kane, Craig Rice, Fletcher Flora, Talmage Powell, Richard S. Prather, David Alexander, Harold Q. Masur, Gil Brewer, Helen Nielsen, Erskine Caldwell, Henry Slesar, David Goodis, Lawrence Block, John D. MacDonald, Clark Howard, Fredric Brown, Donald E. Westlake, Harlan Ellison, Harry Whittington and Steve Frazee.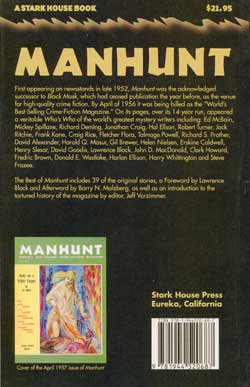 Stark House Press
5.5" x 8.5" 392 pages
$21.95