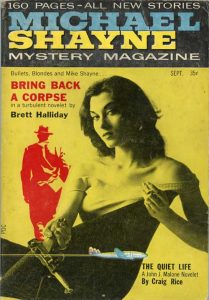 In September 1956, Brett Halliday teamed with publisher Leo Margulies to launch MSMM. "It is a project both Leo and I have held in our minds and hearts for many years," writes Halliday in his introduction. "But we have waited patiently for the exact moment when the signs were right, when the many and varied elements essential to the production and distribution of a truly fine mystery magazine coincided to make the project feasible."
"Michael" was changed to "Mike" with the seventh issue in April 1957. MSMM began as a monthly, but slipped to bi-monthly during its second year, and returned to monthly during 1958 for the balance of its impressive run. With 337 regular issues and three annuals (1971–1973), MSMM was by far one of the most successful digest magazines ever published. The final issue appeared in August 1985.
Its first editor was Sam Merwin, and he launched the title with a terrific first issue:
Michael Shayne Mystery Magazine Vol. 1 No. 1 September 1956
Contents
Brett Halliday: Full Cycle—New Birth (introduction)
Brett Halliday "Bring Back a Corpse!" (Mike Shayne)
Craig Rice "The Quiet Life" (John J. Malone)
Robert Bloch "Water's Edge"
Charles Irving "You Wash, and I'll Dry"
Hal Ellson "Walk Away Fast"
Kenneth Fearing "Three Wives Too Many"
John E. Hasty "Unfinished Business"
Louis Trimble "A Pitch for Murder"
Carter Sprague "A Present for Peter"
Matthew Lee "Home Ground"
Norman Daniels "Rooftop"
MSMM Checklist from Galatic Central.