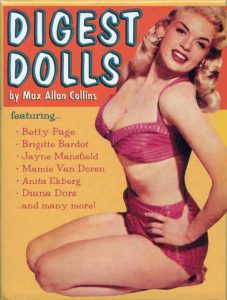 An excerpt from review for The Digest Enthusiast book six:
In the early 1990s, Kitchen Sink Press called on award-winning novelist Max Allan Collins to research and write about classic cheesecake pin-ups for a series of three trading card sets. Each set of 36 cards is housed in its own full color, two-piece box featuring an image gleaned from the cards inside. The back of each card includes the results of Collins' informative research.
Painted Ladies features pin-up calendar art from the 1940s and 1950s. Pocket Pin-Ups (see TDE4), presents a compact history of 1950s pocket-size magazine covers.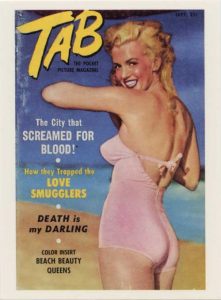 Collins' introduces Digest Dolls (1993) on the back of card #1 (Tab w/Marilyn Monroe): "Throughout the 1950s and into the '60s, digest-sized pin-up magazines provided their predominantly male readership with an endearingly tacky blend of pin-ups girls and tabloid journalism." The women are posed in bikinis, negligees, or what have they—but never completely nude. The stories are Hollywood press releases, true crime reports, advice, and surveys—usually about sex.