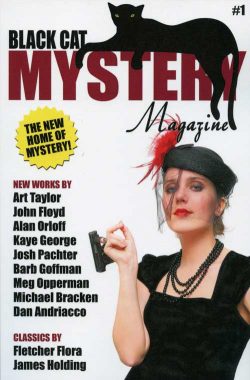 Excerpt from the review of Black Cat Mystery Magazine No. 1 from The Digest Enthusiast No. 7:
Annie is not the happily married newlywed she appears to be in Meg Opperman's "A Pie to Die For." Just a few months into her marriage a phone call from Benedict triggers an itch.

"My breath caught. My insides tingled. I could feel the heat stealing its way up my neck toward my cheeks."

Annie struggles for an excuse to sneak away the night before her mother-in-law is due for Thanks- giving dinner. It's no surprise she prefers action over approval, but Annie is far from predictable. Op- perman's stories have appeared in EQMM, Wildside's Sherlock Holmes Mystery Magazine, Weird Tales, and anthologies. Her story "Twilight Ladies" won the Derringer Award for best short story in 2015.