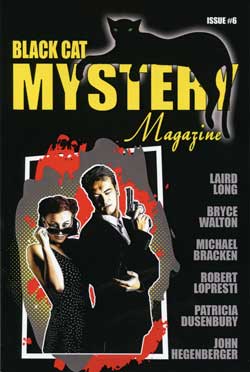 New Releases
Black Cat Mystery Magazine No. 6
Contents Page
Michael Bracken: From the Cat's Perch
Trey R. Barker "Seven Card Joker High"
Robert Guffey "The Loser"
Michael Bracken "Blest Be the Tie that Binds"
John Hegenberger "The Magnificent Score"
Robert Lopresti "Worse than Death"
Patricia Dusenbury "The Last Thing He Remembered"
Laird Long "Paint the Clown Red"
Bryce Walton "The Contagious Killer" (Classic Reprint)
Black Cat Mystery Magazine No. 6 (Vol. 2 No. 2) (June 2019)
Publisher: John Gregory Betancourt
Editor: Michael Bracken
Production Team: Sam Cooper, Steve Coupe, Shawn Garrett, Sam Hogan, Yamini Manikoth
Cover: Uncredited
6" x 9" 132 pages
Print $14.49 Kindle $3.99
Black Cat Mystery website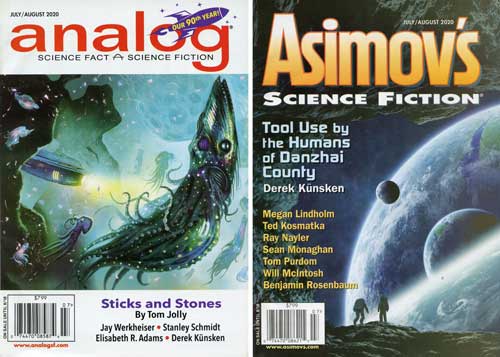 The Jul/Aug 2020 issues of Analog and Asimov's are now available. For contents click on their titles.

Pulp Modern editor Alec Cizak provides an update on the fiction digest at No Moral Center and introduces Pulp Modern Flash, a new online genre fiction website.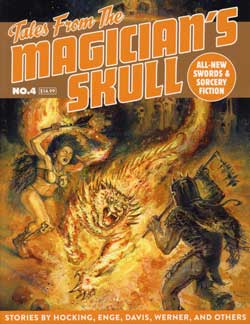 Tales from the Magician's Skull No. 4
Contents Page
John C. Hocking "Guardian of the Broken Gem"
Adrian Cole "On Death Seed Island"
James Enge "Masks of Silence"
James Stoddard "Cage of Honor"
C.L. Werner "The Witch's Hand"
Ryan Harvey "The Dead Queen's Triumph"
Tom Doyle "Thieves of the Fallen World"
Milton Davis "Apedamak's Army"
Terry Olson's Appendix: Game Statistics
Tales from the Magician's Skull No. 4
Publisher: Joseph Goodman
Editor: Howard Andrew Jones
Cover: Doug Kovacs
Design: Lester B. Portly
Interior Art: Chris Arneson, Randy Broecker, Samuel Dillon, Jannell Jaquays, Doug Kovacs, Brad McDevitt, Russ Nicholson, Stefan Prag
8.5" x 11" 72 pages
Print $14.99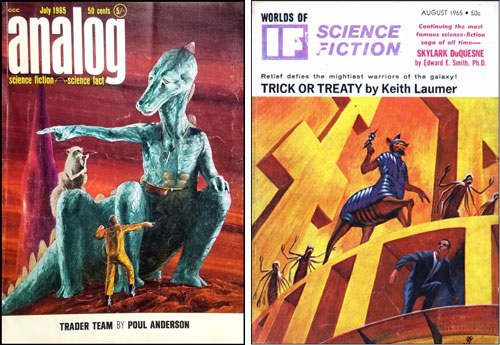 Digest Magazine Reviews
Robert Lopresti reviews Mark Thielman's "A Beastly Trial" from AHMM Jul/Aug 2020 at Little Big Crimes.
Gideon Marcus reviews Analog July 1965 at Galactic Journey.
David Levinson reviews Worlds of If Aug. 1965 at Galactic Journey.

Digest Magazine Blogs
Derek Künsken's Q&A on "Tool Use by the Humans of Danzhai County" Asimov's Jul/Aug 2020 at From Earth to the Stars.
P.K. Torrens on his story "Nanoscopic Nemesis" Analog Jul/Aug 2020 at The Astounding Analog Companion.
C.C. Finlay overviews F&SF Jul/Aug 2020 at Fantasy & Science Fiction.
Stephen Mazur is leaving his post as Assistant Editor of F&SF. C.C. Finlay writes a farewell tribute at Fantasy & Science Fiction.
Stephen Mazur interviews Richard Bowes about "In the Eyes of Jack Saul" (F&SF May/Jun 2020) at Fantasy & Science Fiction.
Jacqueline Freimor whose story "That Which is True" debuts in EQMM Jul/Aug 2020 responds to the question: "Where do you get your ideas?" at EQMM's Something is Going to Happen.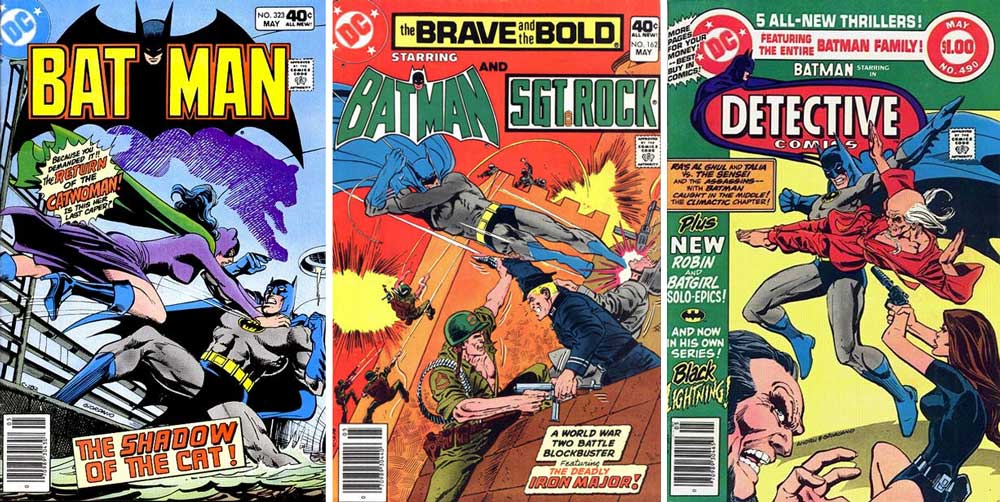 TDE Contributor Corner
Jack Seabrook and Peter Enfantino review Batman No. 323, The Brave and the Bold No. 162, and Detective Comics No. 490 at bare•bones e-zine.
Jack Seabrook presents The Hitchcock Project—Harold Swanton Part Two: Portrait of Jocelyn at bare•bones e-zine.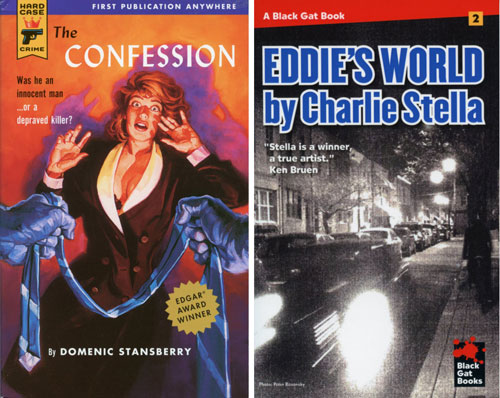 Readin' and Writin'
(6-28-20) Finished reading The Confession by Domenic Stansberry, Hard Case Crime, 2004 (HCC-006) this week. A criminal psychologist tells his first-hand story of the criminal justice system when he finds himself facing trial for the murder of his lover amid an avalanche of circumstantial evidence.
Second read of the week was Eddie's World by Charlie Stella, from Stark House Press' Black Gat imprint. It's Black Gat Books No. 2. The copyright is 2001, first published by Carroll & Graf. Cover photo by Peter Rozovsky, book design by Mark Shepard.
Eddie is a sometimes gangster, sometimes word processor. He takes on his latest caper mostly to help out a friend who is in deep financial straits. It's an after-hours heist for $15K in cash, split three ways between Eddie, Tommy, and the inside-gal Sarah. Like the rest of Eddie's life, things get complicated, get worse, and get hard to see anyway free and clear of the noirish muck he's mired in. Plot, characters, prose—this one's terrific from every angle.
Updated several larquepress.com webpages this week, adding The Digest Enthusiast No. 12 and Pulp Modern No. 5 to their respective webpages and a complete redo of the links page.
Barb Goffman shares proofreading tips at SleuthSayers.
DreamHaven Books now has copies of The Digest Enthusiast No. 10–12 and bare*bones No. 1 and No. 2 for sale online and at their landmark store in Minneapolis.
Jack Seabrook wrapped up a terrific article on Mystery Book Magazine author Leo Marr that's locked in for The Digest Enthusiast No. 13, due in January 2021.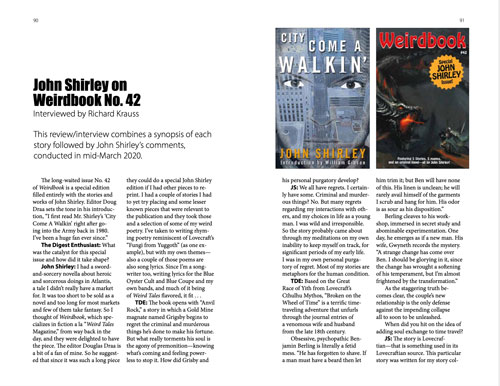 While you're waiting you might want to check out the current issue that includes an interview with John Shirley about his special issue of Weirdbook No.42. The Digest Enthusiast No. 12 is available in print from select booksellers and Lulu.com–and in digital versions for Kindle and Magzter.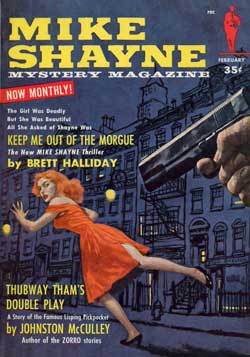 Vintage Crime Digest
Mike Shayne Mystery Magazine Feb. 1959
Brett Halliday: First Appearances
Brett Halliday "Keep Me Out of the Morgue" (Mike Shayne)
Lewis Horne "Strangers in Gideon"
Art Crockett "Murder Begins at Home"
Johnston McCulley "Thubway Tham's Double Play"
Henry Slesar "Something Borrowed"
John Jakes "The Crooked Three"
Charles Beckman, Jr. "Framed"
Dennis Weigand "Child's Play"
Mike Shayne Mystery Magazine Vol 4 No. 3 Feb. 1959
Publisher: Leo Margulies
Editorial Director: Cylvia Kleinman
Production: Walter P. Dallas
5.5" x 7.75" 128 pages
Cover Price: 35¢