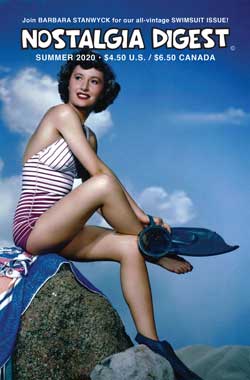 New Releases
Nostalgia Digest Summer 2020
Contents
Steve Darnall "Hello, Out There in Radioland!"
A Few Moments with . . . Keir Dullea
CeleBio: Barbara Stanwyck (Paramount Pictures, 1949)
Randy Turner "What it was was Mayberry" (The Andy Griffith Show)
Al Doyle "Play Ball?" When baseball's top players went to War, a wave of youngsters. veterans and amputees ensured the game would go on.
Garry Berman "Vass You Dere, Sharlie?" Jack Pearl and the rise and fall of Baron Munchausen.
Dan McGuire "At This Theatre Next Week" Chapter Three
David Rutter "Summers of Enlightenment" How the Chautauqua movement conquered America…by offering its citizens "all things in life."
Swimsuit Spotlight: Ava Gardner, Doris Day, Anne Baxter, Kirk Douglas, Loretta Young, Alexis Smith, Jackie Cooper, Leila Ernest, Kay Stewart, Eddie Bracken, Richard Conte, Gene Tierney, Beryl Vaughn, Jimmy Durante, Maureen O'Hara, Marie Windsor, and Ginger Rogers.
Annette Bochenek "Our (Every)man in Hollywood" James Stewart became a movie star, but never forgot his small-town roots.
Mail Call
Plus, the Radio Program Guide for Those Were the Days and WGN Radio Theatre
Nostalgia Digest Book 46 Chapter 3 Summer 2020
Editor: Steve Darnall
5.5" x 8.5" 64 pages, b&w interior
$4.50 on newsstands
Four-issue subscription $17
Eight-issue subscription $30
Nostalgia Digest website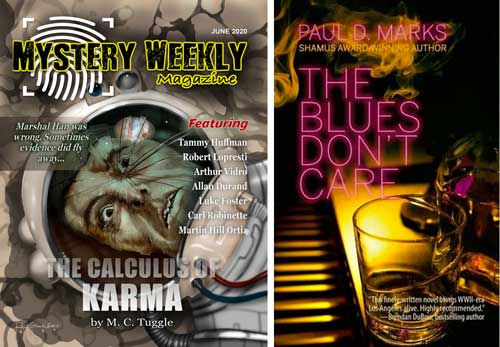 Mystery Weekly Digest June 2020
Contents Page
M.C. Tuggle "The Calculus of Karma"
Martin Hill Ortiz "Afterglow"
Luke Foster "Seat 9B"
Carl Robinette "Nothing Doing"
Allan Durand "Ancient Cypress"
Arthur Vidro "Gli or Nogt?"
Robert Lopresti "In Praise of My Assassin"
Tammy Huffman "Angels Stirring"
Peter DiChellis "Gallery Thief" (A You-Solve-It)
Mystery Weekly Magazine No. 58 June 2020
Publisher: Chuck Carter
Editor: Kerry Carter
Cover: Robin Grenville-Evans
7.5" x 9.75" 94 pages
Print $6.99 Kindle $3.99
MWM Website
The history of Los Angeles figures prominently in Paul D. Marks' just-released novel, The Blues Don't Care (Down & Out Books). In his post this week he shares research on The Rex, a gambling boat anchored just beyond the three-mile limit, at SleuthSayers. Paul writes about The First Two Pages of the new novel at Art Taylor's blog.

Digest Magazine Reviews
Paul Fraser reviews The Best from Fantasy and Science Fiction and the F&SF issues from whence the stories came at SF Magazines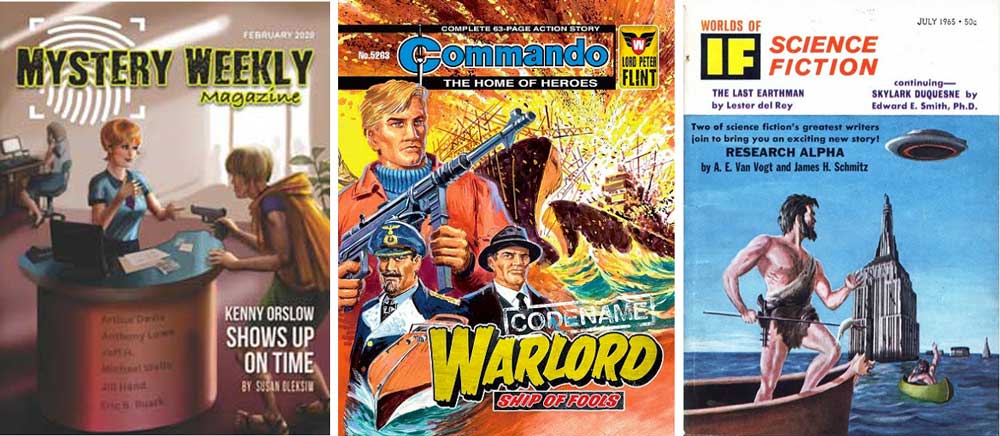 Kevin Tipple reviews Mystery Weekly Magazine Feb. 2020 at Kevin's Corner.
James Reasoner reviews Commando: Codename Warlord at Rough Edges.
David Levinson reviews Worlds of If July 1965 at Galactic Journey.
Storytime
Nick Kolakowski's "Scapegoat" at Rusty Barnes' Tough Crime.
Charlotte Platt's story "Meet the Family," read by JD Graves for PodClash No. 3 at EconoClash Review.
Robert Lopresti posts his story "Nobody Gets Killed" from AHMM Mar/Apr 2018 at his blog.

Digest Magazine Blogs
Richard Larson discusses hi story "Warm Math" from F&SF May/Jun 2020 at Fantasy & Science Fiction.
Robert Lopresti talks about his "In Praise of My Assassin" from MWM June 2020 at SleuthSayers.
Janet Hutchings ponders "Reading in a Time of Crisis" at EQMM's Something is Going to Happen.
TDE Contributors' Corner
Jack Seabrook and Peter Enfantino review Batman No. 321, The Brave and the Bold No. 160, and Detective Comics No. 488 at bare•bones e-zine.
Jack Seabrook reviews "The Monkey's Paw—A Retelling" from The Alfred Hitchcock Hour at bare•bones e-zine.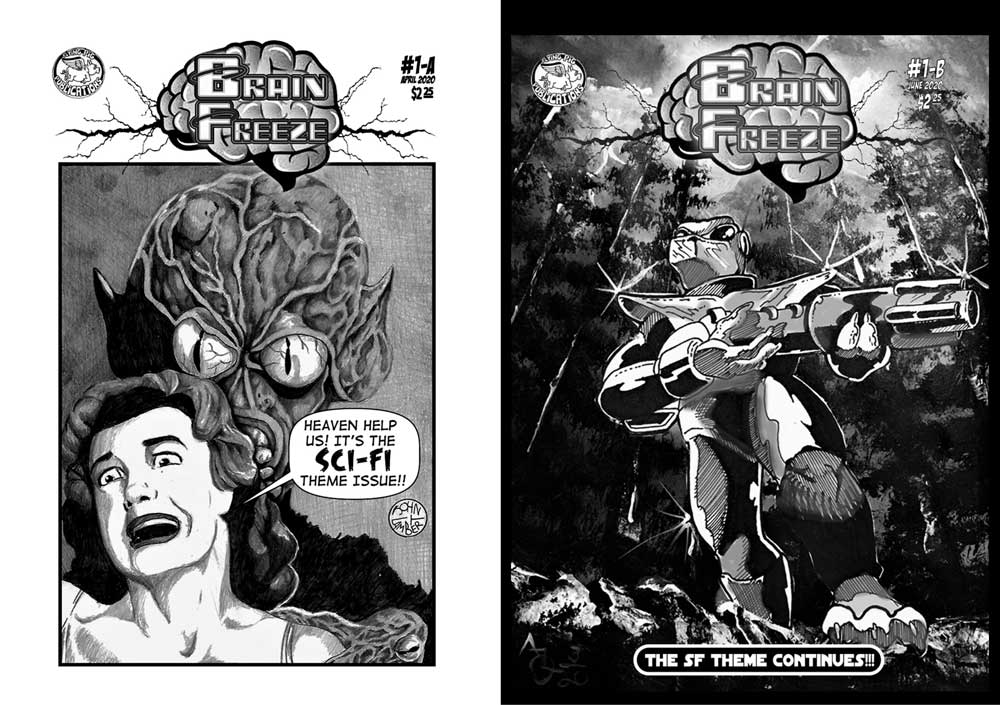 Zine Scene
Jim Main set out to publish a new mini comic called Brain Freeze and put out a call for SF-inspired contributions. The response was tremendous, but as they arrived he worried the repro size wouldn't really do justice to the detailed artwork many artists sent in. So he jumped up to digest-manga-size, splitting the book into two parts to accommodate all the material. Brian Freeze No. 1 parts A and B are $3.00 each postage paid. Part A features comic and illos by John Lambert, Kevin Duncan, Verl Holt Bond, Steve Shipley, Doug Holverson, Bob Vojtko, Doc Boucher, Jon Lawrence, and Brian D. Leonard. While Part B features Jason Bullock, Jerzy Szotek, Carl Taylor, George Lane III, Tony Lorenz, and more from Steve Shipley, Jon Law- rence, John Lambert, Doug Holverson, and Brian D. Leonard. Contact Jim via FaceBook for more ordering info.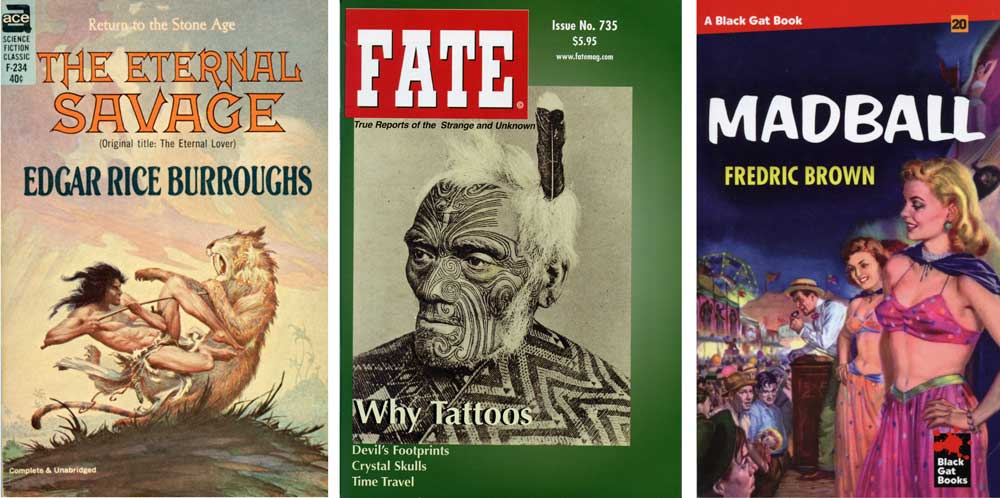 Readin' and Writin'
Haven't read a novel by Edgar Rice Burroughs in quite a few years so I decided to revisit the author with an Ace paperback edition kicking around for nearly as long. The Eternal Savage, originally titled The Eternal Lover. The science fiction aspect of this one is time travel, the necessary element that allows a prehistoric man to visit the jungles of Lord Greystoke. But Tarzan is mentioned only in passing, the caveman, Nu is the hero. He shares the spotlight with Nat-ul, the impossibly beautiful female lead. The plot and romance are serviceable, it's the adventure and action where Burroughs excels and The Eternal Savage was quite satisfying, if not the best of others I've read long ago.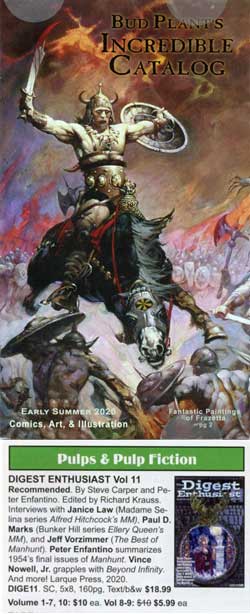 Finished reading Fate No. 735 on Monday night. Editor Phyllis Galde use her editorial to honor the memory of her friend and co-editor Rosemary Ellen Guiley who passed in July 2019. Susan Swan serves as Senior Editor on this edition that includes articles on animals lost on the Titanic, encounters with Shadow People, Sumerian "Gardener's Sin," the Devil's footprints, monster hotspot Payson, Arizona, crystal skulls, UFO theories, a history of tattooing, and plenty of other true reports of the strange and unknown. In sum: a welcome edition for Spring 2020.
Finally, I read Black Gat Book No. 20: Madball by Fredric Brown. Crimes among the carneys. Stellar cast of cronies caught in a web of avarice, cons, lust, and murder. A classic novel, reprinted in a beautifully designed new package, still leveraging the best of the past, but with bright, white paper stock the first edition never glimpsed in the madball.
Lulu.com has shipped the proof of TDE12 and I anxiously await its arrival.
TDE Advertisers
The latest Bud Plant's Incredible Catalog (Early Summer 2020) arrived this week and I was happy to see it included a listing for The Digest Enthusiast No. 11. Sign-up to Bud's weekly eNewsletter or download the catalog at Bud's Art Books.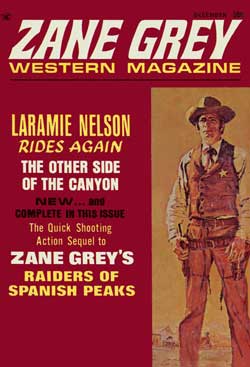 Vintage Western Digest
Zane Grey Western Magazine Dec. 1969
Leo Margulies: The Open Trail (introduction)
Contents Page
Romer Zane Grey "The Other Side of the Canyon"
Clay Ringold "A Question of Faith"
James McKimmey "Showdown at Blue Bluff"
Paul Clane "Even Shoot-Out"
Walter Dallas' A Carload of Killers
Zane Grey "The Camp Robber" (A Zane Grey Masterpiece)
Owen Wister "Timerline"
Gil Brewer "Pawnee"
C. Hall Thompson "Gun Smart"
Zane Grey Western Magazine Vol.1 No. 3 Dec. 1969
Publisher: Leo Margulies
Editorial Director: Cylvia Kleinman
Advisory Editor: Romer Grey
Advisory Editor: Dr. Loren Grey
5.25" x 7.75" 128 pages
50¢ cover price