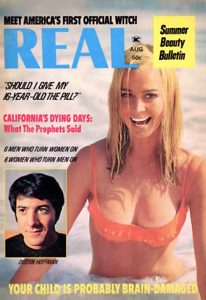 Excerpt from Tom Brinkmann's article, "Sharon Tate's Fate," from The Digest Enthusiast book six:
Real, the digest, was published bi-monthly and edited by David Zentner (1917–2002) with Peter Wolff as associate editor and was a sold-at-the-checkout-counter type magazine aimed at a mainly female readership. Zentner was born in Shanghai and went to school in the UK; he was the publisher of fifties girlie magazines such as Bare, Keyhole, Topper, and Escapade; he was also the head of Bee-Line Books, an adult paperback imprint that published Real as well. In the seventies, Zentner published Velvet and its sister magazine Velvet Talks, as well as the adult digests Velvet Touch, Velvet's Vibrations, and Velvet's Sensuous Letters.
Tom Brinkmann writes about unusual, off-the-beaten-path magazines, digests, and tabloids. His Bad Mags website was active from June 2004–July 2017. His books, Bad Mags Volume 1 (2008) and Volume 2 (2009) are available from secondary outlets, including amazon.