AnLab Reader's Award Finalists posted on Analog SF. (Hat tip to Mary Burgess.)
Catherine Wells, who has a story in the March/April 2020 issue of Analog called "Respite," writes about arrogance on the magazine's blog.
Matthew Hughes gives insights into "Air of the Overworld" in the current issue of Fantasy & Science Fiction.
Gideon Marcus declares F&SF March 1965 "is a dud" at Galactic Journey.
John Floyd discusses his story "Crow's Nest" from Ellery Queen Mystery Magazine (Jan/Feb 2020) at SleuthSayers.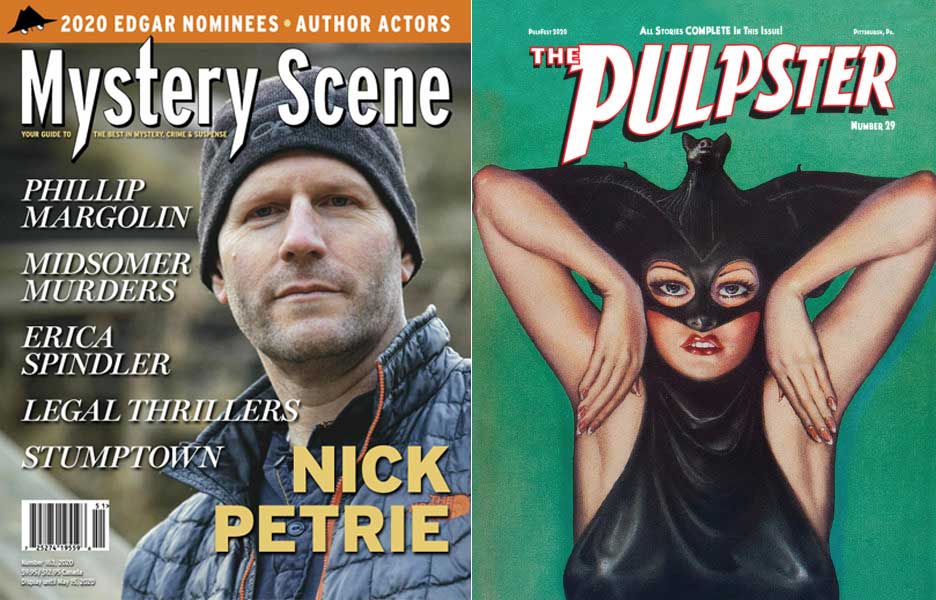 Mystery Scene magazine No. 163 is out. Full contents list, with links to order a single issue or subscription information here.
Have something to share about a Weird Tales, H. P. Lovecraft, Margaret Brundage, or anyone or anything else related to "The Unique Magazine?" Or something about vintage paperbacks and pulps? Bill Lampkin, the editor of the award-winning PulpFest program book, The Pulpster, would like to hear from you. Check out the post, "The Pulpster Wants You in 2020!" on the PulpFest website.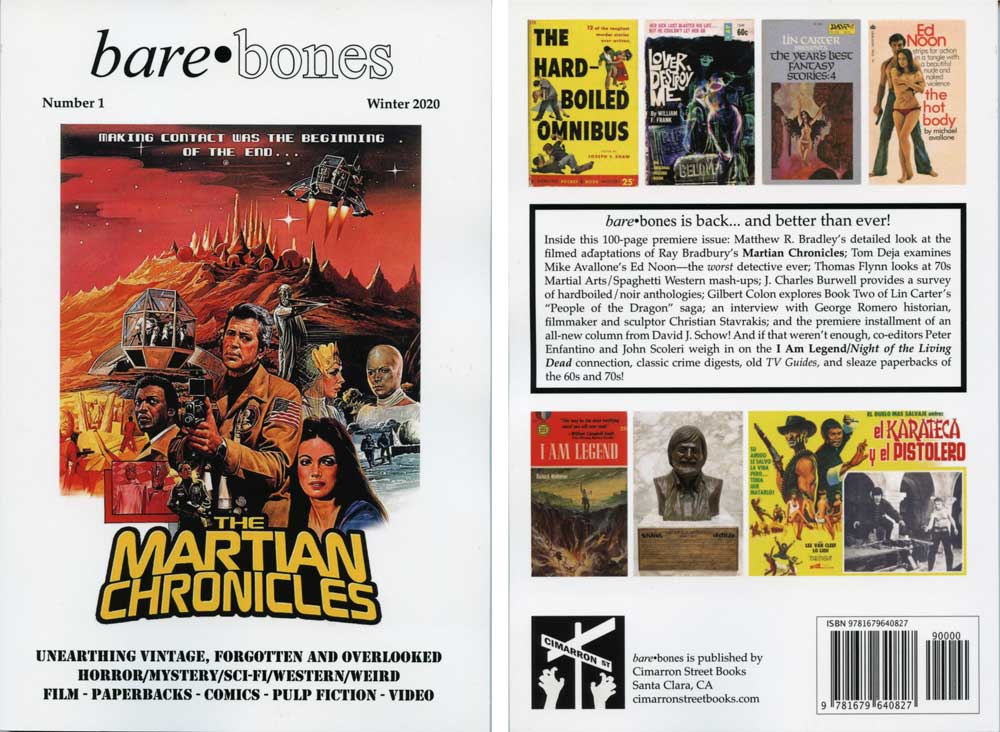 The reboot of bare•bones No. 1 (Winter 2020), covering vintage, forgotten and overlooked horror/mystery/sci-fi/western/weird films, paperbacks, comics, pulp fiction, and video, arrived this week.
Contents Page
Peter Enfantino, John Scoleri: Dueling Editorials
Thomas Deja "An Introduction to Ed Noon—The Worst Detective Ever Created"
Matthew R. Bradley "The Martian Chronicles on Screen"
Thomas W. Flynn, Jr. "The Spaghetti Western/Martial Arts Mash-Ups of the 1970s"
John Scoleri "Born of I Am Legend"
Gilbert Colon "Book Two of Lin Carter's 'People of the Dragon' Saga"
Peter Enfantino "Digging into Crime Digests"
John Scoleri "Christian Stavrakis: The bare•bones Interview"
J. Charles Burwell "A Survey of Key Hardboiled/Noir Anthologies"
Peter Enfantino "Sleaze Alley"
John Scoleri "What's on the Tube: January 1–7, 1972"
David J. Schow "R&D"
About the Contributors
Editors: Peter Enfantino, John Scoleri
Layout: John Scoleri
6" x 9" 102 pages
Print $9.95
Bonnie Hearn Hill, whose "Feliz Navidead" appeared in the Jan/Feb 2020 issue of EQMM, discusses the books that helped shape her writing at Something is Going to Happen.
Also from EQMM (hat tip Josh Pachter): contents for the May/Jun 2020 issue which goes on sale April 21, 2020.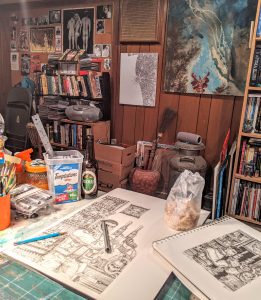 Readin' 'n Writin'
Rick McCollum was busy (well, he's always busy) this week working on the cover of the next Pulp Modern. He posted the photo of his WIP on his Facebook page. The image is based on a scene from one of the yet-to-be-announced stories.
The move to color for the print edition of The Digest Enthusiast has garnered mostly positive feedback, but I have heard a couple of concerns about the higher price. One reader suggested offering both a color and black-and-white version. If anyone cares to weigh-in please send an email or leave a comment on the Larque Press Facebook page.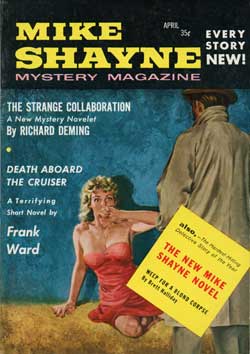 Read the second part of Brett Halliday's serialized Weep for a Blond Corpse in the April 1957 issue of Mike Shayne Mystery Magazine this week. Although the issue includes a nice collection of novelets by Frank Ward and Richard Deming; short stories by Lawrence Treat, Walt Sheldon, C.L. Sweeney, Jr., William R. Cox, and Arthur Feldman; and part two of Halliday's novel, it wasn't quite as good at the previous issue. My favorites were Deming's creepy crime novelet, Sweeney, Jr.'s "Soft, White Body," and Treat's humorous yarn. I also enjoyed Halliday's prose and Cox's trouble with gangsters.
From the Vault
A correction to last week's True Crime Detective stats. The Winter 1953 issue is incorrectly labeled as Vol. 2 No. 5 inside. It is actually Vol. 3 No. 1, as labeled correctly on its spine. Now onto this week's digest: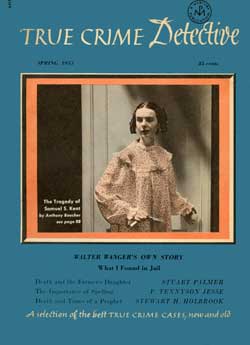 True Crime Detective Vol. 3 No. 2 Spring 1953
Contents Page
Walter Wanger "What I Found in Jail"
Joseph A. Shay as told to Robert P. Wilmot "A Rake's Progress"
Kurt Singer "The Man Who Sank the Royal Oak"
Anthony Boucher "Do You Believe . . . ?" A department of criminous mythology
Stuart Palmer "Death and the Farmer's Daughter"
F. Tennyson Jesse "The Importance of Spelling"
A.P. Herbert "Rex v. Puddle: Blackmail"
Verdict of Two: a book review department by the Editors
Anthony Boucher "The Tragedy of Samuel Savile Kent"
"The Truth About Lizzie Borden"
Stewart H. Holbrook "Death and Times of a Prophet"
Richard Brennan "The Case of the Talking Reindeer"
Publisher: Lawrence E. Spivak
Editors: Anthony Boucher, J. Francis McComas
General Manager: Joseph W. Ferman
Managing Editor: Robert P. Mills
Advisory Editor: Charles Angoff
Consulting Editor: Edward D. Radin
Art Director: George Salter
Cover: Dirone Photography from "The Tragedy of Samuel Savile Kent"
5.5" x 7.75" 128 pages 35¢