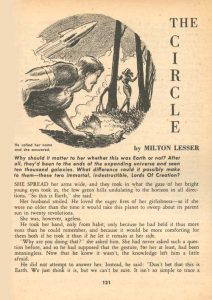 The final story in Marvel Science Stories, May 1951:
In "The Circle," Milton Lesser explores immortality through a husband and wife who, after traveling from one end of the universe to the other, settle on Earth. An Earth with no other humans and with the couple's immortality contingent on their abstinence from procreation. A well-crafted story built on too many illogical contingencies.
Milton Lesser (1928–2008) wrote science fiction under his given name and his detective stories, including the Chester Drum series, under the pseudonym Stephen Marlowe.