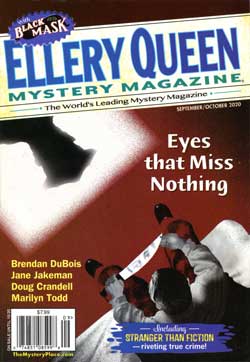 New Releases
Ellery Queen Sep/Oct 2020
Contents Page
Doug Crandell "Baby Drop Box" art by Mark Evan Walker
Kristopher Zgorski: Blog Bytes
Steve Steinbock: The Jury Box
Anna Scotti "What the Morning Never Suspected"
Dean Jobb's Stranger Than Fiction: Arthur Conan Doyle and the Mutineers
Joseph S. Walker "Chasing Diamonds"
Marilyn Todd "Burning Desire"
Jim Allyn "Things That Follow" (Black Mask)
Dale C. Andrews "Four Words"
Violet Welles "Round-Trip Runaways" (Dept. of First Stories)
Dean Jobb's Stranger Than Fiction Online: Preview
Asibe Taku "The Dashing Joker" (Passport to Crime) Translated from the Japanese by Yuko Shimada; adapted by John Pugmire
Libby Cudmore "All Shook Down"
Michael McGuire "Los Colores"
Jane Jakeman "The Oxford Ghosts"
Gregory Fallis "Terrible Ideas"
Zandra Renwick "Killer Biznez"
L.A. Wilson, Jr. "The Last True Love"
Alexandria Blaelock "The Perfume of Peahes" (Dept. of First Stories)
Barb Goffman "Dear Emily Etiquette" art by Jason C. Eckhardt
Brendan DuBois "The Homecoming"
Indicia
Ellery Queen Mystery Magazine Sep/Oct 2020 Vol. 156 No. 3 & 4, Whole No. 948 & 949
Publisher: Peter Kanter
Editor: Janet Hutchings
Managing Editor: Jackie Sherbow
Senior Director Art & Production: Porter C. McKinnon
Senior AD: Victoria Green
Cover: Brian Stauffer
192 pages
$7.99 on newsstands until October 20, 2020
Ellery Queen Mystery Magazine website
Dean Jobb's Stranger Than Fiction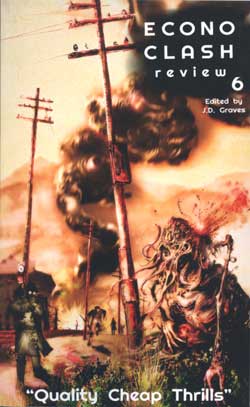 EconoClash Review No. 6
Contents Page
J.D. Graves: Welcome Thrill Seekers
Daniel Marcus "Jesus Christ Superstore"
Preston Lang "Party Bus"
Serena Jayne "Chet-Shaped Lure"
John Kojak "The Good Squad"
Donald Jacob Uitvlugt "The Night Jake Addison Saved the World"
Robb T. White "The Curse of the Temple Topaz"
Paul McCabe "Seven Flutes"
J.D. Graves "Don't Panic"
Chris Fortunato "You WIll be Very Happy Here"
Cheap Thrills Biographies
EconoClash Review No. 6
Editor: J.D. Graves
Cover: ToeKeen
Interior Art: Duane Crockett
5" x 8" 166 pages
Print $10.95 Kindle $4.99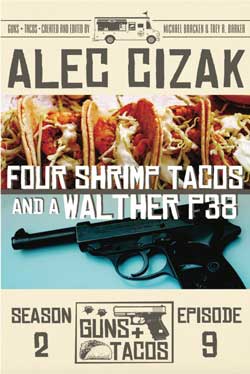 On Tuesday, Down & Out Books released the third episode of Guns + Tacos Season Two: Four Shrimp Tacos and a Walther P38 by Alec Cizak. Series created and edited by Michael Bracken and Trey R. Barker.
Guns + Tacos Season Two Subscriptions:
• Trade Paperback—$32.95 (includes all six digital episodes plus a subscriber-exclusive short story and FREE shipping within the Continental U.S.)
• Digital Formats—$11.95 (includes all six digital episodes plus a subscriber-exclusive short story)
Other authors in Season Two include: Eric Beeter, Michael Bracken and Trey R. Barker, Ann Aptaker, Ryan Sayles, and Mark Troy.
Subscribe at Down & Out Books.
Justin Marriott announced the lockdown special of The Paperback Fanatic will be published soon.
Storytime
Gabriel Hart's "Bottom's Up" at Pulp Modern Flash.
The new issue of Close to the Bone is now available to read online or download as a PDF at Close2thebone.co.uk.
Digest Magazine Reviews
Paperback Warrior reviews The Best of Manhunt Vol. 2 at Paperback Warrior.
Gideon Marcus reviews Analog Sept. 1965 at Galactic Journey.

Digest Magazine Writers' Updates
Stephanie Feldman on "The Staircase" from F&SF Jul/Aug 2020 at Fantasy & Science Fiction.
Wang Yuan on "Casualties of the Quake" from Analog Sep/Oct 2020 at The Astounding Analog Companion.
Brian Trent on "The Monsters of Olympus Mons" from F&SF Jul/Aug 2020 at Fantasy & Science Fiction.
Libby Cudmore, whose "All Shook Down" appears in EQMM Sep/Oct 2020, writes about the birthplace of Philo Vance at Something is Going to Happen.
M. Rickert on "Last Night at the Fair" from F&SF Jul/Aug 2020 at Fantasy & Science Fiction.
Michael Libling on "Robyn in Her Shiny Blue Coffin" from Asimov's Sep/Oct 2020 at From Earth to the Stars.
Cheryll Jones interviews Fate editor Phyllis Galde at Coast to Coast.

TDE Contributors' Corner
Jack Seabrook and Peter Enfantino review The Untold Legend of Batman No. 3, Batman No. 327, The Brave and the Bold No. 166, and Detective No. 494 at bare•bones e-zine.
Jack Seabrook's The Hitchcock Project—Harold Swanton Part Six: Museum Place at bare•bones e-zine.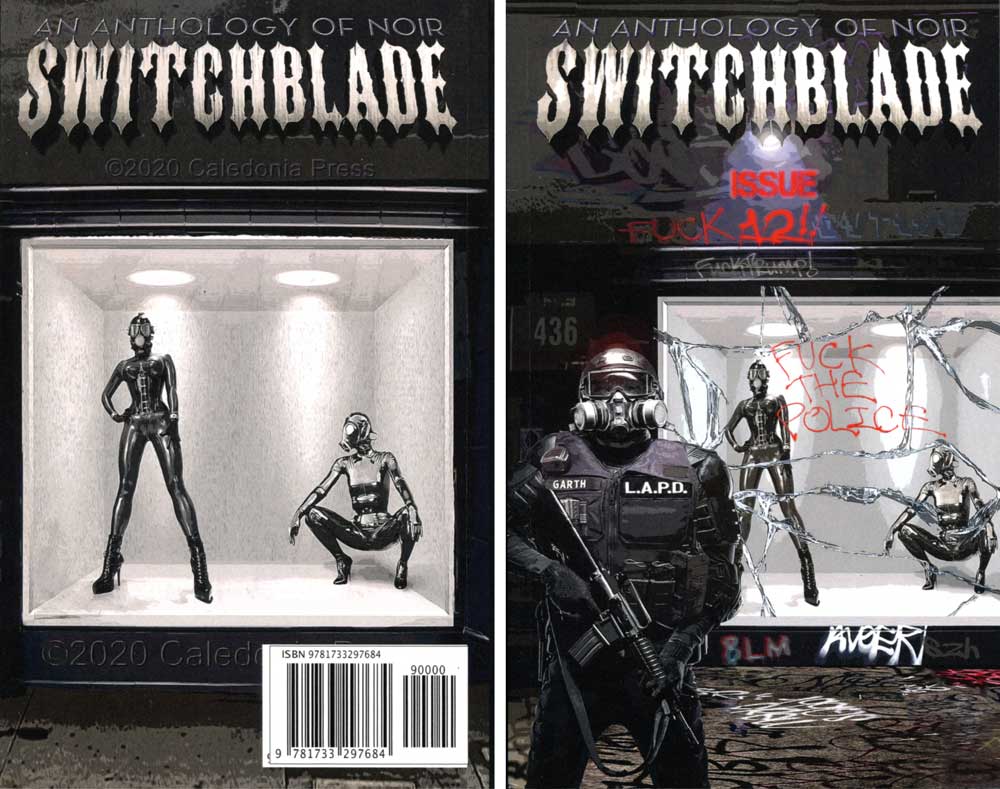 Readin' and Writin'
Happy to report I finished reading the outstanding Switchblade No. 12 this week. I wrote a full review that will appear in The Digest Enthusiast No. 13 in January 2021. With twelve issues and two special editions Switchblade has become a dependable haven for hard-hitting independent fiction. Its list of authors provides a who's who of rising stars of dark crime fiction. This edition adds further bloody evidence of its usual five-star killer status.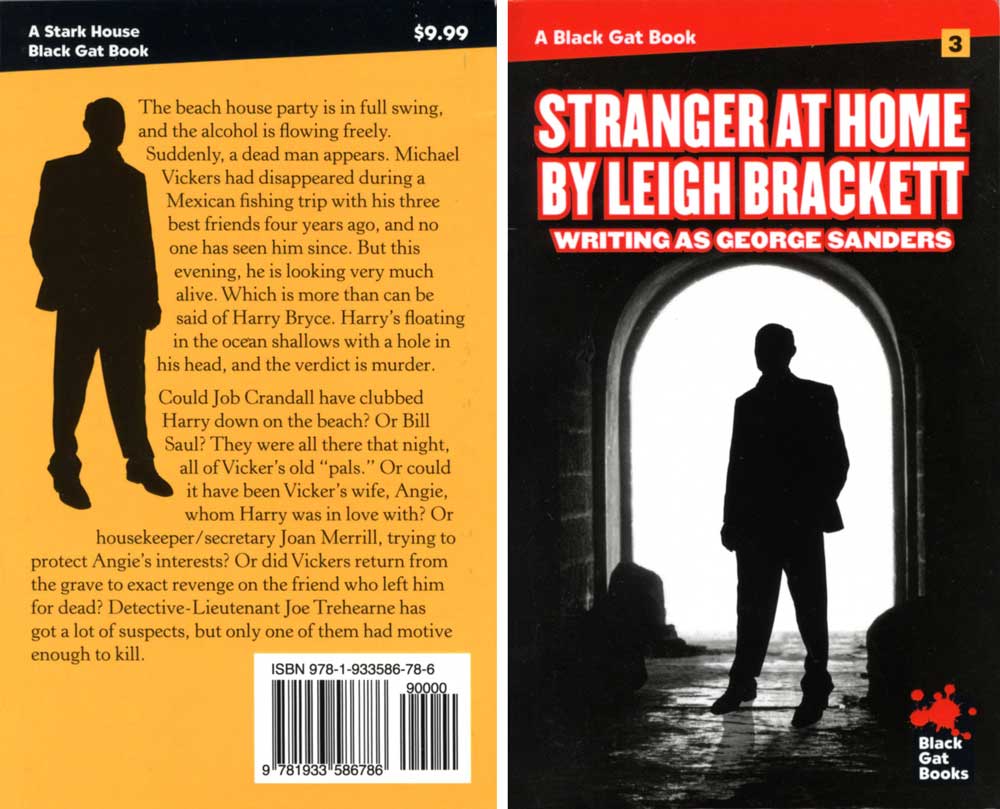 Also read the Stark House Press imprint Black Gat Books' editon of Stranger at Home by Leigh Brackett writing as George Sanders. Classic crime fiction that solidly captures the era in which it was written: 1946. Great characters chase an intriguing mystery, bodies mount and suspects dwindle until its suspenseful, satisfying conclusion.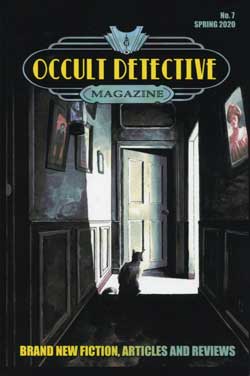 Finally, I completed reading Occult Detective Magazine No. 7, which I had begun last month. In his editorial/introduction to the issue co-editor John Linwood Grant lays out the zine's original vision: "…to explore this sub-genre with open minds and open hearts. Nothing—as long as it had both a supernatural, strange or weird element and an investigative one—as necessarily out of bounds."
It helps to review the ground rules and set expectations for a magazine titled "Occult Detective." There are several tales that fit Grant's wider definition of the zine's mission and give its editors a wider net from which to select stories. This edition is another strong entry in the series. My favorite tales were those by D. J. Tyrer, Nancy A. Hansen, and Brandon Barrows. The fiction is supported by articles on Clive Cussler's Dirk Pitt, Conan and Carnacki, Grimm: Ghost Spotter from Golden Age Comics, and reviews of occult detective novels and comics. If you like this sub-genre, ODM will provide several sessions of great entertainment.
Bob Vojtko sent in six new gag cartoons for the next Digest Enthusiast. Great stuff—can't wait to see them in print this January.
Our current issue: The Digest Enthusiast No. 12 is available in print at Lulu.com and Amazon, and in digital formats at Kindle Books and Magzter.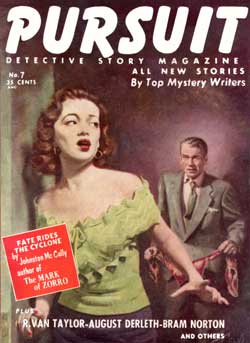 Vintage Crime Digest
Pursuit No. 7
Contents Page
Johnston McCulley "Fate Rides the Cyclone"
R. Van Taylor "Revenge is for the Dead"
H.A. DeRosso "May Lady Weeps"
Stephen Marlowe "Flypaper"
August Derleth "The Case of the Lost Dutchman"
Hunt Collins "Joker"
Robert Carlton "One Lethal Evening"
Bram Norton "Rider Wanted"
Pursuit Detective Story Magazine No. 7 January 1955
Publisher: J.A. Kramer
Editor: L.B. Cole
Associate Editor: Phyllis Farren
5.5" x 7.5" 128 pages 35 cents