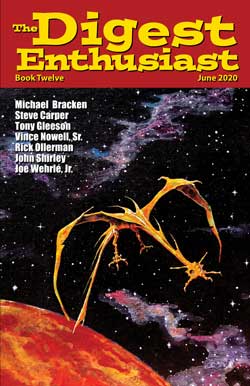 New Release
The Digest Enthusiast No. 12 June 2020
Contents:
• Interviews with Tony Gleeson (Fantastic, Amazing Science Fiction, Mike Shayne, Personal Crimes) and John Shirley (Weirdbook, Fantastic, The Crow, Constantine, Wetbones).
• Lester del Rey's Five Ages of Science Fiction by Vince Nowell, Sr.
• Born of Other Worlds, it's Science Stories, the digest Ray Palmer "tossed in your lap with little or no ceremony."
• News and dozens of cover previews from around the world of digests, direct from the magazines' editors, publishers, and writers.
• Mike Chomko and William Lampkin untangle the fate of PulpFest 2020 and The Pulpster.
• Richard Krauss exhumes the true crime sensation: Fotocrime.
• Steve Carper rediscovers the remarkable Photoplay Editions.
• Ward Smith spotlights Digest Science Fiction Novels.
• New fiction by Michael Bracken, Rick Ollerman, and Joe Wehrle, Jr. with artwork by Rick McCollum, Marc Myers, and Michael Neno.
• Reviews of Amazing Selects, bare•bones No. 1, EconoClash Review No. 5, Guns + Tacos Season One, Lake County Incidents, and Paperback Fanatic No. 43.
• Plus over 100 digest magazine cover images, first issue factoids, cartoons by Bob Vojtko, and more.
• Cover by Tony Gleeson, 160 pages, published in full color by Larque Press.
Print $18.99
Kindle $4.99
Magzter $4.99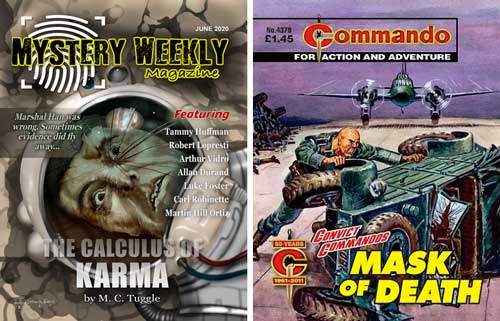 Digest Magazine Reviews
Robert Lopresti reviews Luke Foster's "Seat 9B" from Mystery Weekly Magazine June 2020 at Little Big Crimes.
James Reasoner reviews Commando: Mask of Death at Rough Edges.
Storytime
Victoria Dalpe's "The Girl" on JD Graves's Podcast No. 4 at EconoClash Review.
William Boyle's "Unsatisfied" at Rusty Barnes' Tough Crime.
Alec Cizak reads his story "The Space Between" at ACTV.

Digest Magazine Blogs
Holly Messinger on "Byzantine" from F&SF May/Jun 2020 at Fantasy & Science Fiction.
Kevin Mims compares and contrasts The Black Death by Gwyneth Cravens and John S. Marr with the current pandemic on EQMM's Something is Going to Happen.
TDE Contributors' Corner
Uncle Jack (Seabrook) and Cousin Peter (Enfantino) review Vampirella No. 16, Eerie No. 39, and Creepy No. 45 at barebones e-zine.
Readin' and Writin'
John Floyd offers writing Do's and Don'ts as SleuthSayers.
James W. Ziskin counts words to motivate "butt-in-chair" writing at Criminal Minds.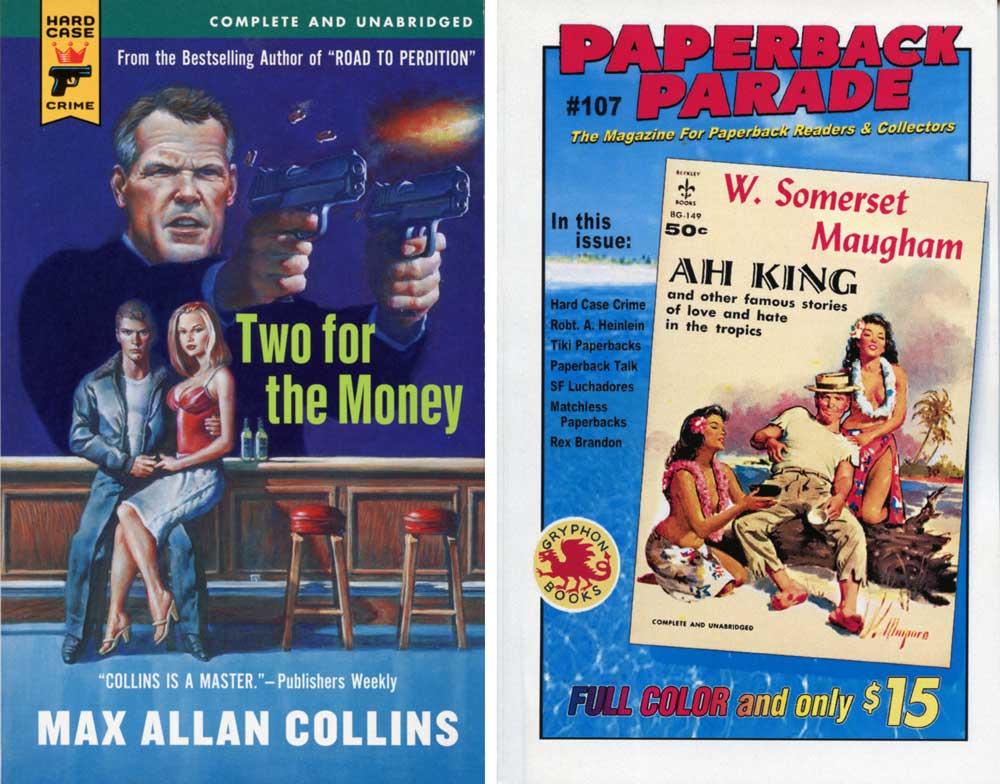 Read Hard Case Crime HCC-005 this week. Two for the Money works as a title for the story, and even better as the description of this two-fer reprint of the Curtis OPB novels "Bait Money" and "Blood Money." In his afterword, author Max Allan Collins provides the details on the originals and how they came to be paired under the Hard Case Crime imprint. I kinda wish it had been a Foreword. The redundant recap of key plot points from the first novel in the second are more forgivable when you have the facts. Nonetheless, the two represent Collins' first published novel: "Bait"—and, "Blood," if not his second, certainly another early effort. Both are serviceable, but felt padded with over-long descriptions and several fully rendered scenes that could've easily been summarized in a paragraph or two instead of a whole chapter.
Also managed to fit in a reading of Paperback Parade No. 107. Designer Richard Greene dominates this edition of PP, sharing his collection of paperbacks set in the South Pacific—the Hawaiian islands, Fiji, Tahiti, and Tiki-inspired pop culture. A refreshing, well-researched read. Even his regular "Matchless Paperbacks" feature follows suit with James Michener's Hawaii. Paperback Talk by Gary Lovisi is always a fun mix of new releases, LOCs, and collectors' addendums to previous articles. Gary's piece on the Spanish space operas Luchadores Del Espacio (Space Fighters) is a rare treat, loaded with background and over 40 cover images from the series! Another terrific issue rounded out with pieces on Denis Hughes, Hard Case Crime, and Robert A. Heinlein.
Alec Cizak's Pulp Modern Vol. 2 No. 5 was finalized this week he's ordered proof prints ahead of its June 23rd release date.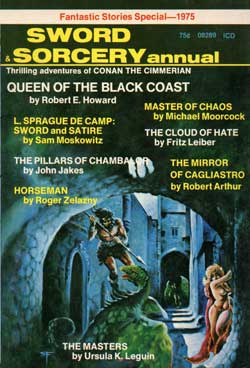 Vintage Fantasy Digest
Sword & Sorcery Annual 1975
Contents Page
Robert E. Howard "Queen of the Black Coast" (Conan) art by Steven E. Fabian
Sam Moskowitz's L. Sprague de Camp: Sword and Satire
John Jakes "The Pillars of Chambalor" (Brak) art by Gray Morrow
Michael Moorcock "Master of Chaos" (Earl Aubec) art by Virgil Finlay
Robert Arthur "The Mirror of Caglisastro" art by Dan Adkins
Fritz Leiber "The Cloud of Hate" (Fafhrd and the Gray Mouser) art by Leo R. Summers
Ursula K. Leguin "The Masters" art by Dan Adkins
Roger Zelazny "Horseman" art by Leo R. Summers
Sword & Sorcery Annual 1975
Ultimate Publishing Co.
Editor: Sol Cohen
Cover: Steven E. Fabian
5.25" x 7.75" 128 pages
Cover price 75¢