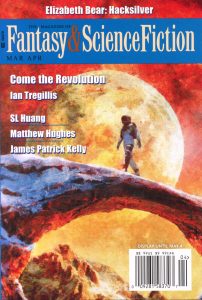 March Releases
Fantasy & Science Fiction Mar/Apr 2020
Contents Pages
Dare Segun Falowo "Kikelomo Ultrasheen"
SL Huang "The Million-Mile Sniper"
Matthew Hughes "The Last Legend"
Charles de Lint's Books to Look For
–Catfishing on CatNet by Naomi Kritzer
–A Song for a New Day by Sarah Pinsker
–I Know What I Saw by Linda S. Godfrey
–In the Heart of the Fire by Dean Koontz
–Photographing the Dead by Dean Koontz
–The Praying Mantis Bride by Dean Koontz
–Red Rain by Dean Koontz
–The Mercy of Snake by Dean Koontz
–Memories of Tomorrow by Dean Koontz
–Women of Science Fiction and Fantasy Television by Karen A. Romanko
–Mingus Fingers by Jacob Weisman
Elizabeth Hand's Books
–Ormeshadow by Priya Sharma
–The Muders of Molly Southbourne by Tade Thompson
–The Survival of Molly Southbourne by Tade Thompson
–A Spectral Hue by Craig Laurance Gidney
Ian Tregillis "Come the Revolution"
John Possidente "Red Sword of the Celiac"
Lauren McBride "To My Shipmates at Journey's End" (verse)
Amman Sabet "Say You're Sorry"
Gregor Hartmann "A Solitary Crane Circles Cold Mountain"
Deborah L. Davitt "4 Vesta" (verse)
Amanda Hollander "A Feast of Butterflies"
David J. Skal's Films: Wet Screams
Jerry Oltion's Science: Natural Disasters in Utopia
William Ledbetter "Hungry Is the Earth"
Elizabeth Bear "Hacksilver"
Brian Trent "Death on the Nefertem Express"
James Patrick Kelly "The Man I Love"
Coming Attractions
F&SF Market Place
Graham Andrews' Curiosities: Public Faces by Harold Nicolson (1932)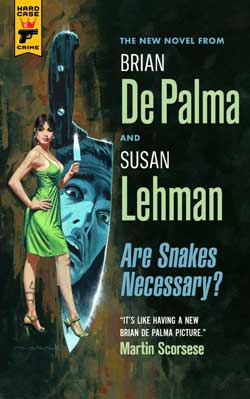 Fantasy & Science Fiction Vol. 138 No. 3 and 4, No. 748, Mar/Apr 2020
Publisher: Gordon Van Gelder
Editor: C.C. Finlay
Assistant Publishers: Barbara J. Norton, Keith Kahla
Assistant Editors: Robin O'Connor, Stephen L. Mazur, Lisa Rogers
Contests Editor: Carol Pinchefsky
Cover: Mondolithic Studios
Cartoons: Arthur Masear, Kendra Allenby, Mark Heath, Nick Downes
258 pages, $8.99 on newsstands until May 4, 2020
Fantasy & Science Fiction website
Hard Case Crime released Are Snakes Necessary? by Brian De Palma and Susan Lehman on March 17, 2020. Hardcover $22.99 Kindle $7.99 from amazon.
Digest and Book Reviews
Repo Shark by Cody Goodfellow reviewed by J.D. Graves at EconoClash Review.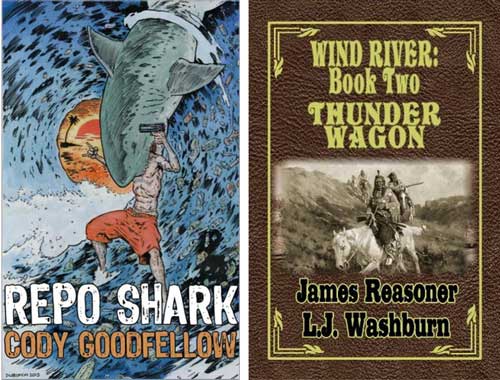 The premise of "single paragraph book reviews" seems apt for this age of browsing. The March 15th review at Mostly Old Books and Rust features Thunder Wagon by James Reasoner and L.J. Washburn.
Worlds of Tomorrow May 1965 reviewed by Victoria Silverwolf at Galactic Journey.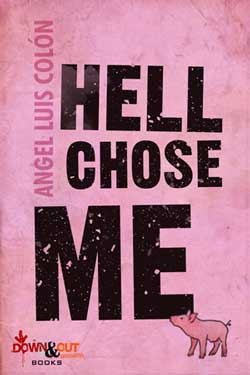 Hell Chose Me by Angel Luis Colon reviewed by Matthew X. Gomez at EconoClash Review.
Fantasy & Science Fiction April 1965 reviewed by Gideon Marcus on Galactic Journey.
Digest Blogs
Beth Dawkins' Q&A at The Astounding Analog Companion.
Paul Charles on "Jumping Off a Diving Board" at EQMM's Something is Going to Happen.
John Possidente on "Red Sword of the Celiac" at Fantasty & Science Fiction.
Interviews
Art Taylor at Washington Independent Review of Books.
Free Online Fiction
"The Man Who Wouldn't" by Joseph S. Walker on ToughCrime.
Free Newsletter
The American Bystander is standing by at home with too much time on their hands, so they've created Bystander's Quarantine Cavalcade. Subscribe here.
Readin' and Writin'
Alec Cizak added several of the earliest issues of Pulp Modern to Magzter this week. Of course, all of our joint issues from Volume Two are there as well.
And speaking of Pulp Modern, all the stories have been selected for the next issue. I'll be working on layouts for the final three this weekend.
Finished reading and made notes on the second issue of Fotocrime for my article for the next issue of The Digest Enthusiast. Part of my research included reading True Crime, True North, full review here. Since the book's focus is Canadian true crime magazines, it's not directly relevant to Fotocrime, but seeing how the authors approached their topic was useful. Also exchanged a series of emails with John Shirley about Weirdbook No. 42, to provide readers with the backstory on the issue.
Also read Guns + Tacos Volume One, but I write more about that next week.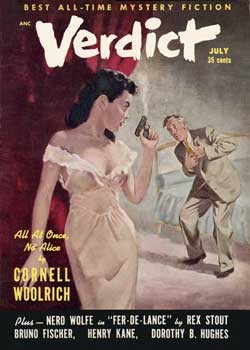 Vintage Crime Digest
Verdict Vol. 1 No. 2 July 1953
Contents Page
Cornell Woolrich "All at Once, No Alice" art by Tom O'Sullivan
H.H. Holmes "The Stripper" art by R. Cossette
Dorothy B. Hughes "Homecoming"
Henry Kane "Kudos for the Kid" art by Tom O'Sullivan
Francis Lewis "Has Anybody Here Slain Kely?"
Samuel Blas "Revenge"
Rex Stout "Fer-De-Lance" (Part 2 of 5)
Bruno Fischer "The Man Who Lost His Head"
Frank Kane "Suicide"
Leonard S. Grey "What's Your Verdict?"
Verdict Vol. 1 No. 1 June 1953
Published monthly by Flying Eagle Publications, Inc.
Editor: John McCloud
Managing Editor: E.A. Tulman
Art Director: Chas. W. Adams
Business Magager: R.E. Decker
5.5" x 7.75" 144 pages 35¢