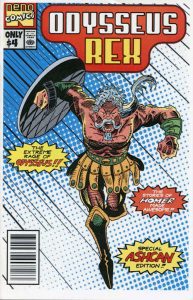 Available now, direct from its creator, the Odysseus Rex ashcan. Longtime TDE contributor, Michael Neno is working on a graphic novel, an "adaptation of Homer's The Odyssey, written and drawn in the style of bombastic mainstream superhero comics of the early '90s!"
This digest-size, 16-page preview is full color throughout, featuring the opening pages of the novel and full page illustrations of its cast: Odysseus, Poseidon, Penelope, Hermes, Athena, Calypso, and Ares.
Send $5 ppd to Michael Neno's PayPal for your copy!
Watch the project develop at Odysseus Rex on FB.