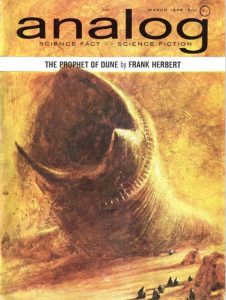 Gideon Marcus reviews Analog March 1965 at Galactic Journey.
Essa Hansen answers a few questions about her story "Save, Salve, Shelter" (F&SF J/F 2020) on the Fantasy & Science Fiction blog.
J.M. Landels, Managing Editor of Pulp Literature shares a draft of "The Queen of Swords" via Google Docs.
Hats off to Steve Alcorn of Writing Academy for his 5-Star review of The Digest Enthusiast No. 11 on amazon. He notes the upgrade to full color and the timeline of Leo Margulies' digests, which I had fun putting together. The visual helps understand when each title appeared in relationship to each other. Turns out Steve was a big fan of The Man From U.N.C.L.E.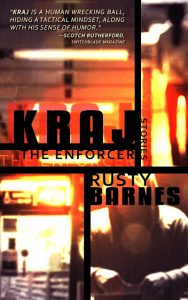 Matthew X. Gomez reviews Rusty Barnes' Kraj the Enforcer. Scotch Rutherford describes it: "Kraj is a human wrecking ball, hiding a tactical mindset, along with his sense of humor." The collection of fourteen stories is detailed on the EconoClash Review blog.
Fiction Market Window April 15–25
"Submissions for Switchblade reopen on tax day, for a 10 day window. April 15–25. Crime/Noir short Fiction (2k-4.5k), Flash (up to 1k), and Noir poetry (3 pages max). This will be the only submissions call this year for regular issues. We'll be filling Issues 12 and 13. (issue 12 will be out in June, 13 will arrive in October) Please see our guidelines at switchblademag.com.
"Remember that Switchblade is a no limit gutter noir mag. We publish the stuff no one else will. Not the best of the best. Switchblade is the lowest of the low. (wouldn't have it any other way) You don't see "lit" in the title, do you? Right. And you won't find our authors listing their literary agents in their bios. If you're working on your Rizzoli&Isles style commercial novel for the NY5, but would like to slum with us, remember this: gutter noir will always get preference. Vulgarity (something other mags despise), words you're not supposed to use, amoral protagonists–these are tools you can utilize to forge outlaw fiction. Ten days is a big submissions window for us. There will be a lot of competition. Good storytelling about dark corners, bad people, and worse situations to the front."
C.C. Finlay announces the March/April edition of Fantasy & Science Fiction and hightlights its contents on the F&SF blog.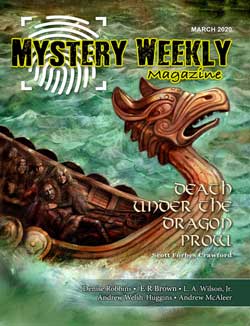 Likewise, Alfred Hitchcock's Mystery Magazine announces their March/April lineup on Trace Evidence.
Tony Gleeson will be signing books and artwork at the upcoming Vintage Paperback Collectors' Show in Glendale, CA on Sunday, March 8, 2020.
Mystery Weekly Magazine No. 55 March 2020 is now available, with stories by Scott Forbes Crawford, Denise Robbins, E.R. Brown, Andrew Welsh-Huggins, L.A. Wilson, Jr., Andrew McAleer, and a You-Solve-It by Eric B. Ruark. MWM is published by Chuck Carter, and edited by Kerry Carter. Cover by Robin Grenville-Evans. Kindle $2.99 (Print edition coming soon)
"The Big Ticket" by Stefen Styrsky was published online this week at Tough Crime.
Amman Sabet's "Say You're Sorry" is a story about the power that apologies hold over us. For more about it, see the Fantasy & Science Fiction blog.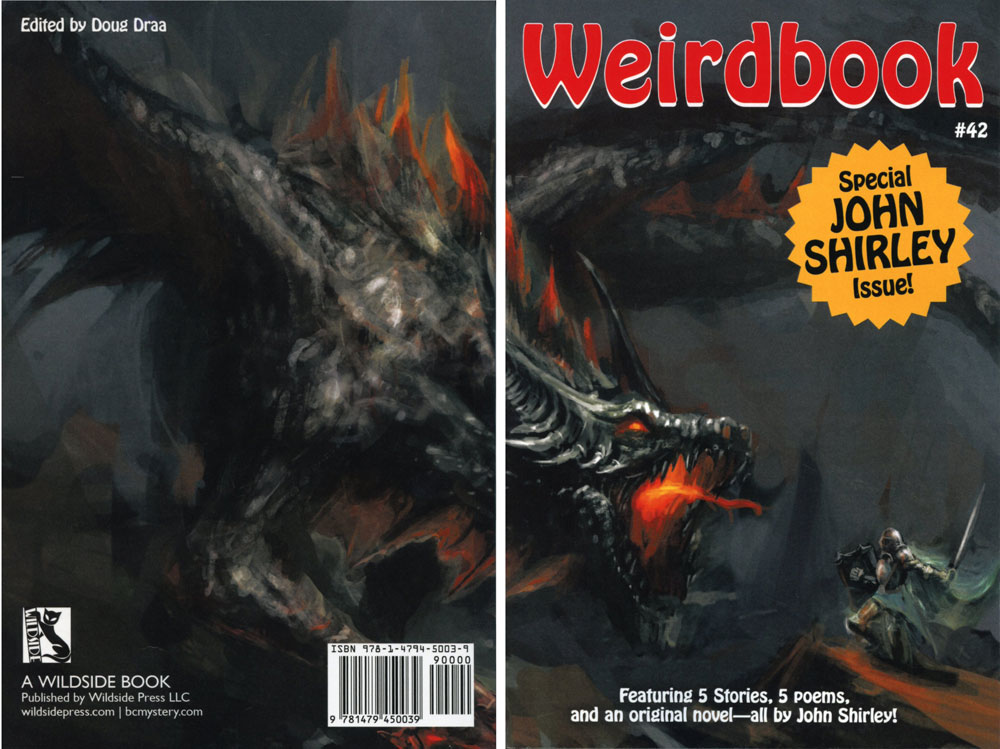 Weirdbook No. 42, the special John Shirley issue is now available. The issue includes a novel, five short stories, and five poems by John Shirley. Editor Doug Draa introduces the issue with resounding praise for the author's work, "Mr. Shirley has such sights to show you!" Supporting imagery by Allen Koszowski and John Betancourt—plus a wraparound cover by Fotolia. Print $12.00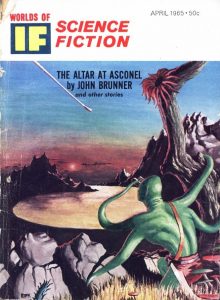 David Levinson takes the April 1965 issue of Worlds of If on a Galactic Journey.
Brenda Kalt talks about her story "Lemonade Stand" in the March/April issue of Analog on the The Astounding Analog Companion.
Edith Maxwell stars a hyperpolyglot in her story "One Too Many" (EQMM Mar/Apr 2020). Read more on Something is Going to Happen.
Matthew Hughes gives insights into "The Last Legend" in the Mar/Apr 2020 issue of Fantasy & Science Fiction.
Readin' and Writin'
Best of the Small Magazines: John O'Neill provides a detailed overview of The Digest Enthusiast No. 11, Pulp Modern: Tech Noir, and Weird Fiction Review No. 9 on Black Gate.
Mike Chomko Books and Modern Age Books are both stocked with copies of the full color print edition of The Digest Enthusiast No. 11.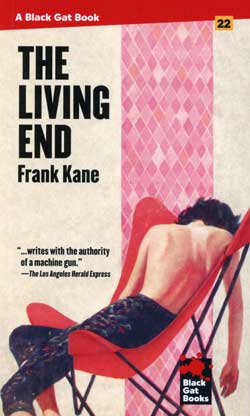 Read The Living End by Frank Kane (Black Gat Books No. 22) this week. One of Kane's standalone novels. It details the rise and roil of sociopath Eddie Marlon as he corrupts his way to success in the music business of the late 1950s. A roadmap for an insecure egomaniac whose inflated sense of entitlement and grievance grants him license to destroy any challenger or lackey who fails to kowtow. He strikes back tenfold to the few who defy his commands, doing his best worst to destroy their careers and lives. But this is fiction, so comeuppance is more easily dealt on the page than its real life reflection.
Started work on an article about Fotocrime, a pocket-size true crime magazine from 1954/55. The last time I wrote about a true crime book was for the debut issue of TDE, on The Big Story.
From the Vault
I believe this is the final issue of this digest's remarkable twelve-issue run. Several times I've been surprised by the writers who show up in its pages. This final issue is no exception with Fredric C. Wertham, M.D.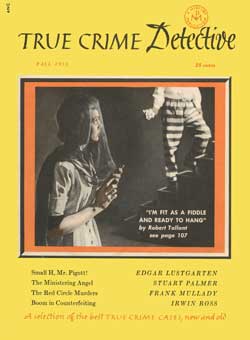 True Crime Detective Vol. 3 No. 4 Fall 1953
Contents Page
Kevin Wallace "The Great Screwball Bank Robbery"
Frank Mullady "The Red Circle Murders"
Monster of Monsters:
I The Question: The Kidnapping of Grace Budd by Capt. John Ayers & Carol Bird
II The Answer: The Sanity of Albert Fish by Fredric C. Wertham, M.D.
Stuart Palmer "The Ministering Angel"
Forbes Parkhill "The Strange World of Alex Miller"
Verdict of Two: a book review department by The Editors
Edgar Lustgarten "Small H, Mr. Pigott!"
Irwin Ross "Boom in Counterfeiting"
Robert Tallant "I'm Fit as a Fiddle and Ready to Hang"
Publisher: Lawrence E. Spivak
Editors: Anthony Boucher, J. Francis McComas
General Manager: Joseph W. Ferman
Managing Editor: Robert P. Mills
Advisory Editor: Charles Angoff
Art Director: George Salter
Cover: Uncredited, but likely Dirone Photography from "I'm Fit as a Fiddle and Ready to Hang"
5.5" x 7.75" 128 pages 35¢