Digest Magazine Reviews
John O'Neill reports on James White's short stories from New Worlds Science Fiction, Astounding, and Analog at Black Gate.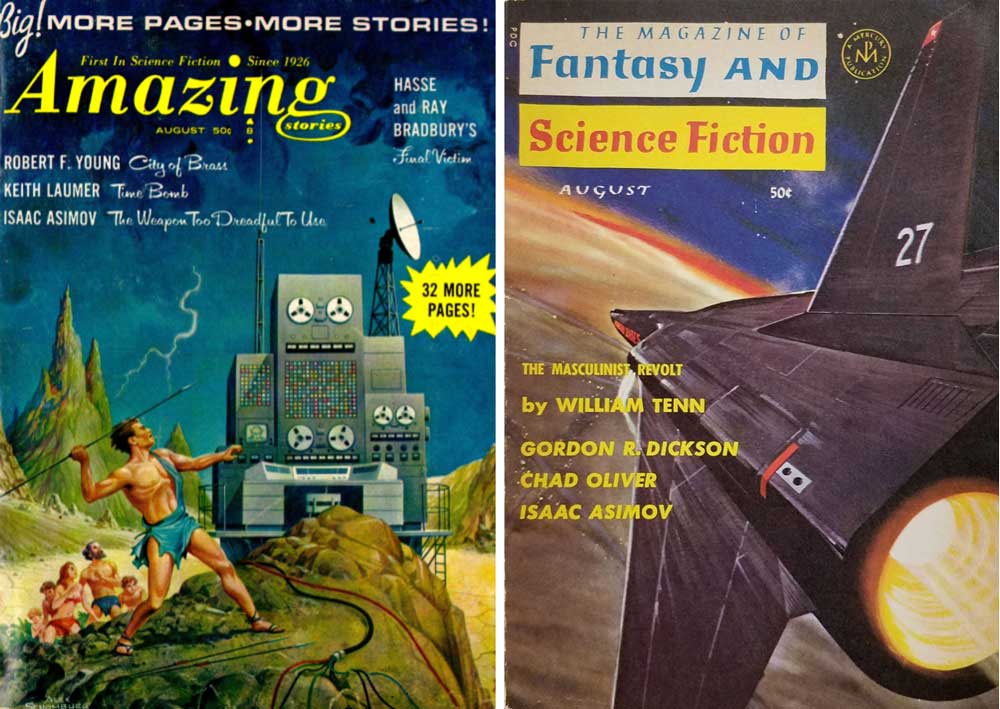 John Boston reviews Amazing Aug. 1965 at Galactic Journey.
Gideon Marcus reviews F&SF July 1965 at Galactic Journey.

Digest Magazine News & Authors
In case you missed it on FB, John Linwood Grant announced Occult Detective Magazine's recent acquisitions: "The Nature of Panic"—a substantial Folk Horror novelette by Simon Avery, featuring the same character as "Songs for Dwindled Gods" (ODM/Q#4), "The Voice on the Moor"—a tale by Melanie Atherton Allen featuring her repeat character Simon Wake (ODM#6), "Angel Scales"—another story by Brandon Barrows featuring his Japanese priest/investigator Azuma Kuromori (ODM#7), and "The Memory Funes"—a most intriguing and weird tale by Rhys Hughes.
Filip Wiltgrens advocates: Dream Big in Science Fiction (His story "Ennui" appears in Analog Jul/Aug 2020.) at The Astounding Analog Companion.
Robert Lopresti writes about his story "Worse Than Death" from Black Cat Mystery Magazine No. 6 at SleuthSayers.
Sheila Kohler posits Don Quixote as the first crime novel at EQMM's Something is Going to Happen.
Ex-law enforcement author O'Neil De Noux speaks out on excessive force at SleuthSayers.
Madeleine E. Robins on "Omunculus" from F&SF Jul/Aug 2020 at Fantasy & Science Fiction.
Sean Monaghan on "Marbles" from Asimov's Jul/Aug 2020 at From Earth to the Stars.
Andy Dudak on "Midstrathe Exploding" from Analog Mar/Apr 2020 at The Astounding Analog Companion.
James Patterson and Conde Nast plan to revive The Shadow in a new series per Deadline.com. (Thanks, Bill Thom.)
The next issue of Pulp Literature releases on Sunday, July 19. Tune into the virtual launch party and catch up the latest Pulp Lit news via their July 2020 e-news.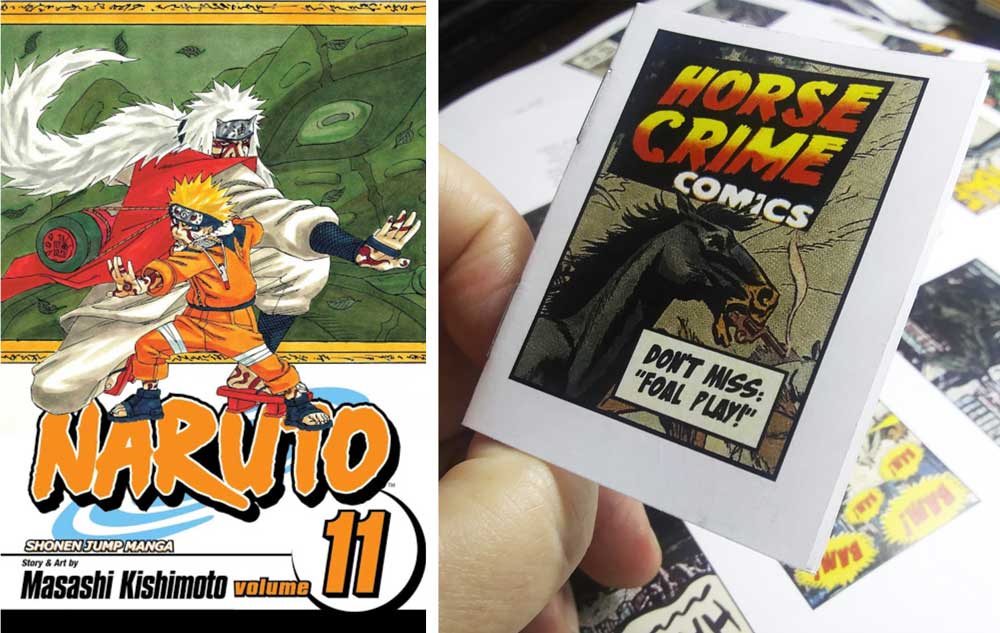 TDE Contributors' Corner
Michael Neno reviews Naruto 11 at Eventized. Michael also released his new mini comic Horse Crime Comics, a riveting tale told in the new genre of #EquineNoir and created remixing ancient comic book art in the public domain. It's 24 pages in full color, signed on request for $4.00 from the S.P.A.C.E. virtual comics marketplace. (Scroll down to Michael Neno's listing!)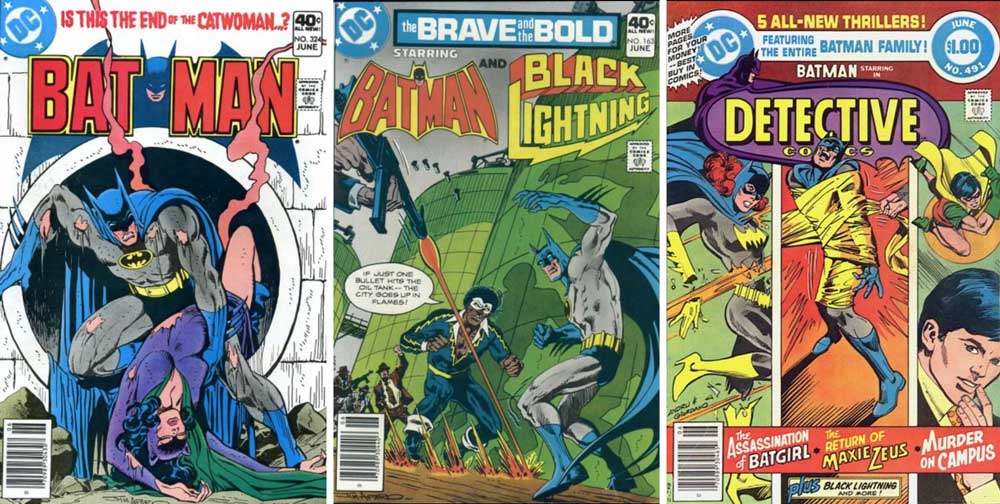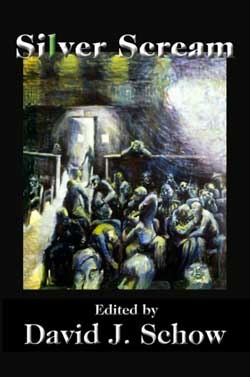 Jack Seabrook and Peter Enfantino review Batman No. 324, The Brave and the Bold No. 163, and Detective Comics No. 491 at bare•bones e-zine.
Cimarron Street books announced the release of David J. Schow's groundbreaking cinema horror anthology, Silver Scream, back in print for the first time in 32 years. Details to follow.
Steve Carper investigates the Interplanetary Development Corporation of New York at Flying Cars and Food Pills.
Jack Seabrook presents The Hitchcock Project—Harold Swanton Part Three: Coyote Moon at bare•bones e-zine.
Marc Myers was released two new collage art zines Mulmig No. 3 and Elephant Vol. 2 No. 4. Shown from left to right are the front and back covers. Send email for prices and ordering information.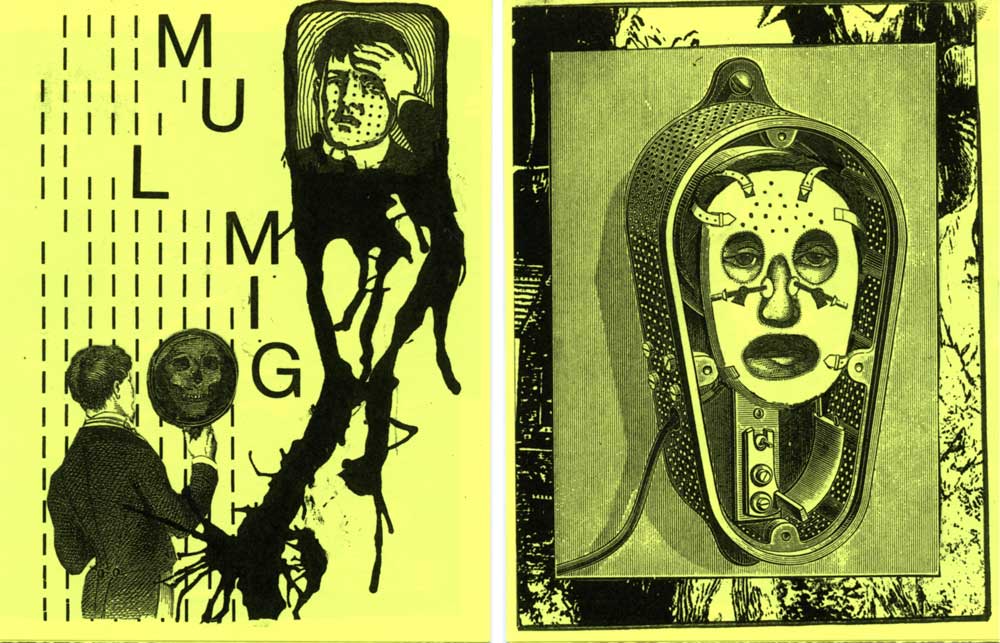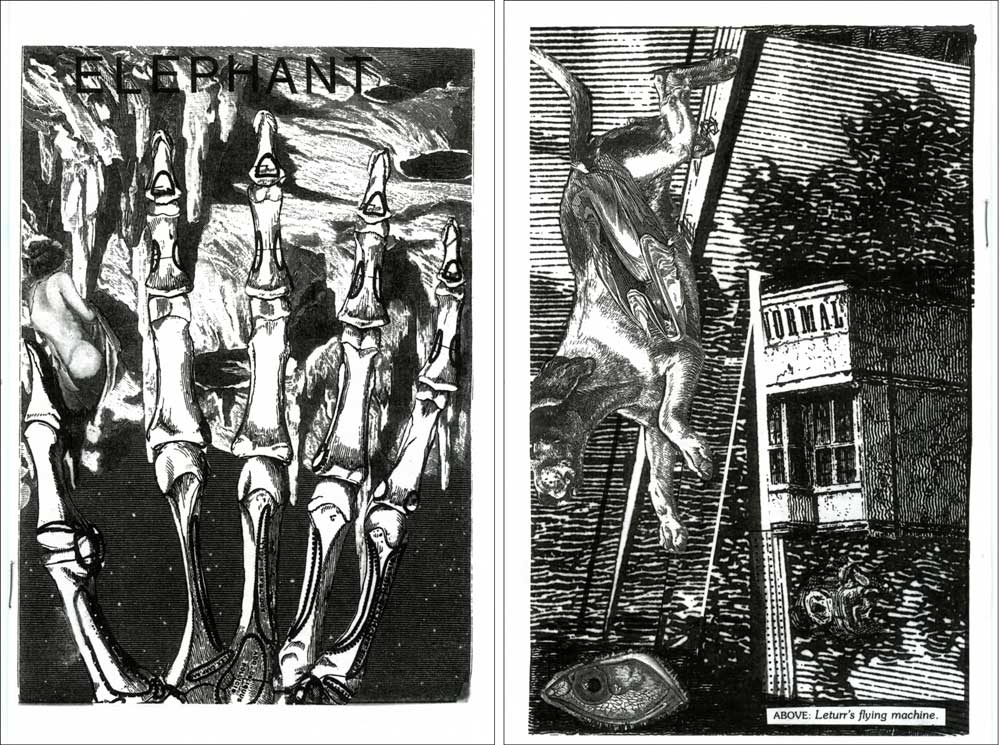 Readin' and Writing'
Finished reading the final issue of Verdict, and writing the first draft of my article about the series' first run. Another excellent issue. This title was the perfect companion to Manhunt back in that golden year of 1953, but apparently the newsstands were overrun with crime fiction digests at the time, hence it didn't survive, along with most of its competition. Really unfortunate. This issue's highlights include most of its contents: stories by William Irish (Cornell Woolrich), James M. Cain, Fredric Brown, George Harmon Coxe, and Rex Stout. Although Verdict is more difficult to find than issues of Manhunt, it's worth the effort.
Another good read this week was Black Cat Mystery Magazine No. 6. Quality throughout, but my favorite this time was "The Loser" by Robert Guffey. Also a pleasure to read the latest stories from author's I've interviewed for TDE, Michael Bracken and Robert Lopresti; along with new work from Trey R. Barker, John Hegenberger, Patricia Dusenbury, and Laird Long. The issue wraps with a reprint from AHMM Jan. 1966, "The Contagious Killer" by Bryce Walton (1918–1988). Wildside is working to reprint all of his short fiction.
Fans of Brian Buniak, whose painting graces the cover of TDE6, are in for a treat next issue. Brian is back with another rare painting of a barbarian hero up to his muscular elbows in peril. It's a beautiful image worthy of an action-packed story. I just might have to write one.
Vince Nowell, Sr. wrote this week. He's cooking up a two-part piece on Robert A.W. Lowndes' pulps and digests. One to look forward to.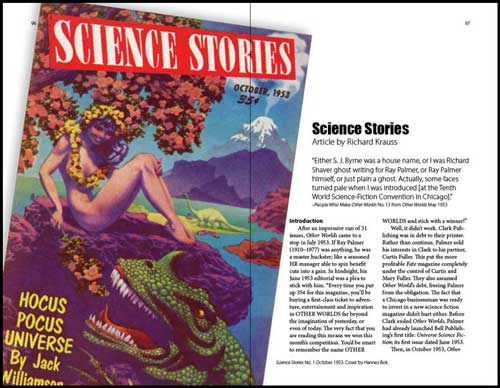 While you're waiting for the next TDE, I should mention the print edition of TDE12 has been ported over to amazon, so now you can choose print or digital without switching sites. Part of what's in store is a piece I wrote on Ray Palmer's Science Stories. If you collect or read Other Worlds, you'll want to add the four-issue run of Science Stories to your collection. The Digest Enthusiast No. 12 is also available in print from Lulu.com, and digital for Kindle and Magzter.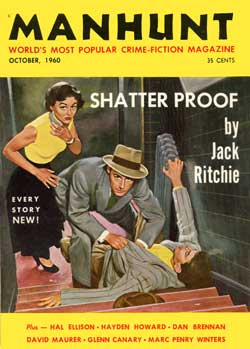 Vintage Crime Digest
Manhunt October 1960
Contents Page
Glenn Canary "Too Much to Prove"
Hayden Howard "Dead Beat"
David Maurer "White Lightning"
Sheila S. Thompson "Name: Unknown, Subject: Murder"
Dan Brennan "The Trouble Shooters"
Jack Ritchie "Shatter Proof"
Marc Penry Winters "The Fugitives"
Hal Ellson "Protection"
Philip Freund "To Catch a Spy"
Manhunt Vol. 8 No. 5 October 1960
Publisher: Michael St. John
Editor: John Underwood
Assoc. Editor: J. Proske
Art Director: Gerald Adams
5.5" x 7.75" 128 pages 35¢