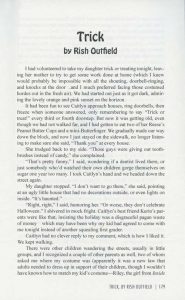 From Weirdbook No. 34:
In "Trick" by Rish Outfield, a self-absorbed dad gets a handful on Halloween when he takes his daughter trick or treating.
I imagine poetry is even more challenging to write and sell than fiction. Weirdbook provides six poems in this issue, the short ones used to fill out the last page of a story, and the longer ones to provide a break between the fiction. This issue includes verses by Steve Dilks (2), Darrell Schweitzer, Ashley Dioses (2), and Lucy A. Snyder.
Editor Doug Draa has done excellent work curating a diverse mix of weird fiction and poetry
for Weirdbook No. 34. Highly recommended for fans of fantasy, horror, supernatural, and science fiction. Every story was entertaining and worth reading. My favorites were those by Adrian Cole and Sean Patrick Hazlett. And I'd rate James D. Mabe's "Touched" as the best of the book by a shake—a tremble actually.