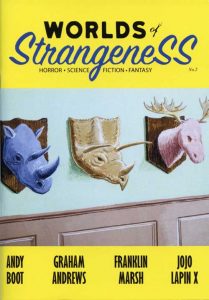 Nigel Taylor's World of StrangeneSS is an annual, self-published digest that has appeared round about Halloween since it began in 2016. Its first two issues were printed traditionally, but fellow Brit Justin Marriott's successful switch to POD with the Paperback Fanatic line of zines has not gone unnoticed at WOS HQ.
Taylor is a frequent contributor to Marriott's Fanatic and the author of three short story collections: Hellfire Cinders (2011), Collective Invention (2001), and Prodigies and Effigies (1993). Under guise as "The Stranger," he introduces the issue with a clipped account of mankind's fascination with decapitation, the subject of the cover art for both issues No. 1 and 2, citing Severed: A History of Heads Lost and Heads Found by Frances Larson (2014) for readers' consideration. It's followed by his own (uncredited) faux cover story, "The Lost World Lost," in which a fatally injured explorer drags himself back to civilization to warn the world of a prehistoric danger, his labors cut short by The Stranger who gives him a final jab. Like any good two-pager, it's the payoff that makes the set-up worthwhile.
This review continues on May 20 . . .