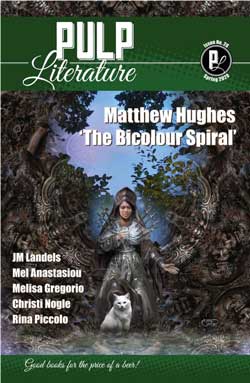 April Digests
Pulp Literature No. 26 Spring 2020
Contents
Jessica Fabrizius: From the Pulp Lit Pulpit: The Roaring Twenties
In This Issue
Matthew Hughes "The Bicolour Spiral"
Feature Interview: Matthew Hughes
Sarah Summerson "Absent Are the Constellations My Father Plucked from the Sky" (verse)
Mel Anastasiou "The Extra: Frankie Ray at the Gates of Monument Studios"
Melisa Gregorio "The Birthday Party"
Christi Nogle "Watershakers"
Patti Jean Pangborn "The Safest Place in a Trailer During a Tornado is the Bathtub" (verse)
Mike Carson "Deep Water"
The Raven Short Story Contest
—Michael Donoghue "Life4Sale"
—MFC Feeley "Dannemora Sewing Class"
Rina Piccolo "Double Flush" (comic)
J.M. Landels "The Shepherdess: Paris"
The Artists (bios)
Hall of Fame (Patreon supporters)
Marketplace
Conferences and Events
Magazines
Contests
Pulp Literature No.26 Spring 2020
Publisher: Pulp Literature Press
Managing Editor: Jennifer Landels
Senior Editor: Melanie Anastasiou
Acquisitions Editor: Genevieve Wynand
Story Editor: Jessica Fabrizius
Assistant Editors: Samatha Olson
Poetry Editors: Daniel Cowper, Emily Osborne
Copy Editor/Designer: Amanda Bidnall
Proofreader: Mary Rykov
Cover Design: Kate Landels
Cover Art: Tais Teng
Interior Art: Mel Anastasiou
208 pages
Print $14.99 Kindle $2.99
Pulp Literature website
John O'Neill on "The Case of the Missing [Digest] Magazines" at Black Gate.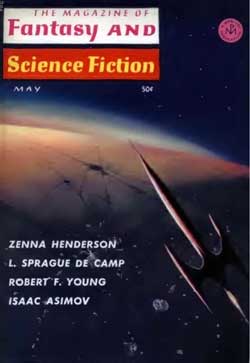 Storytime
Michael Bracken's "Dirty Laundry" at Rusty Barnes' Tough Crime.
Jim Hamilton's "Revolver" at Shotgun Honey. (Hat tip David Nemeth)
Alec Cizak reads stories on his new YouTube channel.
Digest Reviews
Paul Fraser reviews Argosy Sept. 1955 (UK edition) at SF Magazines.
Gideon Marcus reviews F&SF May 1965 at Galactic Journey.

Digest Blogs
S.L. Huang discusses "The Million-Mile Sniper" from F&SF Mar/Apr 2020 at Fantasy & Science Fiction.
EconoClash Review ranks 24 James Bond films!
Neal Asher's cover story, "Moral Biology," for Analog May/June 2020, examined at The Astounding Analog Companion.
Cover images of Richard Himmel's "Soul of Passion" (National Books, 1950) at Sleazy Digest Books. NSFW
Wynn Quon recalls Emil and the Detectives at EQMM's Something is Going to Happen.
Elizabeth Bear on "Hacksilver" from F&SF March/April 2020 at Fantasy & Science Fiction.
TDE Contributors' Corner
Steve Carper: Dueling Hungarian Invisibility Machines at Flying Cars and Food Pills.
Peter Enfantino and Jack Seabrook review G.I. Combat No. 197, Our Army at War No. 299, Our Fighting Forces No. 170, Weird War Tales No. 49, and reveal their choices for the Ten Best DC War Stories 1959–1976 at bare•bones e-zine.
Jack Seabrook: The Hitchcock Project April 23, 2020 at bare•bones e-zine.
Awards
The 2020 Arthur Ellis Awards shortlist announcement. Several prizes sponsored by Mystery Weekly Magazine.
Readin' and Writin'
My thanks to Karl who read and rated The Digest Enthusiast No. 11 with five stars on Goodreads.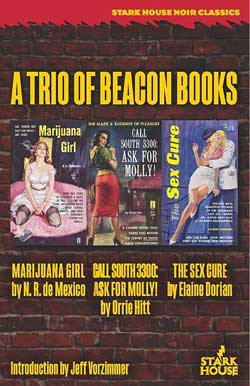 Finished reading Stark House's A Trio of Beacon Books this week. The introduction by Jeff Vorzimmer begins, "You are holding in your hands over a thousand dollars in books." That's because the original Beacon volumes are highly collectible and fetch top dollars if you're lucky enough to find them.
I was particularly excited to read Marijuana Girl by N.R. de Mexico. His Suspense Novel, Strange Pursuit, was terrific so I was anxious to revisit the author without having to take out a second mortgage to buy a copy. Besides being a thrill to read, the novel is surprisingly accurate in its portrayal of marijuana—a rarity in the 1951, the year it first saw print as a Uni-Book (now, even more expensive than the original Beacon Book shown on the Trio cover).
Call South 3300: Ask for Molly! by Orrie Hitt takes readers behind the scenes of the television manufacturing business of the 1950s. Star salesman Slade Martin is ambitious, hard-drinking, and always on the make. He meets his match when his roving eye catches sight of Ann Frank in the promotion department at All-Channel.
Lastly, The Sex Cure by Elaine Dorian exposes the scandalous world of a gifted surgeon who operates in the boudoir nearly as often as the OR.
Trio delivers three gripping, ripping tales of men and women chasing bad choices that eventually demand reparation. Vorzimmer's intro—worth reading before and after—only makes things that much sweeter.
Alec Cizak is busy writing his intro and story blurbs, and proofing the stories for Pulp Modern Vol. 2 No. 5. He's predicting a June release.
This week I completed a six-page layout for Ward Smith's article for the upcoming The Digest Enthusiast No. 12. Several back issue digests arrived this week. They've been scanned and retouched, so more layout work is dead ahead.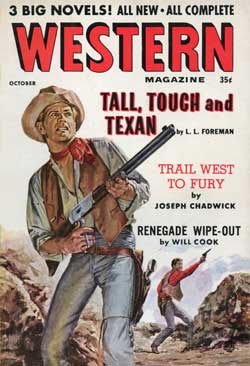 Vintage Western Digest
Western Magazine October 1957
L.L. Foreman "Tall, Tough and Texan"
"Brett Gaines and Ty Farnol were in a ticklish and dangerous business. They stole cattle back from rustlers—earning the hatred of the rustlers, and the suspicion of honest cowmen."
Joseph Chadwick "Trail West of Fury" art by Matt Baker
"The big trail herd was run by a strange man. He was a Johnny Reb who had turned Yankee and then turned gunslinger. He was scorned by many—and feared by all."
Will Cook "Renegade Wipe-Out"
"The three savage Oakhurst brothers ruled Jackass Gulch with roaring guns and silent treachery. Then they tied their tricks on young McKeene who didn't know how to quit or when to stop fighting."
Western Magazine Vol. 4 No. 2 Oct. 1957
Publisher: Martin Goodman
Editor: Harry Widmer
Business Manager: Monroe Froehlich, Jr.
Art Director: Mel Blum
~5.5" x 7.75" 160 pages 35¢
Read Peter Enfantino's story-by-story recap of Western Magazine in The Digest Enthusiast No. 8.