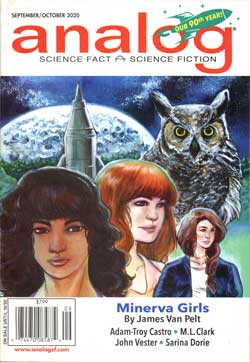 Current Releases
Analog Sep/Oct 2020
Contents Page
Sheila Williams' Anniversary Retrospective Editorial
Lewis Padgett "Mimsy Were the Borogoves" (reprint)
Jason Kahler "After National Geographic" (verse)
James Van Pelt "Minerva Girls"
Derek Kunsken's Science Fact: The Science Behind The House of Styx
Holly Lyn Walrath "Yes, Antimatter is Real" (verse)
John J. Vester "Where There's Life" art by Kurt Huggins
Sean McMullen "The Chrysalis Pool"
Aimee Ogden "A Skyful of Wings"
Jacob C. Cockcroft "Going Small"
Beth Goder "True Colors"
John G. Cramer's The Alternate View: Where's All the Antimatter?
Stephen S. Power "Drive Safely"
Wang Yuan "Casualties of the Quake" translation by Andy Dudak
Dan Reade "The Home of the King" art by Tomislav Tikulin
In Times to Come
Joel Richards "City"
M.L. Clark "Seeding the Mountain"
Jay Werkheiser "The Writhing Tentacles of History"
Alan Dean Foster "The Treasure of the Lugar Morto"
Richard A. Lovett's The Alternate View: The Post-Coronavirus "New Normal"
James Sallis "Schools of Thought"
Mary Soon-Lee "The Boy Who Went to Mars"
Sarina Dories "I, Bigfoot" art by Mark Evans
Adam-Troy Castro "Draiken Dies" art by Soo Lee
Don Sakers: The Reference Library
Brass Tacks (Letters)
Anthony Lewis: Upcoming Events
Analog Science Fiction and Fact (Astounding) Vol. 140 No. 9 & 10 Sep/Oct 2020
Publisher: Peter Kanter
Editor: Trevor Quachri
Managing Editor: Emily Hockaday
Editorial Assistant: Rae Purdom
Senior Art Director: Victoria Green
Cover: Soo Lee
208 pages, $7.99 on newsstands until Oct. 20, 2020
Analog website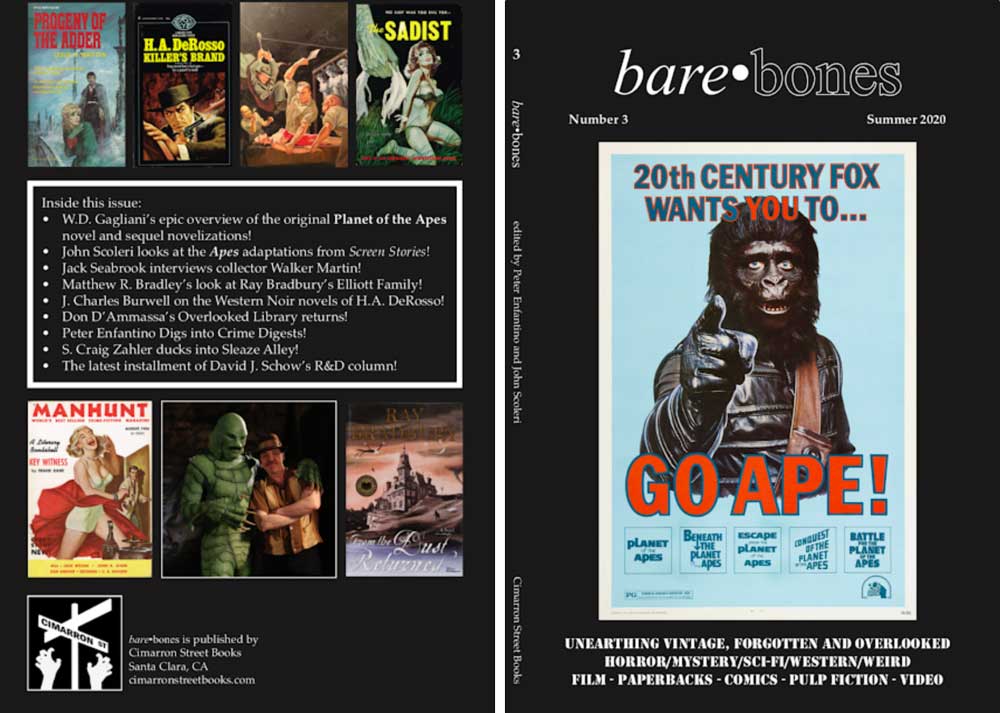 bare•bones No. 3
Contents Page
W.D. Gagliani's epic overview of the original Planet of the Apes films, novel and sequel novelizations
Craig Miller recalls being on-set for Conquest of the Planet of the Apes
John Scoleri looks at the Apes adaptations from Screen Stories
Jack Seabrook interviews collector Walker Martin
Matthew R. Bradley's look at Ray Bradbury's Elliott Family
J. Charles Burwell on the Western Noir novels of H.A. DeRosso
Don D'Ammassa's Overlooked Library returns
Peter Enfantino Digs into Crime Digests
S. Craig Zahler ducks into Sleaze Alley
David J. Schow's latest installment of his R&D column looks at Monster Movies
bare•bones No. 3 Summer 2020
Editors: Peter Enfantino, John Scoleri
Layout: John Scoleri
Cimarron Street Books
6" x 9" 107 pages
Print $9.95

Digest Magazine Writers Update
Alexandria Blaelock, whose story "The Perfume of Peaches" appears in Ellery Queen Sep/Oct 2020, muses about The Thin Grey Line at Something is Going to Happen.
Ana Hurtado on her story "Madre Nuestra, Que Estás en Maracaibo" from F&SF Jul/Aug 2020 at Fantasy & Science Fiction.
James Van Pelt on his cover story "Minerva Girls" from Analog Sep/Oct 2020 at The Astounding Analog Companion.
Gregory Fallis correlates day jobs with writing stories (his "Terrible Ideas" appears in EQMM Sep/Oct 2020) at Something is Going to Happen.
Leah Cypess on her story "A Sideways Slant of Light" from Asimov's Sep/Oct 2020 at From Earth to the Stars.
Bennett North on "A Bridge from Sea to Sky" from F&SF Jul/Aug 2020 at Fantasy & Science Fiction.
Trace Evidence previews the writers and stories for AHMM Sep/Oct 2020.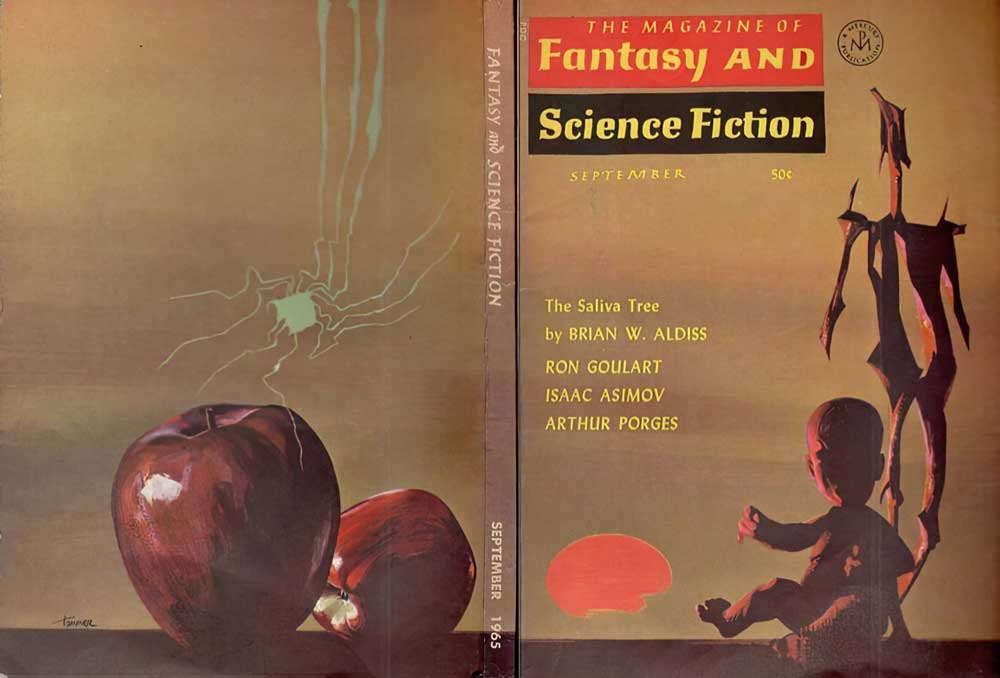 Digest Magazine Review
Gideon Marcus reviews Fantasy & Science Fiction Sep. 1965 at Galactic Journey.
Storytime
M.E. Purfield shares his story "Bumper" at Rusty Barnes' Tough Crime.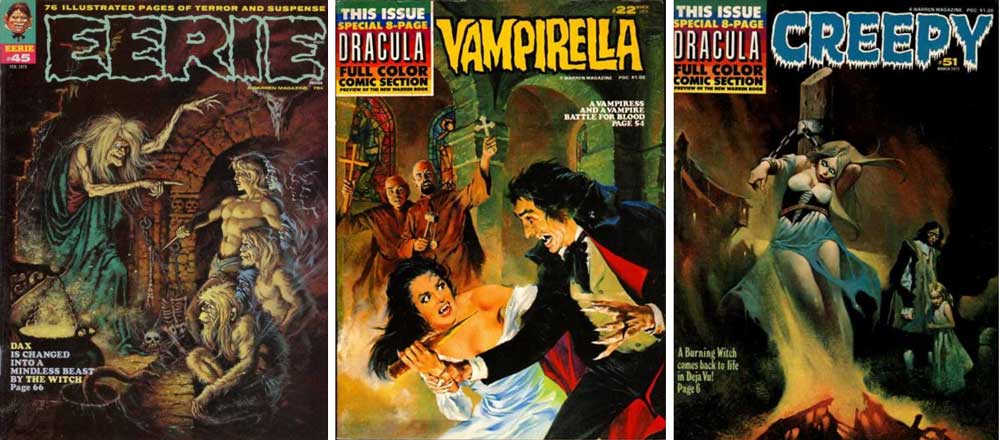 TDE Contributors' Corner
Uncle Jack (Seabrook) and Cousin Peter (Enfantino) review Eerie No. 45, Vampirella No. 22, and Creepy No. 51 at bare•bones e-zine.
Readin' and Writin'
I'm slowly making my way through Martin Roth's The Crime Writer's Reference Guide and ran across this gem on page 182: "A crime is a wrong that affects the community in its aggregate capacity. A tort is a wrong apart from contract, which affects persons in their individual capacity. One is a public wrong, whereas the other is a private wrong. In the case of a crime, the wrongdoer is liable to criminal prosecution, whereas in the case of a tort, the offender is liable only to a civil action by the person injured."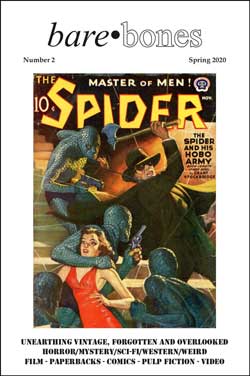 Finished reading bare•bones No. 2, an excellent follow-up to its debut issue. Lots of good stuff on the work of Richard Matheson by Paul M. Riordan, Matthew Bradley and co-editor John Scoleri, who also provides an article/review of DC's Captain Action comics; co-editor Peter Enfantino's pieces on The Sharpshooter paperbacks, another peek down Sleazy Alley, and follow-on to his article on the Shock Mystery Tales digests from TDE4, about the final bedsheet editions; Gilbert Colon on Lin Carter's "People of the Dragon"; S. Craig Zahler on select issues of The Spider pulps; and David J. Schow explains the pile-up on production credits and endless writers' meetings. Full disclosure: I dig into crime digests Mike Shayne Mystery Magazine (Feb–Jun 1957) in this issue.
Marc Myers is creating a new collection of work by the late Roman Scott. The hardcover format book will include all the content from his Oddities and Head zines. The volume will include recollections by Jonathan Falk and Todd Mecklem. I began the preliminary work on the layout this week.
Marc also completed a beautiful collage to illustrate a new story by Robert Snashall for The Digest Enthusiast No. 13, due in January 2021.
The current issue: The Digest Enthusiast No. 12 is available in print at Lulu.com and in digital formats at Kindle Books and Magzter.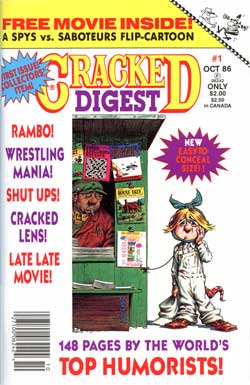 Vintage Humor Digest
Cracked Digest No. 1 Oct. 1986
John Severin "Sagebrush"
Contents Page
Editor's Note
Keny Gamble "Rambozo"
Bill Everett "Pushbutton War"
"Cat Gifts"
Vic Martin "Hudd & Dini"
"Ultra-Realistic Dolls"
Charlie Rodrigues "Cannibal Chuckles"
Sean Powers "School for TV Wrestlers"
McCartney "Hurry Ups"
John Severin "Celebrities' Screen Idols"
McCartney "Surfing U.S.A."
John Severin "Beach Ballon"
Charlie Rodrigues "Take Me Out to the Old Cracked Ball Game"
"Cracked Lens" (photo gags)
Bill Ward "Cracked Interviews the Magic King"
John Severin "Silly Things We Do…"
Howard Nostrand "Foggy Night in Minnesota"
John Severin "The Cracked Late Late Late Late Movie: The Towering Infernal"
John Severin "Sagebrush"
John Severin "Rare Old Shut Ups" (back cover)
Cracked Digest No. 1 Oct. 1986
Editor-in-Chief: Michael Delle-Femine
Art Director: Barry Shaprio
Editorial Assistance: Mort Todd
5.5" x 8.25" 148 pages $2.00