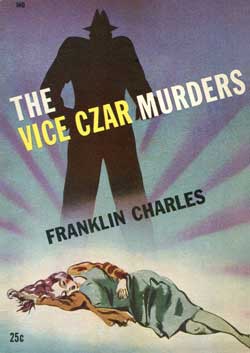 An excerpt from Steve Carper's series "One-and-Dones" that appears in The Digest Enthusiast No. 7–9:
An ad for The Vice-Czar Murders by Franklin Charles is on the inside back cover of The Case of the Deadly Drops. No publisher is mentioned, but we know that an R. W. Company went one-and-done with a book of that title. And that's all we know. The R. W. Company is as evanescent as the Edell Company. The address given is 11 East 44th Street, in midtown Manhattan, far removed from the then-backwoods of Brooklyn. Nor was The Vice Czar Murders published by Phoenix, nixing that connection. Yet, guess what? Its inside back cover is an ad for The Case of the Deadly Drops. Additionally, the covers of the two books are suspiciously similar in style and coloring, the back covers are identical yellow squares with white borders, and both were distributed by IND, the Independent News Company. It's all but certain that the two companies are connected in some way.
Now Available from McFarland: Steve Carper's Robots in American Popular Culture, a comprehensive reference volume that includes a companion website: robotsinamericanpopularculture.com.