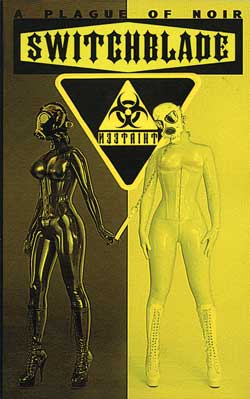 Switchblade No. 13
The world's only no-limit outlaw noir magazine is back for a thirteenth round. The one you thought you'd never see. With Fiction, Flash and Poetry from Robert Ragan, David Harry Moss, Gene Breaznell, Serena Jayne, Jay Rohr, Brian Beatty, Elliot F. Sweeney, Stanton McCaffery, Danny Sophabmisay, Andrew Bourelle, George Garnet, David Rachels, and Alec Cizak. Featured interview with author Serena Jayne.
5" x 8" digest, 183 pages
Editor: Scotch Rutherford
Print $7.99 Kindle $2.99
New from Hard Case Crime is Shills Can't Cash Chips, first published in 1961 by William Morrow. It's book No. 22 in the Cool and Lam series.
From the world-famous creator of PERRY MASON, Erle Stanley Gardner—at his death the best-selling American writer of all time—comes another baffling case for the Cool & Lam detective agency. Return to the 1960s as a simple insurance investigation into a car accident puts Bertha Cool and Donald Lam on the trail of murder – and Donald hip-deep in danger when he poses as an ex-con to infiltrate a criminal gang. It's Gardner's twistiest caper ever, and a fitting conclusion to Hard Case Crime's revival of this classic (and long unavailable) detective series.
5" x 8" 240 pages
Print $10.99 Kindle $7.99
"A high-spirited romp you'll be sorry to see end." -Kirkus Reviews
"Just the ticket for fans of retro crime fiction." -Publishers Weekly
"For those who like their crime fiction to be high-octane, this novel is a stunner." -Daily Mail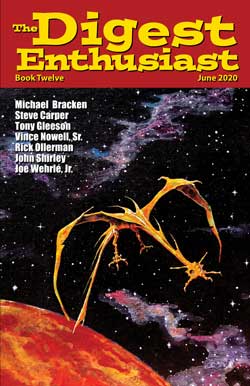 Project Updates
Editor Marc Myers has ordered a proof copy of the new hardcover collection of comix and zines by the late Roman Scott: Oddities and Other Grotesques. With a little luck the 168-page volume will be available from Lulu.com in December.
The Digest Enthusiast No. 13 is about 99% complete and I hope to upload the files to Lulu.com early next week and get a print proof underway. I'm hoping the release date will be Dec. 18.
Our current issue: The Digest Enthusiast No. 12 is available in print at Lulu.com and Amazon, and in digital formats at Kindle Books and Magzter.