Marc Myers, Jonathan Falk, and I were hard at work on the Roman Scott anthology this week. Marcus Reed sent in a piece about his work with Roman on Pastime Publications. The book's page count is now at 168.
Alec Cizak secured final drafts on three stories and final edits on the others for Pulp Modern No. 6. We're trying out a two-column layout this time around, to bring the look-and-feel closer to past pulp digests. Bob Vojtko gave us three new cartoons to fill out the pages that needed them. Ran Scott is hard at work on the illustration and cover art. The book should be out in late December or early January.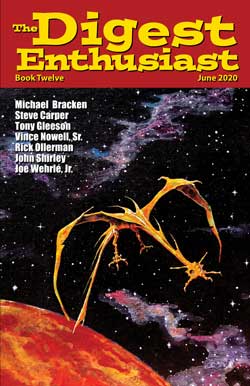 News items are coming in for the next Digest Enthusiast and I'm proofreading the rest of the book as I await more. This issue will likely be printed by Ingram, like issue No. 11. We've picked up a new advertiser this time: Fenham Publishing. If you're an H.P. Lovecraft fan, be sure to check out their website.
Our current issue: The Digest Enthusiast No. 12 is available in print at Lulu.com and Amazon, and in digital formats at Kindle Books and Magzter.