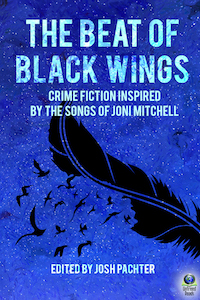 The Beat of Black Wings, an anthology of crime fiction stories inspired by the music of Joni Mitchell, launches on April 7, 2020. Many of Mitchell's classics are represented: "Both Sides, Now" by Art Taylor and Tara Laskowski, "Big Yellow Taxi" by Kathryn O'Sullivan, "River" by Stacy Woodson, "Cold Blue Steel and Sweet Fire" by Donna Andrews, "The Dry Cleaner From Des Moines" by Amber Sparks, "Ray's Dad's Cadillac" by Michael Bracken, etc. The collection was edited by Josh Pachter. The book will be released on April 7, 2020. Preorders are available in Hardcover $29.75, Softcover $19.55, and Kindle $5.99.
Steve Davidson reviews the premier episode of the new Amazing Stories series on AppleTV+ on, what else, the Amazing Stories blog.
Gideon Marcus examines Galaxy April 1965 at Galactic Journey.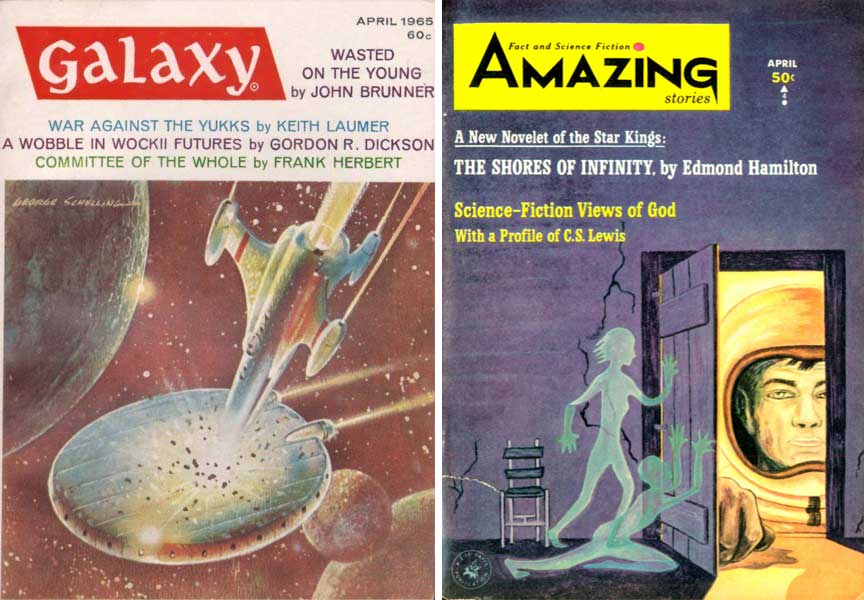 John Boston does likewise for Amazing April 1965 also at Galactic Journey.
Tough Crime: "Walker's Hollow" by John Floyd.
Q&A with Derek Kunsken at The Astounding Analog Companion.
Ian Tregillis on "Come the Revolution" (F&SF Mar/Apr 2020) at Fantasy & Science Fiction blog.
Jack Bunker writes about his debut with "Active Shooter" in the Mar/Apr 2020 issue of EQMM at Something is Going to Happen.
Read J.D. (EconoClash Review) Graves' latest Flash Fiction "Trojan H" at Shotgun Honey.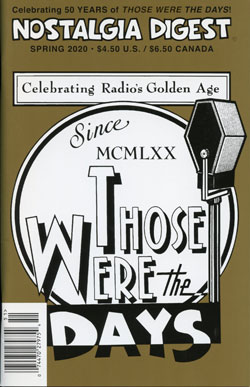 March 2020 Digests
Nostalgia Digest Spring 2020
Contents
Steve Darnall "Hello, Out There in Radioland!"
A Few Moments with . . . Chuck Schaden
Chuck Schaden "Those Were the (Early) Days" (cover story)
"Those Were the Dates" Ten pivotal moments from the 50-year history of Those Were the Days.
Necrology for 2019
Laura Milbraith Stewart "All in the Families" (Tina Cole)
Dan McGuire "At This Theatre Next Week" Chapter Two
Stone Wallace "Everybody Loves Raymond" (Raymond Burr)
Greg Kreinberg "The Daly News"
Wayne Klatt "A Free Soul" (Jean Arthur)
Mail Call
Plus, the Radio Program Guide for Those Were the Days and WGN Radio Theatre
Nostalgia Digest Book 46 Chapter 2 Spring 2020
Editor: Steve Darnall
5.5" x 8.5" 64 pages, b&w interior
$4.50 on newsstands
Four-issue subscription $17
Eight-issue subscription $30
Nostalgia Digest website
Readin' and Writin'
Finished the audio book of The Island of Dr. Moreau by H.G. Wells. First published in 1896, Moreau is a science fiction classic. Its concept isn't as revolutionary in 2020 as 1896, but for its era it must have been horrific and shocking. Even today, the prose is terrific, my favorite parts were Wells' fastidious descriptions of his animal hybrids.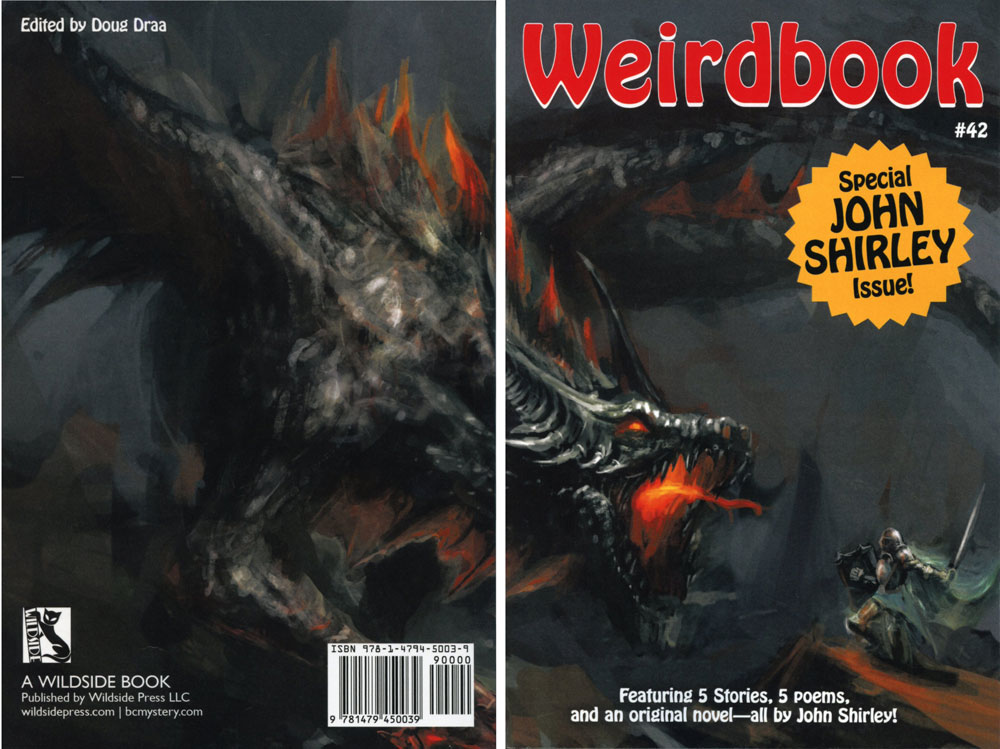 Also immensely enjoyed the print edition of Weirdbook No. 42, a special all John Shirley issue, edited by Doug Draa. A triumphant collection of short stories and poetry capped by a sword and sorcery epic that wraps the volume with an enthralling finale.
I completed reading and making notes on the first issue of Fotocrime this week. Still lots to do but it feels good to get this article for TDE12 started.
Rick McCollum sent the cover art for the next issue of Pulp Modern which should see release sometime this Spring. I loved Rick's artwork for the last PM and the current TDE, but I gotta say, I think this is the best one yet. It's based on a story called "Ghost Town."
PM editor, Alec Cizak, has selected another two stories for the issue, so I'll be working on layout for those over the next few days.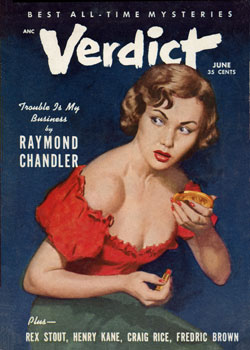 Vintage Crime Digest
Verdict Vol. 1 No. 1 June 1953
Contents Page
Rex Stout "Fer-De-Lance" (Part 1 of 5)
Craig Rice "His Heart Could Break" (John J. Malone) art by R. Cossette
Dan Stoup's Tricks of the Trade: Fingerprints
Henry Kane "A Glass of Milk"
Steve Fisher "Goodbye Hannah"
Chester B. Himes "Marihuana and a Pistol" art by R. Cossette
Fredric Brown "Don't Look Behind You"
Edward Clark's Crime Firsts: The La Rosa Case
Raymond Chandler "Trouble Is My Business"
Verdict Vol. 1 No. 1 June 1953
Published monthly by Flying Eagle Publications, Inc.
Editor: John McCloud
Managing Editor: E.A. Tulman
Art Director: Chas. W. Adams
Business Magager: R.E. Decker
5.5" x 7.75" 144 pages 35¢