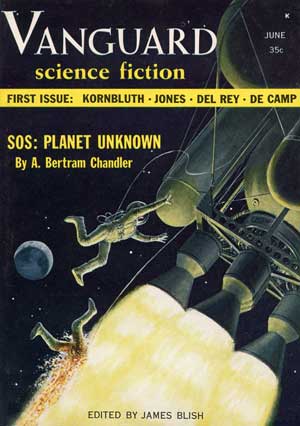 Vince Nowell, Sr. delves into Vanguard Science Fiction, a one-shot digest from 1958 in the current issue (No. 14) of The Digest Enthusiast. Here's a preview:
"Vanguard kicked off with two interplanetary novelettes, one by A. Bertram Chandler ("SOS: Planet Unknown"), and the other by Cyril Kornbluth ("Reap the Dark Tide"). Chandler (b. 1912 in England. d. 1984 in Australia) was a merchant-marine officer who traveled worldwide until he decided to become a (prolific) writer of science fiction. He is a good representative, like Blish, of the carryover of authors from the pulp era."
Vince's eight-page article includes an overview of the issue, a healthy serving of background information on its contributors, and a bibliography of its editor, James Blish.