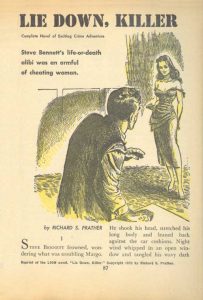 The final story from Justice Amazing Detective Mysteries #2, July 1955, is billed as a "complete suspense novel." It's a reprint from the Lion Books edition, first published in 1952, one of only three novels Richard S. Prather wrote that does not feature Shell Scott.
"Lie Down, Killer" stars Steve Bennett, who it turns out is the perfect patsy to frame for a series of murders by crime boss Oscar Gross and femme fatale, Margo Whitney. It's a carefully plotted mystery that unfolds rapidly with plenty of action and romance along the way. The brutal showdown between the villains and hero had me flying through the final pages to reach its satisfying conclusion.
With issues like this one, it's particularly unfortunate Justice didn't last longer than four issues.
Lion cover image from Pulp Serenade.