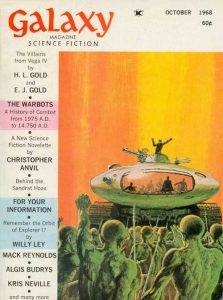 Below are Edd Vick's comments on digest magazines, from the interview conducted by D. Blake Werts, for The Digest Enthusiast book six:
When I was in high school I read all the digests I could lay my hands on, preferring one that's no longer around named Galaxy. Where Analog tended to have more tech-oriented stories, and Fantasy & Science Fiction was usually more literary, Galaxy hit a sweet spot of SF focusing on characters and the soft sciences. I have a complete collection still, barring a couple of later magazine-sized issues from when it was being passed from one publisher to another.
The magazine nowadays that's inherited that mantle is Asimov's, where I'm very happy to have sold several stories. They're a little more adventure-oriented, but that's not an issue where I'm concerned.