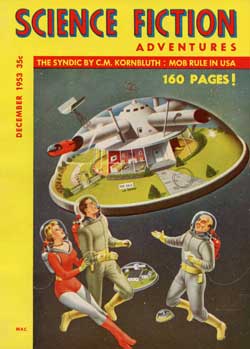 Science Fiction Adventures Vol. 2 No. 1 Dec. 1953
Harry Harrison takes over as editor.
Contents
Harry Harrison: An Editorial on Scolex
C.M. Kornbluth "The Syndic" part 1 of 2 art by Art Sussman
Allan E. Nouse "Consignment" art by Art Sussman
Stephen Arr "The Spy" art by Joseph Dreany
Bob Silverberg's Fanmag
Mike Lewis "The Tryst" art by Hal Smith
Damon Knight's The Dissecting Table (book reviews)
Philip K. Dick "The Hanging Stranger" art by Hal Smith
Ad for Sea Stories
Ken Winney "Double Take"
Coming Up
Hal Clement "Ground" art by Mendenhall
The Chart Room (letters)
Editor: Harry Harrison
Assoc. Editor: J. Merkler, John Vincent
Book Editor: Damon Knight
Art Director: Milton Berwin
Cover: Alex Schomberg
160 pages, 35¢
Read Vince Nowell, Sr.'s article "When Things Go Wrong—The Lester del Rey/John Raymond Fiasco" in The Digest Enthusiast book seven.