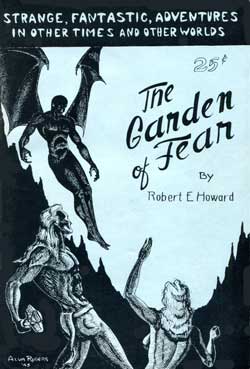 Published in 1945 by William Crawford, and listed in Paperback Prices by Graham Holroyd as a "Crawford Digest," The Garden of Fear is an anthology titled after Robert E. Howard's story, but also includes reprints by Lloyd A. Eshbach, H. P. Lovecraft, Miles J. Breuer, and David H. Keller from Crawford's earlier Marvel Tales pulp magazine.
Steve Carper's research for One-and-Dones part two (The Digest Enthusiast No. 8), reveals it was neither a singleton, nor a digest, but still a highly collectable volume, readily available in secondary markets.
Now Available from McFarland: Steve Carper's Robots in American Popular Culture, a comprehensive reference volume that includes a companion website: robotsinamericanpopularculture.com.