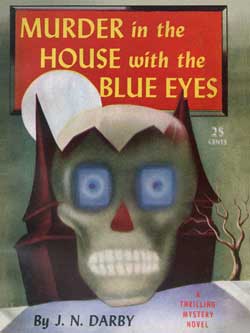 At first glance, J.N. Darby's digest-sized Murder in the House with the Blue Eyes may appear as a singleton. But the lower right corner of its cover reveals it's "A Thrilling Mystery Novel," from Atlas Books, produced under their Margood Publishing Company imprint in 1944, and therefore not an elusive One-and-Done.
For further candidates and their fates read Steve Carper's series "One-and-Dones" that appears in The Digest Enthusiast No. 7–9.
Now Available from McFarland: Steve Carper's Robots in American Popular Culture, a comprehensive reference volume that includes a companion website: robotsinamericanpopularculture.com.