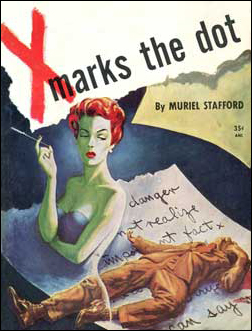 An excerpt from Steve Carper's series "One-and-Dones" that appears in The Digest Enthusiast No. 7–9:
Guinn Company
Muriel Stafford had a syndicated newspaper column that did handwriting analysis of the stars, and not surprisingly X Marks the Dot stars a newspaper columnist solving a murder using handwriting analysis. Not only was Stafford enough of a name for her picture to fill the back cover, but as the ultimate gimmick, each of the suspects' handwriting was reproduced inside the book so the reader could play along.
Now Available from McFarland: Steve Carper's Robots in American Popular Culture, a comprehensive reference volume that includes a companion website: robotsinamericanpopularculture.com.